LAST week's property review looked at how goats are becoming a serious sideline to extensive dry-area beef and sheep operations in southern states.
This week the theme continues, with particular emphasis on Queensland and where the future lies.
Vice president of the Goat Industry Council of Australia and Agforce member David Kimmorley said an increasing number of livestock producers in Queensland's western pastoral zones are diversifying into goats.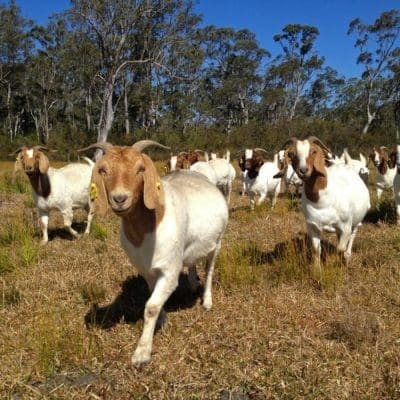 "The interest has been accentuated by the introduction of cluster fences," he said. See Beef Central's earlier story here.
"Many areas have been fenced, or are being fenced, and graziers are looking to restock with goats, as well as sheep and/or cattle."
Mr Kimmorley said trying to source goats at present was a problem.
"Much of the Queensland goat population has migrated south due to native dogs. There has also been an over-harvesting of goats in their natural environment due to good prices being paid over the last three years."
Mr Kimmorley said a move to diversify had resulted in more people seeking goat husbandry advice.
"It's a conscious decision due to the price of cattle and sheep. The return on goats is very economical. I sold half my breeding cows and have been unable to restock with cows. It has been a lot easier and more economical to gain a return on goats, remembering that cows will give you one calf every 12 months but goats can give you three kids every two years."
Buyers seeking goat country
Mr Kimmorley said there has been a huge turnover in western grazing properties and many people, particularly in New South Wales, were specifically chasing goat country.
"Goats were traditionally mustered once a year to pay for boarding school fees – say, $20,000 a year. But those same numbers are now making producers between $90,000 and $100,000 a year. This gives people the money to invest in infrastructure, such as cluster fencing, and treat goats more seriously."
He said it was well worthwhile diversifying into goats.
"The Australian goat population is not sufficient to meet consumer demand and that is being reflected in the current prices. Domestic consumption alone has risen from four percent to 12 percent."
Mr Kimmorley said goats have given marginal western grazing country enhanced value.
"Graziers coming out of drought have probably held on to their cattle for too long, fed them too much and depleted their cash reserves. For many, the easiest way to get back in is a turnover in goats rather than cattle. Where cows and calves can be priced at between $1500 and $2000 a head, you can buy 20 goats for the same price, generate numbers more quickly and get a quicker return."
Trenton Hindman from Colliers International believes cluster fencing in south-west Queensland will mean higher property prices for land suited to goats.
"Buyers appreciate exclusion fencing. We saw that with the recent sale of the 125,293ha Clover Downs. The Cunnamulla sheep, wool, goat and beef aggregation was marketed as having "significant production upside from exclusion fencing, carrying 64,000 DSE or cattle equivalents."
Mr Hindman said many straight mulga properties were distressed from continuing drought conditions, however resilient landowners could foresee production opportunities even after several tough years.
"There is a shift from rangeland harvesting to farming goats behind exclusion fences"
"There is a shift from rangeland harvesting to farming goats behind exclusion fences. I believe south-west Queensland is where the smart money is migrating to. Cluster fencing is changing the face of these enterprises."
"Exclusion-fenced grass production is secure and not in danger of being eaten by kangaroos, and young stock are not in danger of being attacked by wild dogs. It means producers can stack their enterprise with goats or dorpers instead of running purely beef cattle. It means more flexible cash flow," he said.
Mr Hindman believes the south-west initiative of fencing could easily be replicated in other regions.
"Exclusion fences are not that much more expensive than traditional split-post four-barb fences. Goats could be run anywhere in Queensland – the Western Darling Downs, the Maranoa and Central Queensland. However, producers should remember that goats are very destructive and need to be managed."
According to Nick Dunsdon from Ruralco Property GDL at Dalby, an increasing number of landholders on the better country in western Queensland are considering farming goats.
"Enquiry for Mulga properties is being driven by higher prices for cattle, sheep and goats. The strength of the protein industry is moving country. Not just goats, but across the board. There are minimal costs involved in running goats."
Mr Dunsdon said people were viewing goats more positively.
"Producers are more open to the idea of running goats given the increasing number of cluster fences to keep out dogs and kangaroos. Strong prices have also convinced many to swap a breeding paddock for goats – farming them like sheep."
Mr Dunsdon estimated that 10 to 20 percent of western Queensland producers would now have a paddock that's under exclusion fencing, "but that will grow without a doubt."
"Across the board, properties in western Queensland are becoming more appetising for those wanting to run sheep and goats. It is by far the best value for money and the cleanest."
Processing goats hits historical high
Paul Leonard is the smallstock manager at Thomas Foods International, Australia's largest 100 percent family-owned meat-processing company, processing three species – beef, lamb/mutton, and goats.
He said over the last two years, there had been an historically high number of goats processed, but particularly during the last four months due to the dry and mild winter.
"An increasing number of producers in southern Queensland and NSW are erecting fences on their properties for goats. They are not fencing entire properties. They are putting up specific goat paddocks to capture rangeland, or wild goats as they travel through their holdings."
Mr Leonard said in South Australia, the rules were different – producers were prohibited from having goats behind wire.
"Goats are feral animals, and as a result, a number of producers have bought properties just over the border (in NSW) so they can legally run goats as a farming enterprise."
He said the value of goats on pastoral properties, particularly around Broken Hill in New South Wales' Western Division, were now being considered.
"When agents value second-grade country, they recognise goats are a significant and serious income source. Saleability will also be enhanced by infrastructure, such as fencing, and other improvements."
Mr Leonard said goats were not a protein industry, like emus, that will rise and then crash.
"There is genuine and sustained global demand for goat meat. Make no mistake, there has been a temporary oversupply in our Australian winter this year, combined with historical record prices, which has created a supply and demand issue. However, more recently, prices have corrected in line with mutton and lamb, and should settle in the more realistic $4 to $5 a kilogram range, longer term."
Mr Leonard said even at that price, there was plenty of margin to justify investment in new infrastructure.
"For low input costs, goats have been a significant profit driver in the Western Division and will continue to be. In the last three years, the industry has matured and has seen greater infrastructure investment – including fencing, gyrocopters, helicopters and contract musterers."
Some of the bigger operators had made serious money out of goats, he said.
"In the last three years, there are people who have bought properties off the back of their goat income to expand or to run sheep or cattle on neighbouring properties."