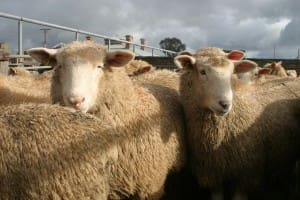 WAGGA Wagga's saleyard has retained its position as New South Wale's top sheep and lamb-selling centre.
But Cootamundra was again the big mover, MLA has reported, jumping two positions, from ninth to seventh, with a 2014-15 throughput of 211,970 sheep and lambs.
Wagga Wagga once again took out the top position, with 1,852,667 head yarded. Forbes, Dubbo, Corowa and Carcoar (CTLX) all maintained their rankings, at second, third, fourth and fifth. Cowra ranked sixth with 367,646 head.
The top ten were rounded out by Tamworth with 190,681 sheep and lambs, Deniliquin with 184,852 head and Goulburn with 131,600.
Switch to prime lambs has boosted Cootamundra yardings
Cootamundra Associated Selling Agents president Steve Tolmie said the saleyard had just been yarding consistent numbers, but the switch among flock owners from wool to prime lambs in the would have contributed.
"That's got a lot to do with it.
"Certainly locally there is a switch with a few of the original big operations that ran all Merino ewes are basically now gone into prime lambs."
He said more mutton sheep coming out of the areas east of Cootamundra – around Yass and Boorowa — had also kept numbers up at the fortnightly sale.
"We generally get a yarding of about 9000 a fortnight so we've got a reasonably consistent buyer base – that has probably helped prop it up."
MLA said 26 livestock selling centres responded to its 2014-15 NSW sheep and lamb saleyard survey. Click here to see how the NSW saleyards ranked.
Source: MLA.