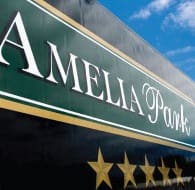 WESTERN Australian processor V&V Walsh is launching its Amelia Park lamb range in China today.
Amelia Park chilled lamb is believed to be Australia's first branded chilled sheep meat product on the Chinese market.
WA Agriculture and Food Minister Alannah MacTiernan's office said the development meant the Bunbury-based meat processor becomes the only international supplier approved to supply chilled sheep and goat meat to China.
Amelia Park chilled lamb will be available through high-end retail stores and served in leading restaurants and hotels, the minister's office said in a statement.
V&V Walsh is also approved to supply chilled beef as well as frozen beef, sheep and goat meat. Ms MacTiernan welcomed the achievement, which was supported by the State Government's WA Open for Business program, the Department of Agriculture and Food and Meat & Livestock Australia.
Click here to get the latest Sheep Central story links sent to your email inbox.
The minister said V&V Walsh will launch its chilled lamb product range in Shanghai today and in Beijing on Friday June 23.  The chilled lamb will be available through high-end retail stores and served in leading restaurants and hotels.
Ms MacTiernan's office said V&V Walsh is providing Western Australia with a significant first-mover advantage into premium segments of the enormous and growing red meat market in China.
The opening up of new high-value premium lamb markets should provide further confidence to the WA sheep industry and to investors about the future of the industry, as it looks for growth, the statement said.
Ms MacTiernan said Chinese consumers can now enjoy the first ever imported chilled lamb from Australia; Western Australian lamb at its very best.
"While China is WA's largest market for sheep meat, our exports largely comprise lower value frozen cuts.
"Now Chinese consumers can access a range of branded, premium-grade value-added lamb products," she said.
"Exporting this value-added Western Australian product means more jobs in regional WA and more benefits for our economy.
"V&V Walsh have led the way for WA industry and the WA Government is proud to have been involved."
WA trade potentially worth $1 billion
In August 2014, V&V Walsh signed a co-operation agreement with China's largest red meat importer Grand Farm and Inner Mongolian Government to supply sheep meat and beef, potentially delivering sales worth $1 billion.
The deal could potentially see V&V Walsh process an extra 50,000 lambs and 30,000 cattle a year, but company principal, Peter Walsh, said the potential of the deal would not necessarily be limited to those numbers.
The project was said to include cross investment from the private sector in both countries over a five-year period, including private Chinese investment into WA to increase lamb and beef production; and into Inner Mongolia, where work is currently underway to develop new processing facilities, an expansive network of feedlot systems, as well as state-of-the-art research and development to support the meat and livestock industry.
At a sheep meat forum in Melbourne in March, MLA's area manager for China Michael Finucan said two tonnes of chilled lamb was sold into China last year with the five-year average just 15 tonnes. He said there are 12 abattoirs accredited to sell chilled red meat into China, but only one, in Western Australia, is accredited to sell chilled sheep meat.
Mr Finucan told Sheep Central today that there have been some small shipments of Australian chilled sheep meat since December 2016.
"V&V Walsh are now launching a branded chilled product.
"To my knowledge this will be the first branded chilled product," he said.
Plans to increase Australian processor approvals
Mr Finucan said there are currently 47 integrated meat processing establishments and 23 cold stores that can export meat to China, but only 11 are permitted to export chilled meat, including V&V Walsh's meat plant.
"The Australian and Chinese Governments on March 24 2017 signed a Joint Statement on Enhancing Inspection and Quarantine Cooperation between Australia and the People's Republic of China.
"The statement was signed by Australian Agriculture Minister Joyce and China's Minister of Foreign Affairs," he said.
"This is expected to expedite approval of an additional 15 Australian frozen meat establishments (11 integrated, 4 cold stores), and progress approvals for chilled meat export for all establishments that meet the chilled meat standard as verified by the Department of Agriculture and Water Resources.
"This is still in progress and currently with DAWR," Mr Finucan said.
"Once plants are approved we will work with individual exporters, where required to support their brand development for Chilled lamb.
"There is a large opportunity in this space, but education will need to be done on how to cook and benefits of chilled to consumers."
Sources: WA Agriculture and Food Minister Alannah MacTiernan, MLA.