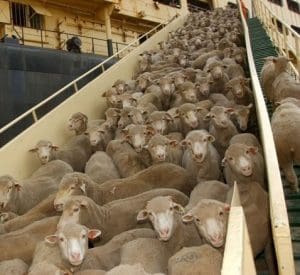 WESTERN Australia's state government will investigate the reported deaths of 2400 sheep on a live export vessel bound for the Middle East in August last year.
Agriculture and Food Minister Alannah MacTiernan has instructed the Department of Primary Industries and Regional Development to investigate the high-mortality live export voyage by Emanuel Exports in which 2400 sheep are reported to have died.
Figures recently published by the Australian Department of Agriculture and Water Resources show a mortality rate of 3.76 percent on the voyage from Fremantle to Kuwait, the United Arab Emirates and Qatar in August 2017.
Under the Australian Standards for the Export of Livestock, shipboard mortality rates for sheep of 2 pc for voyages shorter than 10 days, must be reported to the department.
A statement from Ms MacTiernan's office said the sheep deaths may have occurred in high heat conditions, suggesting a seasonal correlation between heat and animal welfare.
Western Australia's Solicitor General has advised Ms MacTiernan that the State Animal Welfare Act 2002 applies on board live export ships and that WA's legal obligations are not inconsistent with Federal laws regarding live export.
The minister has written to the Federal Minister for Agriculture and Water Resources to suggest a collaborative approach to the investigation between the state and federal agencies.
Ms MacTiernan said the WA government's legal advice is that WA's animal welfare laws apply on live export ships.
"As a government, we have an obligation to see those laws followed.
"We have real concerns over the impact of heat stress on Western Australian sheep on live export voyages and have made clear to industry that where there may have been breaches of the Animal Welfare Act, we have a responsibility to investigate," she said.
"Maintaining public confidence in welfare standards in live export is absolutely vital to the ongoing sustainability of industry."
Emanuel Exports managing director Graham Daws declined to answer questions about the investigation into the August sheep shipment and referred Sheep Central to  the Australian Livestock Exporters' Council.
ALEC chief executive officer Simon Westaway said Australian livestock exporters operate under the existing Federal regulatory system which represents the world's most comprehensive livestock export laws.
"Exporters comply fully with reporting requirements and any supply chain investigations conducted by the Department of Agriculture and Water Resources.
"Exporters have a proud track record of achieving continual improvement in the trade, and, as such, support ongoing federal reform including the current review of the Australian Standards for the Export of Livestock (ASEL)."