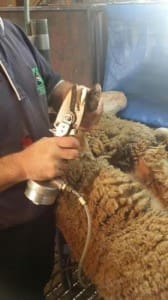 Western Australia has won an emergency permit to use a strain-specific footrot vaccine for only six months, but is continuing efforts for a longer term approval.
WAFarmers Wool Council president Ed Rogister said the decision by the Australian Pesticides and Veterinary Medicines Authority is a great first step for Western Australian sheep producers.
But he said a minor use permit would help provide the certainty sheep producers need in their fight against this disease within the state.
WAFarmers executive officer-policy Kim Haywood said the APVMA has refused to grant a minor use permit, citing the registration of Coopers Footvax, which has been banned for use in Australia by AQIS.
Emergency permit is "utterly unsuitable"
She said the emergency permit was "utterly unsuitable", but it was a step forward. WA producers face costs of up to $2500 to identify the strain of footrot on their property before a vaccine is developed and there was no guarantee the APVMA would extend the permit, Ms Haywood said.
"The APVMA has been procrastinating over this for over eight months now, so even getting them to issue an emergency permit should be seen as a step forward."
Mr Rogister and Ms Haywood said the targeted nature of these new strain-specific footrot vaccines, developed by Sydney University, meant moving to full registration is not a realistic option.
WAFarmers will continue to lobby government officials for a long-term solution for the strain specific footrot vaccines because the industry does not have a registered product available on the market. Ms Haywood said minor use permit approval should be pursued.
"We meet all the criteria needed for a minor use permit under the legislation."
The Australian Pesticides and Veterinary Medicines Authority (APVMA) last Friday issued an emergency permit to Treidlia Biovet, a vaccine manufacturer based in Sydney, for the use and supply of the Custom Footrot R-Pilus Vaccine for a period of six months, concluding on July 30, 2015.  But this was only after Ms Haywood sought help from the Prime Minister's Office in Canberra on Friday morning.
"Working in conjunction with the government, and with the support of Senator Chris Back and MP Christian Porter, WAFarmers was able to get the APVMA to approve the emergency permit which is the beginning of a more permanent solution for the strain specific vaccines," Mr Rogister said.
Approval process "a great political mess"
Treidlia Biovet director Mark White director said he was not sure at this stage whether WA will be able to do anything with the emergency permit.
"It is so short term and there are so many restrictions and problems with it that we are trying to work out whether we can actually do anything with it or whether we are going to have to ask the sheep people to keep on lobbying further.
"We are trying to work out our options," he said.
"One of the problems is that farmers have got to get their sheep tested and sampled, with a fair bit of lab work to be done that costs about $3000 (Tasmanian research costs).
"We can't really ask the sheep farmers to do that if we can't be sure we can supply the vaccine into the future," Mr White said.
"It is only a six month permit so it's hard for us to justify the investment in time, training, raw materials and equipment.
"We've got no guarantees that it will continue beyond that."
Mr White said the obvious way to approve the vaccine for a longer period would be via a minor use permit allowing wider use for 2-5 years.
"But they (the APVMA) refuse to give that."
Mr White said the vaccine approval process was "a great big political mess really."
"It is more like bureaucrats in Canberra getting in the way of sheep farmers going about their business.
"This type of vaccine works better than the old vaccine that used to be available to the point where it's feasible at least on a property-by-property basis and sometime in regions, to look at the possibility of eradicating it altogether so you don't have to keep vaccinating."
Footrot is a serious and contagious disease
Mr Rogister said footrot is a serious and contagious disease affecting flocks in most states, including WA.
"Once established in a flock, footrot will persist if a vaccine is not available to assist in the control and eradication of the disease from the flock."
Since the previous footrot vaccine, Coopers' Footvax, was banned in Australia in 2008, sheep owners have struggled to control and eradicate footrot. The only preventative practices available are foot paring/foot bathing, antibiotic treatment under specific conditions and the culling of flocks under a destocking regime.