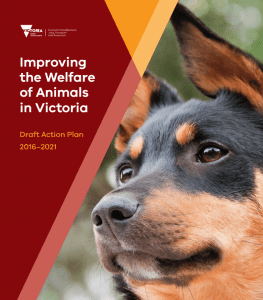 A DRAFT animal welfare action plan released yesterday is not yet supported by the Victorian Farmers Federation due to a lack of separation between production and companion animals.
The Andrews Labor Government is inviting Victorians to have their say on improving animal welfare after releasing the draft animal welfare action plan 2016-2021 – 'Improving the Welfare of Animals in Victoria'.
Member for Pascoe Vale, Lizzie Blandthorn, has been appointed by Minister for Agriculture Jaala Pulford as the Ambassador for Animal Welfare to lead the conversation – collaborating with the community, animal industries and welfare groups.
The draft plan has been developed with the assistance of the expert Animal Welfare Advisory Committee, a group of animal industry and welfare specialists with a broad range of experience and knowledge.
However late last year, then VFF Livestock Group president Ian Feldtmann said the State government appointed advisory committee lacked extensive livestock industry experience, and was too heavily weighted to "animal rights". See the earlier Sheep Central story here. Click here to get Sheep Central story links sent to your email inbox.
Current VFF Livestock Group president Leonard Vallance said the federation did not support the draft action plan in its current form due to the lack of separation of companion and production animals. The VFF is due to discuss the draft plan with the government next week.
"Our view is that production animals should always be separate from companion animals in the Act and there should also be a separation from sporting animals – greyhounds and racehorses, because there are different expectations as to how companion and production animals are treated.
"That's the serious concern."
Mr Vallance said the draft action plan was "the product" of the lack of VFF livestock representation on the Animal Welfare Advisory Committee.
"There are animal activists on that committee, they are not animal welfare people, and that's not good."
Mr Vallance said the VFF was concerned that the draft action plan would lead to the regulation of farm animal practices such as tail-docking, surgical castration and mulesing of sheep.
"The industry for years has led the world in research into animal management practices to improve animal welfare outcomes for production animals.
"We have the highest standards in the world."
He said there was a "threat" that the same standards for companion animals would be applied to farm animals, with practices such as tail-docking banned in dogs.
"This will encroach on our surgical castration, dehorning, ear notching, hoof trimming and mulesing."
The government's media release yesterday said meaningful animal welfare reform required a collective approach by government, animal industries and the community that underlined a shared responsibility.
The government is seeking feedback from interested individuals, industry bodies and community groups on the draft plans key priorities of a modern legal framework, education and effective enforcement.
It is proposed that the completed animal welfare action plan will apply broadly including to government, animal industries, professionals, community and industry organisations and individual Victorians. It proposes three key areas for action, each underpinned by animal welfare science and community expectation. The three key areas for action are:
Victoria has contemporary animal welfare laws.
Collaborative approaches underpin knowledge, commitment and investment in animal welfare.
Compliance and enforcement is efficient and effective.
Minister for Agriculture Jaala Pulford said animal welfare matters.
"Consumers and the community alike have demonstrated that it's a priority.
"We all have a moral and ethical responsibility, as part of a fair and caring society, to ensure we have high standards of animal welfare."
Ambassador for Animal Welfare Lizzie Blandthorn said Victorians expect that everyone –government, animal industries, owners and others – do the right thing by animals in their care.
"We all have a shared responsibility to meet these expectations.
"We want to bring a proactive animal welfare agenda to Victoria – it's not just about the prevention of cruelty to animals."
An online consultation website has been established to engage directly with the community to strengthen and improve animal welfare.
All Victorians are encouraged to provide feedback. Public consultation closes on Tuesday October 11 2016.
To provide feedback go to www.animalwelfarevic.economicdevelopment.vic.gov.au or call 136 186.
Sources: Minister for Agriculture, VFF.