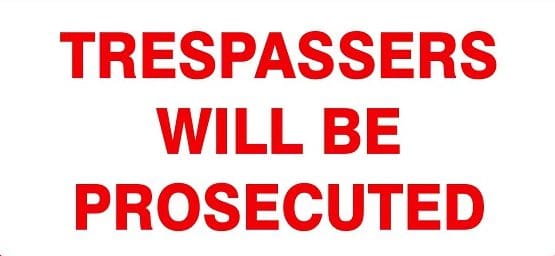 VICTORIAN farmers have welcomed new legislation introducing on-the-spot-fines for farm trespassers, but amendments to increase penalties were defeated by Labor Government, the Greens and independent MPs.
Labor and the Greens also defeated Opposition/Nationals amendments to extend the scope of trespass penalties to protect farmers against access from river frontage land.
Victorian Farmers Federation president Emma Germano said that three years after the Inquiry into the Impact of Animal Rights Activism on Victorian Agriculture, the welcome passing of the legislation has been a long time coming.
"The VFF worked with parliamentarians back in 2018 to get the inquiry off the ground at a time when we were faced with an unacceptable situation where animal activists were getting off virtually scot-free.
"This is a big step in providing better protection for farmers from law-breaking animal activists," she said.
The Andrews Labor Government said the Livestock Management Amendment (Animal Activism) Act 2021 recognises the significant biosecurity risks that breaches from animal activists can pose and will deter behaviour that puts the hard work of our farmers and agricultural businesses at risk.
Those who fail to comply will face on-the-spot fines of $1,272 for an individual and $8,178 for an organisation, the toughest fines in Australia.
Further penalties of up to $10,904 for an individual and up to $54,522 for an organisation could apply for more serious offending.
Farmers seeking to better protect their animals can implement a biosecurity management plan (BMP) which can include measures such as requiring consent before anyone can access their property. Biosecurity breaches by trespassers can put human and animal health at risk. The new arrangements will come into effect later this year.
Fines are toughest in the nation says Thomas
Minister for Agriculture Mary-Anne Thomas said Victoria's on-the-spot fines for animal activists who trespass on farms "will be the toughest in the nation," although this has been dispute by the Nationals.
"Farmers and workers in the agricultural industry should be able to do their work without fear of being targeted by animal activists.
"This sort of activity is highly distressing for farming families and puts the biosecurity and safety of animals at risk," she said.
Amendments to double maximum fine defeated
The Liberals and Nationals proposed two amendments to the Livestock Management Amendment (Animal Activism) Bill 2021 to double the maximum fine for individuals in line with New South Wales' hefty penalty scheme – recognised as the toughest in the nation – and to protect a farmer's river frontage land.
But Labor teamed up with the Greens and Independents in Parliament's Upper House to block the changes and instead implement a fine that's among the lowest in the nation, a Nationals statement said.
Shadow Minister for Agriculture Peter Walsh slammed the Labor Government for abandoning Victorian farmers.
"The State Labor Government has revealed where its sympathies lie and it's not with our state's hard-working women and men who produce the food and fibre that feeds our nation," Mr Walsh said.
"Doubling the maximum fine would have sent a strong message to anyone considering trespassing on a farmer's private property that Victoria won't tolerate illegal farm invasions.
"Farms are the family home, they're a sanctuary for the people who live and work on them but these fines could have been much stronger to deter militant activities of law-breaking activists," he said.
"The Agriculture Minister had two long years to get this right, but with the support of the Greens and Independents, Labor has implemented fines that are among the lowest in the nation."
The Liberals and Nationals amendments pushed to raise the maximum fine for an individual from $10,904 to $21,809, bringing us in line with the equivalent maximum fine in Queensland and New South Wales, which has the highest in the nation, the Nationals said.
"It's perhaps no wonder when nearly half of Labor's MPs rely on the support of Greens preferences to get re-elected.
"If the Parliament can't back the farmers who provide our food and fibre and manage much of our landscape, then it's not doing its job," Mr Walsh said.
Biosecurity plan needed for fines to be applicable
The VFF said for the on-the-spot fines to be applicable, farmers will need to implement a biosecurity management plan.
The VFF said would work with Agriculture Victoria to assist farmers to put these plans in place.
"At a time when we are dealing with significant human and animal biosecurity outbreaks, our rigorous farm biosecurity systems have never been more important.
"The biosecurity management plans will not only protect farmers from unacceptable harassment by animal activists, but also from potential biosecurity breaches," Ms Germano said.