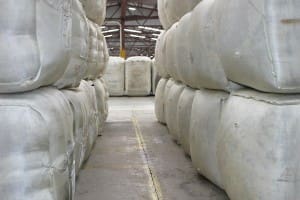 WOOL industry employers have been urged not to leave safety to chance after a Footscray warehouse operator was convicted and fined $50,000 in the County Court.
WorkSafe Victoria said the conviction and fine followed a successful appeal by the Director of Public Prosecutions over an incident in which a truck driver was injured by a falling 185kg wool bale.
Winnipeg Textiles Pty Ltd was originally found guilty in June by the Melbourne Magistrates Court over the incident. It was charged with breaching the 2004 OHS Act by failing to ensure persons other than employees were not exposed to risks to their health and safety and was fined $7000 without conviction. It was also ordered to pay costs of $2649, WorkSafe said.
The DPP appealed against the sentence on the basis that it was inadequate. The County Court upheld the Magistrates Court decision to impose costs of $2649.
The court heard that the Winnipeg Textiles warehouse received about 6000 wool bales each week from numerous transport companies and subcontractors. The average weight of each bale was 185kg.
WorkSafe Victoria said the usual process for unloading flat top trailers and curtain-sided trucks involved the company's workers using two forklifts to unload bales from opposite sides of the trailer while a third forklift took the bales from the unloading area into the warehouse.
The delivery area featured a designated truck parking bay, signage advising drivers to remain in cabins or in safety areas while forklifts were in operation, and markings outlining pedestrian exclusion zones.
WorkSafe Victoria said the court heard on April 1, 2015, a 60-year-old subcontractor drove his truck into the warehouse to deliver 24 wool bales.
The court heard that the subcontractor arrived at the designated unloading area and got out of his truck to ready his trailer for unloading. While doing this, he was struck by a bale that had been dislodged by one of the two forklift operators who had already begun to unload the trailer.
The subcontractor was knocked unconscious and suffered a head injury and ligament damage to his knee. He spent two days in hospital and was off work for two weeks, returning later to reduced hours and modified duties, WorkSafe Victoria said.
No site induction or safety procedure explanation
The court heard that the company did not provide delivery drivers with a site induction or explain safety procedures. Forklift operators were provided only with verbal instructions on safety requirements, and the responsibility for adhering to these practices was left to operators and drivers.
The court found the company had a traffic management plan in place but failed to ensure it was adhered to.
WorkSafe Executive Director Health and Safety Marnie Williams said it was exasperating when companies prepared safe working procedures but did not put them into action.
"A man suffered serious injuries when he was hit by the wool bale, but is very lucky that those injuries weren't fatal, all because the company did not act on the systems they'd set up," Ms Williams said.
Companies urged to implement safe working procedures
Ms Williams said it was a constant source of frustration for WorkSafe when a company has a safe system written down on paper, yet doesn't put that into action to prevent these kinds of incidents.
"Forklifts are powerful, heavy and inherently unstable pieces of equipment.
"They can pose risks to both drivers and people walking in areas they are used in," she said.
"Employers have an obligation to ensure everyone that comes into contact with their workplace understands the risks at the site and the controls in place."
"Do not leave safety to chance."
Source: WorkSafe Victoria.