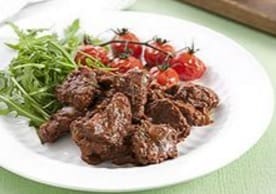 PRODUCERS and brands wanting to invest in value-added goat meat marketing opportunities are being sought by Meat & Livestock Australia's Donor Company.
An MLA-funded study into value-adding goat meat for domestic consumers has identified consumer-based, market usage opportunities valued at about $13 million to potentially grow demand.
The MLA Donor Company is now seeking to partner with industry co-investors such as producers and brand owners to develop customised programs to act on the findings and recommendations in the report.
The report prepared by consultant David Jenkinson said domestic goat meat consumption has largely failed to take off over the last 15 years, in contrast to other secondary animal proteins, such as duck, salmon, kangaroo and mussels that have grown in popularity.
Each has found their 'reason for being' amongst different segments of consumers that value their unique qualities, realised through meal solutions, Mr Jenkinson said.
Yet whilst goat meat has many desirable qualities, this is coupled with many others that act as barriers, resulting in those consumers who are new to goat meat, not having a positive first experience.
"It is believed that new cooking technologies and well-conceived meal solutions, can value-add to goat meat and overcome many of these barriers, leading to a desirable usage experience."
MLA's goat industry project manager Julie Petty said the project on value-adding goat meat for domestic consumers used a design-led thinking approach focussing on customers and held interviews to capture the perspectives of producers, supply chain intermediaries, butchers and key end-users.
In the last 20 years, several secondary proteins have risen to prominence beyond the restaurant scene to become mainstays of supermarket offerings, where most Australians buy their meat. This includes fresh seafood (such as salmon and tuna), duck, kangaroo, turkey, mussels and venison.
She said there are lessons from the success of secondary proteins such as seafood, duck, kangaroo and venison that goat meat could learn from and adapt to grow demand while remaining true to the product's qualities and character and managing its limitations.
"Initially focusing on consumers who are the most experimental and have the greatest influence on others will pay dividends in the long run to sustainably and incrementally build demand."
Several value-add opportunities are presented in the project final report, where defined consumer segments and key occasions have been identified along with a range of existing problems that consumers need solving.
These value-add options accentuate goat meat's properties and seek to overcome some of its inherent barriers to usage, making it more commercially viable as a solution.
The initial opportunities the domestic market should consider are listed below along with indicative values/volumes per year.
| | | |
| --- | --- | --- |
| Who are they? | Estimated volume of goatmeat (annual) | Estimated value (annual) |
| Young Families – parents seeking to do the right thing by their kids with healthy and enjoyable mid-week meals, but live in the real world | 118 tonnes | $4.7M |
| Adventurous Cooks – taking the team to pursue their passion, creating something new and interesting | 78 tonnes | $3.1M |
| Millennials – new age food values, seeking to realise their flexitarian ambitions | 70 tonnes | $1.7M |
| Empty Nesters – Focusing back on themselves and their health needs, as they plan to lead a fulfilling and active life | 58 tonnes | $2.9M |
| Professional Couples – seek to create for themselves the type of cosmopolitan dishes they experience when eating out, with the help of a meal kit | 34 tonnes | $0.9M |
| Total | 360 tonnes | $13.3M |
Download the full project report here. A short webinar talking through the project results can be downloaded and watched here.
If you would like to discuss a project idea and the potential of MLA Donor Company to co-fund 50 percent of the cost, contact Julie Petty at [email protected] or 0411 680 516
Source: MLA.