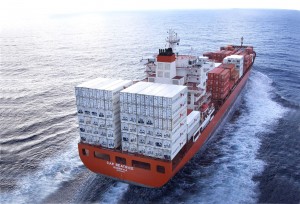 The amount of lamb and mutton held in storage in the United States is 40 percent higher than at the same time last year, Meat and Livestock Australia reported today.
MLA said the latest US Department of Agriculture's Cold Storage report showed there had been a very large increase in lamb and mutton in cold storage over the last year, peaking in August and September, and currently at 16,689 tonnes.
MLA's market information manager Ben Thomas said the increased tonnage of lamb and mutton in US cold storage was significant and he doubted importers would be building stocks for the spring or summer.
"Normally at this time of the year it is down around 10,000 tonnes,
"Why is it slow to move? I know the retail price is starting to creep higher again.
"The big challenge for the US at the moment is while lamb in cold storage is high, so too is poultry, pork and beef."
The Cold Storage report showed that the volumes of meat stored in freezers in the US has been rising since the end of 2014.
Issues such as increased production of pork and poultry; disruptions to exports of beef, pork and poultry due to port blockages, the appreciating US$ and avian influenza; and higher imports of beef have all contributed to the growth in meat stores, Mr Thomas said.
US lamb consumption still small
Mr Thomas said lamb consumption in the US was relatively small compared to the other animal proteins.
"Depending on how long it takes that backlog to be cleared will determine how much of an impact it has on the market or how long there will be an impact."
The volume of beef in US freezers (which is mostly boneless – ground – beef) was 20pc higher at the end of February than one year earlier, at 223,220 tonnes – the highest volume since April 2013, the USDA report said.
Pork stores were 5pc higher than last year, at 311,231 tonnes, with the largest growth in boneless hams, which were 18pc higher at the end of February.
Chicken breast meat growth a concern
Chicken volumes were also higher, up 8pc, to 332,044 tonnes. MLA said of some concern is the fact that most of this growth was in breasts and breast meat – generally the most popular form of chicken consumed in the US. There was a fairly significant drop in stores of wings, reflecting their growing popularity among consumers.
The increased volume of available meat is generally negative for beef prices in the short term, but it is hoped that the return of the spring and summer grilling season will reinforce the already strong demand for meat protein in the coming months, MLA said.
Source: Meat and Livestock Australia, USDA Cold Storage report.