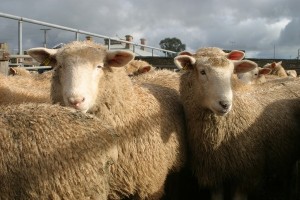 Renewed upward pressure on lamb prices is expected later this year and into 2015, according to the latest NAB Rural Commodities Wrap.
The NAB September report said heavy lamb prices fell 13.5 percent in August as below average winter rainfall led to an elevated turn-off.
Meat and Livestock Australia data showed that heavy lamb averaged 476.8c/kg carcase weight for the month amid elevated concerns over prospects for spring rain. Australian lamb exports fell in August on seasonal factors but were nonetheless 10.2pc higher than August 2013.
"Despite this, we expect that that there should be renewed upward pressure on prices later this year and into next.
"Decent spring rainfall and reasonable pasture growth is likely to pique restocker interest."
The NAB's analysis coincided with the National Livestock Reporting Service's prediction that the earlier and higher new season lamb turn-off across the eastern states over recent months was likely to detract from available supplies later in spring and into summer.
New season lamb numbers in saleyards across NSW, SA and Victoria have totalled about 541,900 head since July, 27 per cent higher than the corresponding period last year, with young lambs now outnumbering old lambs, the NLRS said last week.
During August, new season lamb supplies were especially strong, up 41pc year-on-year. So far in September there have been 20pc more young lambs yarded overall.
Old season lamb supply, on the other hand, has tracked 23pc lower for the July to September-to-date period, compared to last year, as many producers capitalised on the higher saleyard prices during autumn and the start of winter.
New season lambs hit saleyards weeks earlier
In NSW, new season lambs typically start to come onto the market earlier than the southern states and peak around October, the NLRS said. But this year young lamb consignments were 47pc higher in July and 42pc higher in August year-on-year, while numbers have comparatively stabilised somewhat so far in September – up only 6pc on levels a year ago.
The NLRS said historically, new season lamb numbers in Victoria start to ramp up towards the end of winter, and throughput levels in August were up 63pc and lifted 60pc in September this year, above the previous year. South Australia follows a very similar seasonal supply pattern, and consignments so far in September are already up 28pc on the same period last year.
Trade lamb prices historically high
The NLRS said while trade lamb (18kg-22kg) prices at saleyards are down $1/kg cwt from the highs in the first half of the year, prices during the first three weeks of spring remain historically high, at 477c/kg cwt – 4pc above the five-year average, 11pc higher than in 2013 and 21pc above those in 2012.
Trade lamb prices in NSW are 5pc higher at 486c/kg cwt and in Victoria at 483c/kg cwt are 6pc above the five-year average, the NLRS said. Furthermore, NSW trade lamb prices are 22pc higher than they were in 2012 and 12pc above the 2013 level, and in Victoria they are up 23pc on 2012 and 14pc above the 2013 level.
At 458c/kg cwt, South Australian trade lambs are 3pc above the five-year average, while in Western Australia, trade lambs averaged 463c/kg cwt, 11pc above the five-year average. In Tasmania, the same category averaged 489c/kg cwt, 5pc above the five-year average.
Over-the-hooks prices have followed a similar trend, with medium trade lambs (18kg to 20kg), 11pc above the national five-year average, at 516c/kg cwt, and 7pc higher in NSW and 10pc higher in Victoria.
Sources: NAB, NLRS, MLA.