UNJOINED ewe prices lifted, but wether lamb and joined ewe values took a hit on AuctionsPlus last week.
The online saleyards offered 43,131 commercial sheep and lambs last week, 7 percent down on the previous week.
The lamb market returned mixed results, with three of the five regular categories averaging lower week-on-week. Joined ewe prices were mostly lower, although clearance rates improved, whereas the average prices for unjoined ewes generally improved, albeit lower percentages were sold.
The national sheep sale offered 16,662 head, with 52pc sold during the sale, rising to a clearance rate of 62pc after post-sale negotiations. The national lamb sale listed 26,469 head, and the sale clearance of 44pc only rose to 48pc in the 48 hours post-sale.
The 13,229 crossbred lamb offering was the largest category, accounting for 31pc of the total offering. Prices ranged from $98-$150 and averaged $123, back $11, and 40pc were sold. At Forbes in New South Wales, a line of March 2022 drop Poll Dorset cross mixed sex lambs weighing 37kg lwt made $150.
Only 39pc of the 4366 Merino wether lambs sold for $85-$127 to average $106, down $12. A line of March/April 2022 drop poll Merino wether lambs weighing 39kg lwt at Eudunda in South Australia  sold for $127.
All the 1155 shedding breed lambs offered sold, from $122-$156, to average $145, up $27. Topping the category this week was a line of January 2022 drop Australian White ewe lambs weighing 40kg lwt at Junee in the Riverina that made $276.
Joined ewe listings accounted for 25pc of the total catalogue this week. The 4511 scanned in-lamb Merino ewes made up the largest category and 10.5pc of the total listings. Prices ranged from $120-$250 and averaged $181, up $20. The clearance rate for the category was also stronger, reaching 82pc. A line of 588 two year-old Poll Merino ewes weighing 49kg lwt at Thallon in Queensland sold for $250 to a Longreach buyer.
Scanned in-lamb first cross ewes averaged $254, down $16, with the category reaching a clearance of 47pc across the 1378 head offered.
The 1939 scanned in-lamb shedding breed ewes sold from $180-$506 to average $320, back $134. The clearance rate lifted to 86pc. Scanned in-lamb composite/other breed ewes sold from $168-$272  to average $214, up $5. The clearance rate was 50pc at the close of auction for the 1982 head offered, and rose to 94pc after post-sale negotiations.
The 7104 unjoined ewes accounted for 16.5pc of the total offering and prices across all four categories averaged stronger.
The 1294 unjoined Merino ewe hoggets made from $178-$252 to average $213, up $29. The clearance rate rose from 16pc after the sale to 47pc after post-sale negotiations. At Robertson in South Australia, a line of 14-15 month-old Merino hoggets weighing 61kg lwt sold for $252.
Unjoined shedding breed ewes sold from $106-$510 to average $233, up $65, but only 32pc of the 1986 ewes offered sold. Topping the category was a line of two year-old Australian White ewes weighing 71kg at Condowie, South Australia, that sold for $510, more than twice their reserve price.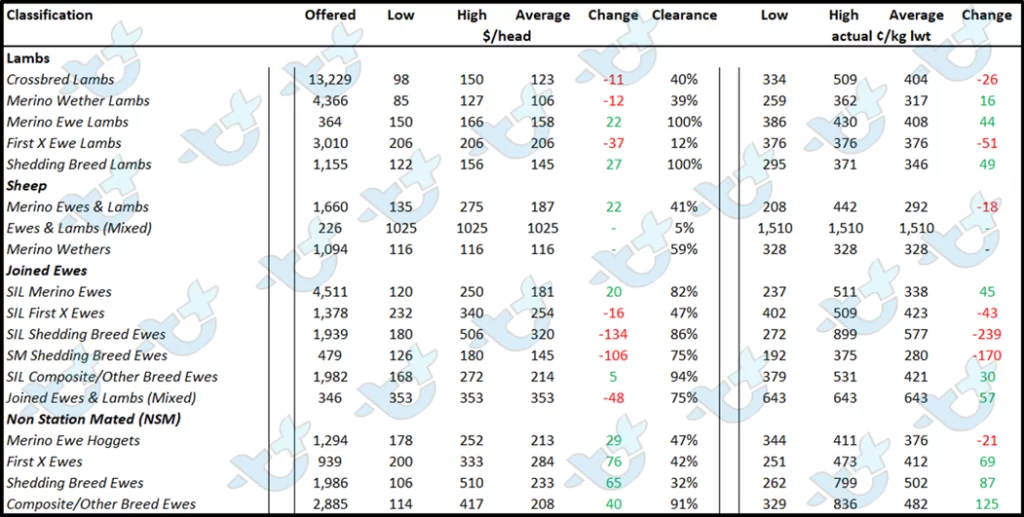 Source: AuctionsPlus