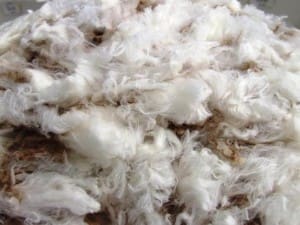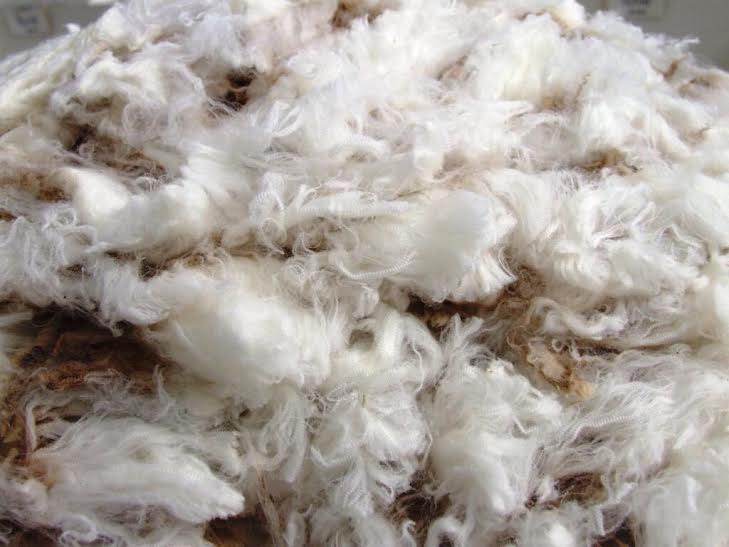 Ultrafine wool sold for more than $4000 a bale on Wooltrade last week.
The gross bale return of $4041 a bale was realised for a 14 micron two-bale line offered by Schute Bell Badgery Lumby for Guyra growers David and Judy Pearson in NSW.
Mr Benson said the top priced line was something special and sold for 2510c/kg greasy. The paddock-grown line yielded 79.2 percent, with just 0.7pc vegetable matter content, a staple length of 73mm and a tensile strength of 35 Newtons/kilotex.
The 17-19 micron Merino fleece lines performed the best on Wooltrade last week, with demand pushing prices up 20 cents clean, while most other microns improved about 10 cents, he said.
"Skirting and carding wools have been well-supported, with the latter receiving a 20 cent bump, to push oddments further into the stratosphere."
Wooltrade bales average $1400
Mr Benson said the lines sold on Wooltrade last week averaged $1400 a bale, $100 up on the lots sold in the AWEX physical wool sale held in Sydney at the Royal Easter Show, which averaged around $1300 a bale.
Wooltrade sales were strong right throughout last week with the assistance of a few events, including a falling Australian-US dollar exchange rate, the recess for Easter helping sales either side of it and supply questions after the break, he said.
"There has been talk that shearing across NSW and Victoria is up to three weeks early."
Mr Benson said wool supplies in autumn and winter will most likely be less than last year.
Wooltrade already has 8500 bales listed at the start of the physical sales recess, and 210 bales were sold today.
"Wooltrade is the only place exporters can buy quantities of wool and this gives me some confidence of a steady market when we return to auctions.
"Buyer interest has been positive and prices firm compared to the close," Mr Benson said.
Growers meeting the market
He said the physical wool market ended the week on a high, up 12 cents, to leave the AWEX Eastern Market Indicator at 1106c/kg, some 113 cents above this time last year and across the board prices were rose by up to 20 cents.
"A pass-in rate below 4pc in the auction is a good indicator that growers are meeting the market as a possibility of a dry winter looms, some people will need their wool cheque this year to cover feed and other necessities."
Physical auction supplies manageable
Schute Bell Badgery Lumby Sydney manager Gerard Buchanan said the market lead into the Easter AWEX sale recess on a very positive note.
"The market over the last couple of months has had a few ups and downs long the way, but really it has traded in a reasonably narrow band.
"I think what we have seen in the market is the better fine wools over the last 2-3 months have sold at premiums over the rest and there certainly has been some fresh orders in the market over the last 2-3 weeks, which helps.
"The Chinese have been dominant but probably the currency coming off has helped and the offering have been at a manageable level of 40-45,000 bales."
Mr Buchanan said the market can't cope with 55-60,000 bales in a week, but it can cope quite comfortably with offerings in the mid-40,000s. The pre-Easter lift in prices was due to the currency, some fresh orders and forward contracts being met.
"I think the market will certainly open up on a positive note.
"The market, the way it works at the moment, being so hand to mouth, you can see these lifts for 2-3 weeks and then the market just settles back," he said.
"I certainly wouldn't go as far as saying it is onwards and upwards from here, but I think certainly in the short term the market is going to trade around these levels."
Australia's finer micron wool still relied heavily on Northern Hemisphere retail demand for mens and womens suitings, Mr Buchanan said.
"So whilst their economies are still very much walking that tightrope, it's going to continue to be tough, particularly with where our production levels for fine wool are."
The Chinese were starting to purchase more fine wool, but the prices for medium micron wools, skirtings, cardings and crossbreds were so strong because these wool types were going into areas of strong retail demand, such as casual wear, he said.
Sources: Wooltrade, Schute Bell Badgery Lumby