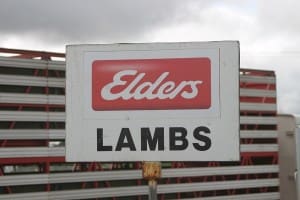 TRADE lamb prices lifted in saleyards early this week, as quality supplies tightened further before the Australia Day holiday.
Forecast rain kept some lambs back in New South Wales, but in all saleyards restockers and processors bid strongly for quality lambs.
Demand continues to be strongest for the limited number of well-finished trade and export lambs coming into centres.
At Tamworth on Monday, restockers paid up to 900c/kg cwt for under 12kg cwt young lambs, light lambs 12.1-18kg made 544-680c/kg, light trades sold for 544-581c/kg and the few lambs over 24.1kg made 496c/kg.
The National Livestock Reporting Service quoted its Eastern States Daily Indicators for slaughter lambs as either firm or higher. After Monday's saleyard sales, the lamb ESDIs were: restocker 510c/kg, down 3 cents; Merino 461c/kg, up 2c; light 485c/kg, up 6c; trade 528c/kg, up 3c; heavy 539c/kg, no change. The national trade lamb indicator finished on Monday at 529c/kg and the heavy indice closed at 539c/kg.
The eastern states daily and national indicators for mutton closed on 266c/kg.
Over-the-hook rates improving
In New South Wales, the NLRS said over-the-hook lamb rates this week edged slightly higher, with trade weight lambs holding firm at around 500c/kg cwt, while heavy weights were dearer. Light weight mutton rates were higher, However, medium and heavy weights slipped.
NSW's OTH rates for 2-4 score lambs are: 18-20kg, 460-540c/kg, up 7 cents; 20-24kg, 500-540c/kg, no change; 24-26kg, 500-520c/kg, up 3c; Merinos 16-22kg, 430-470c/kg, up 27c. The mutton rates are: 14-18kg, 200-310c/kg, up 13c; 18-24kg, 260-310c/kg, down 15c; 24kg+, 230-290c/kg, down 15c.
In Victoria, the NLRS said over-the-hook lamb rates were unchanged week-on-week, while sheep rates slipped slightly. Trade weight lambs are averaging 528c/kg cwt, while medium weight mutton is averaging 283c/kg cwt.
Victoria's OTH rates for 2-4 score lambs this week are: 16-18kg, 520-530c/kg; 18-22kg, 520-540c/kg; 22-24kg, 510-540c/kg; 24-26kg, 500-510c/kg; 226kg+, 500c/kg; Merinos 16-22kg, 450c/kg. The mutton rates are: 14-18kg, 220-290c/kg, down 17c; 18-24kg, 260-300c/kg, down 13c; 24kg+, 200-260c/kg, down 13c.
In South Australia, the NLRS said OTH lamb rates lifted this week after one contributor increased their grid, with trade weight lambs averaging 513c/kg cwt. Mutton rates lowered with medium weight mutton now averaging 245c/kg cwt.
South Australia's OTH rates for 2-4 score lambs are: 16-18kg, 500c/kg, up 20c; 18-24kg, 500-540c/kg, up 13c; 24-26kg, 500c/kg, up 13c; Merinos 16-22kg, 470c/kg, up 20c. The mutton rates are: 14-18kg, 180-280c/kg, down 22c; 18-24kg, 200-280c/kg, down 18c; 24kg+, 160-260c/kg, down 23c.
In Tasmania, the NLRS quoted OTH rates for sheep and lambs as unchanged. Tasmania's OTH rates for 2-4 score lambs are: 0-16kg, 465-480c/kg; 16-18kg, 480-500c/kg; 18-26kg, 510-520c/kg. The sheep rates are: 0-14kg, 260-290c/kg; 14-24kg, 280-290c/kg.
Western Australia's latest OTH details were not available when this report was published.
Dubbo trade lambs lift $3
In New South Wales at the Dubbo saleyards on Monday, the agents yarded 20,485 lambs, 3685 more than last week, and 5760 sheep, 8180 fewer.
The NLRS said all weights and grades were represented in a pretty good quality lamb yarding, with some good trade weights and excellent heavy weights.
Lightweight lambs sold to the processors were $2-$4 dearer, with the 12-18kg 2 scores selling from $60-$93. Trade lambs were firm to $3 dearer, with the 18-22kg 3 scores making $90-$127 to average 541c/kg cwt. Heavy weight lambs finished firm to $2 dearer, with the over 22kg 4 scores selling from $125-$180. Merino lambs were $3 cheaper, with the trade weights selling from $85-$113. Heavier weight Merinos sold to $131. Restockers paid to $105 and hoggets sold to $117.
Mutton quality was fair, with some good lines of heavy weight Merinos with good skins and the usual plainer types. Light and medium weight sheep were $1-$3 dearer, while the heavier weights were firm. The 2 score ewes made $30-$66, while the better 3 and 4 scores sold from $52-$95 for crossbreds and to $120 for woolly Merinos. Woolly wethers in prime condition sold to $124.
Strong restocker demand at Tamworth
At the Tamworth saleyards on Monday, the agents yarded 1800 lambs, 2950 fewer than last week, and 900 sheep, 800 less.
The NLRS said the lamb yarding comprised a very mixed quality offering, ranging from plain quality store lambs through to a fair supply of very well-finished heavy and extra heavy weights. Well-finished young lambs suitable to the trade were in limited supply. The usual buyers attended.
Demand was strong for the limited number of suitable lightweight lambs available to restockers, resulting in a firm to dearer market trend, when taking quality into account. A rain forecast and the limited supply were contributing factors, not so much the current level for the finished product. Well-finished trade weight lambs remained close to firm, with just enough to satisfy buyer requirements. The quality of the heavy weight lambs was very good and weights increased. These were contributing factors in the dearer prices paid on a firm to slightly dearer market trend.
The very few well-finished medium and heavy weight sheep sold firm to slightly dearer, while the plainer condition sheep eased in price.
Bendigo's trade lambs lift $3-$6
In Victoria at the Bendigo saleyards on Monday, the agents yarded 7751 lambs, 5904 fewer than last week, and 1416 sheep, 5597 more.
The NLRS said there was a better selection of heavy lambs in the yarding, while the quality of lighter types off grass remained very mixed due to the dry season.
The lamb market recorded some stronger price averages overall compared to the previous week's erratic trends, with most trade weight types $3-$6 dearer. Some of the lighter trade and store lambs posted higher gains at times. Bidding reached a top of $174 for heavy export lambs over 30kg cwt. About half a dozen pens of heavy lambs sold to export processors at $160-$174. In a repeat of last week, the strongest competition was for well-finished trade weight lambs suiting the major domestic orders.
The lead pens of shorn lambs weighing 24-27kg cwt sold from $135-$156, while the best of the medium trade weights around 22kg sold to $127. On a carcase basis, these better finished slaughter lambs averaged around 530-550c/kg cwt. Demand for light and small lambs was keen from both restockers and processors.
The sheep yarding was limited in quality. Price results were mixed, depending mainly on weight. Competition for extra heavy mutton remained subdued, with most heavy ewes making $66-$82, to be cheaper than a week ago. Prices for trade weight and light mutton were stronger, but based on limited quotes. A range of 220-270c/kg cwt covered most mutton sales.
Muchea's trade lambs back $3-$4
In Western Australia at the Muchea saleyards on Monday, the agents yarded 2186 lambs, 5150 few than last week, and 2613 sheep, 2187 less.
The NLRS said the very average quality yarding attracted very little interest or animation in the bidding.
The few good heavy lambs penned sold mostly firm, up to $112 and averaging $99, up 4c/kg cwt. Trade lambs sold from $81-$99 and averaged $88, to be back $3-$4. Air freight lambs remained firm at $61-$85 to average $77, or close to 430c/kg cwt. The store lambs were very plain and met limited competition, falling $2-$3. Feeders bought light lambs to fatten for $28-$61 depending on size and quality.
Heavy ewes sold firm from $50-$61 at an estimated 214c/kg cwt. Trade mutton and good ewes sold to processors fell $3-$5 to $30-$45. The light mutton, 15kg and under, sold from $5-$20 to graziers with competition from live exporters. Wethers and rams remained firm. Heavy wethers sold from $94-$100, with feeders buying older lighter plain types for $52-$77. Young wethers sold to graziers for $52-$69. Rams were keenly sought after, with younger heavies suitable for live export selling from $40-$82 and older rams going to manufacturers for $10-$35.
Sources: MLA, NLRS.