WELL, I suppose it is time for someone to pop their head up and take a position on what's next.
I cannot determine the weather, but regarding store livestock prices I call that we are at the bottom and if you are going to have a crack get in now.
If you are in the market to sell look at your timeframes and make sure you market your livestock not just sell them. Good agency, relationships, market intelligence, feed availability all come into play so you sell on the coming value not last month's prices.
As I wrote last month, forget price, look at the margins available. The buy price, weight gain opportunity and better than a fair chance the rates will improve after Christmas all line up. Even if prices flat track weight gain will create a quid.
Store lamb prices are starting to move, good bone-out cows are in demand as the southern cows have too much grease on them, light heifers and steers are a fantastic option and breeding ewes for lamb production haven't been this buyable since 2008. Perhaps the north will get a follow up rain and provide some serious upside.
Cattle
Enquiry about cows is starting to appear with offers being made on larger lots that indicate the big run is finished with the heat in the north slowing things up.
For the upcoming weaner sales – wean your calves, it will give you extra competition. Geoff Shipp, Elders WA said much of the northern cattle run has finished with many properties putting cattle back out because of the depressed pricing. Geoff also commented that hay is in short supply and trading around $350 per tonne. Considering the limited numbers of cattle put out and the dry north of Perth and the Southern missing a spring there seems to be a quiet optimism the WA cattle job will improve after Christmas.
Andrew Whan, Miller Whan and John, Mount Gambier said the limited spring rain has really squashed the season south of Mt Gambier. Friday the 10 th will see the Mt Gambier store sale with 2000 cattle offered with a reasonable number of early weaners appearing a month early.
My experience is the cattle from the Mount always weighed well at the feedlot or processor sale end, breeding and bone made paying a bit extra worthwhile at this time of year.
Both Michael White TB White & Sons Ballarat and Will Jennings Paull & Scollard Nutrien, Albury noted the majority of cattle types seemed to have stabilised at current rates however cow and calf units are seeing improved enquiry. Best units have traded at Ballarat and Barnawartha above $2000 in the last two weeks.
Joel Fleming, Nutrien Harcourts Livestock and Real Estate, Tamworth reported the last two weeks have seen two falls of 10 – 30mm through the New England and Northwest Slopes with considerably more over the Eastern fall down to the coast. Weather predictions are a bit more to come which if it happens will turn the north from sellers to buyers – fingers crossed. Prices have reacted immediately with light feeder heifers moving from $1.60 to $2.10 – $2.50 this week. Light feeder steers stepped from $2.30 to $2,70. Feedlot rates are still holding at $2.20 – $2.30 on Angus and $2.00 – $2.20 on British breeds and their crosses. Joel noted that most of the November to January heavy feeders have gone which is similar to many areas of NSW.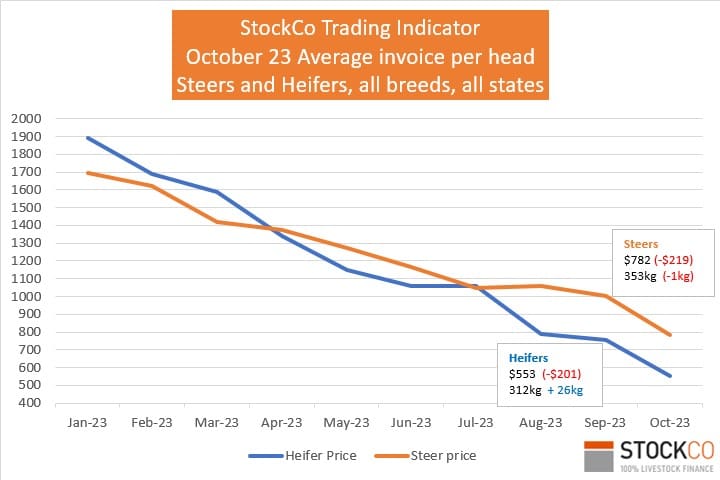 Forward contract prices on lambs are coming
We are now getting signals about forward pricing for lambs in January with processors looking to release contracts very shortly, perhaps within days. In the forward contract arena "first mover" is not necessarily the best offer as others will gauge the price and come in with a better rate. Speaking to one processor he said "be careful of grabbing the first rate released".
I can't provide much light for mutton other than make sure you shear merinos if they have more than 50mm of wool. The store lamb job is starting to move with more enquiry appearing as harvest gets into full swing. Any release of forward pricing will also add further positivity to this scenario, so I strongly suggest buy your store lambs ASAP.
I have seen some buy strategies in the media recently that are pushing the "buy heavy lambs to create a return." This is very much the spot market mentality that creates the supply issue we are in now. Grain feeding lambs at this point is totally reliant on a lift in the hooks price to create a margin.
It is fine to pay the money and secure 40kg lambs to create heavies for late January till March but what about the supply after that. Light stores are a bargain at present and well worth buying now, shearing, and forgetting. The opportunity to create a margin with backgrounding up to feedlot entry weight is fantastic – lambs and cattle!! Also be very careful on the weight gains being touted above 350 grams per day for lambs. For the average have a go feeder these numbers are fiction and often involve weighing a dead empty lamb and using the compensatory weight gain as a feed conversion number – a trap for young players.
Rob Hanbury, Thomas, De Garis, Clarkson agency, Penola let me know the first leg of the Combined Agents First Cross ewe sale at Naracoorte will kick off on Thursday the 9 November with 16,000 1.5 year olds followed by 30,000 1 st cross ewes lambs on the 16 th November. Rob said the demand has been subdued up until now and the opportunity to buy some very well-bred replacement ewes has probably never been better. He expects that current prices may see some of the ewe lamb vendors hold back their second draft lambs and carry them through till next year.
Richard Harvie PPHS, Naracoorte commented that the quality 1st cross operators are achieving $125 – $175 for lambs with a $30 – $40 cull ewe. This makes the changeover cost work at about $165 – $240 for the 1.5 year olds. The best of the ewe lambs will be 65 – 70kgs and represent outstanding buying at current values. Richard said store first cross ewe lambs are only making wether money and represent a great two-way bet at not a lot of money.
Michael White, TB White & Sons, Ballarat has seen the lamb numbers starting to lift going from 5000 last week to 13,000 this week. The season is just hanging on with need for rain. The last two years trading have seen a number of lamb traders concentrate on more cropping and hay which has seen considerable less lambs put out for the new year. Quality of lambs for backgrounding is good with some of the processor lambs still ok underneath but are starting to dry in the skin. Ballarat will also start their run of 1 st cross ewe sales on the 8 th December and the 5 th January.
Gerald Wetherall, GM Livestock, West Coast Rural, WA said the shortness of the season in WA will bring some supply issues into play. Good runs of suckers out of the Southern are nearly gone and stubbles this year will have limited feed value with the WA season failing in many areas. Gerald had the same thoughts as I and thinks we have now hit bottom with enquiry appearing. A long-standing feedlot relationship in the East has allowed Geralds team to move a significant number of store lambs across the flat providing destination for store lambs. He said last year they still had 60,000-70,000 old lambs around them but this year it is all new season and they are cutting out fast.
Live export
The WA live exporters have also stepped in with continuous ships running from Fremantle at $60 on XB and $50 – $60 on merinos. Quality is key for these deliveries as is expected and hopefully it shows the absolute importance of live export to the Australian sheep industry and our long-standing middle east partner countries.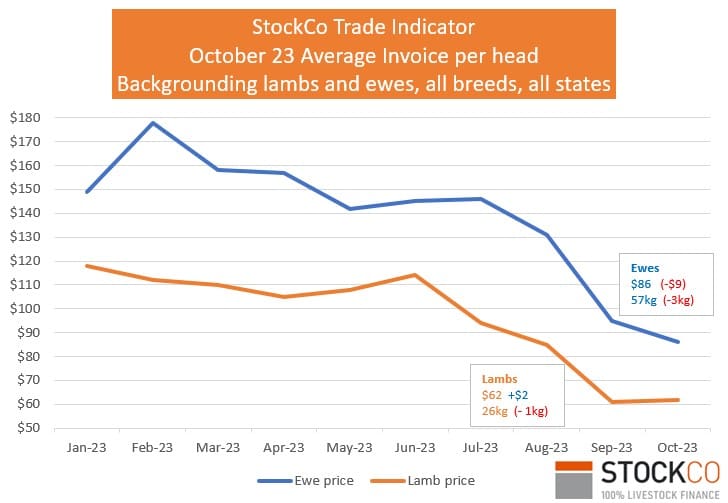 Wool
Matt Cox, AWN wool technical officer, Brooklyn gave me an update on the wool job. Merino types 18.5 and under that suit the European buyers are going well. Tensile strength is important for this market and it is well worth classing any stretchy tender fleeces to a different line.
Wool showing tenderness is a bit erratic and although well supported by Chinese buyers it does not have any European competition at this time. Higher vegetable matter wools are at a lower price but the competition is very solid providing a continuity of pricing.
Crossbred wool is well worth taking the time to prepare properly. Well skirted and classed wool (22-26 micron) has good competition and is achieving 700 – 800 cents. This is nearly a 100 cent lift since last year so preparation time invested is paying off.
Prem Merino wools at 50 – 60mm seem to be gaining good support when sold as fleece however if sold as oddments the support is quite erratic. My suggestion is if you are shearing a number of prem sheep take the time to ask your wool broker about best preparation and sale options.
Composite wool is still providing a negative return at sale without much promise looking forward.
Simple tip – If selling merinos or XB's try and shear them 6 weeks before sale, this will give you a pelt value and you will gain a return from the wool. Also the sheep present much better in the sale pens.
Re – inventing the wheel
What's old is new again. I did smile as I have seen a few businesses reinvent the wheel in the agricultural space over the past 6 months. When times are tough it is easy for those new to the business or industry, desperate for a win, to come up with an idea they think has never been done before. With out looking at the past failure it is extremely easy to replicate mistakes. A fresh coat of paint, sprinkle some glitter on it and away we go doesn't change the outcome as a rule. Unless a material change has been made to the product offering the same result will happen as previously.
This also applies to farming practices, don't become adverse to change but look at all the moving parts and establish what changes will create success.
Agency changes – over the past 12 months we have seen the cycle of Stock and Station agencies being sold to larger or corporate agencies. This has happened for ever and some of the bigger companies are an amalgamation of many very reputable agencies over the past 150 years. Locally the only difference for many is a change of shirt colour with your agent still being the same relationship and value they were last week. In turn these acquisitions tend to create grey areas that see new agencies appearing. Nothing ever stays the same, however unlike times past, technology and specialist support now provides the ability to develop an agency offering without the need for a full blown head office structure.
RMA Network and AuctionsPlus ran a training school at Forbes in October with a great role up of agents from Pakenham, Vic to Grafton, NSW and all areas in between. The experience of Shad Bailey, Colin Say and Co, Glen Innes & Phil Butt, Butt Livestock and Property Yass with support from Hannah Kermode, A+, Orange helped make the 2 days not only informative but a great networking opportunity. Two key points raised were Delivery – if in doubt leave it out. If you would not buy it don't put it on the truck as a clean up! Reserves – set your reserves at what you are willing to accept not what you are dreaming of. That way your livestock will sell not still be in the paddock looking at you.
Opportunities
 Store lambs
 Perhaps heavy mutton with a 6 month fleece as an odds on.
o Save on spray and get a wool clip
 Light heifers
 Light steers
 First cross ewe lambs – a two-way bet
 Cows and calves
 Weight gain
 Margin opportunities
 Wean your calves
 Time to hasten slowly