INVESTMENT in vertical integration has enabled South-Australian-based meat processor Thomas Foods International to get closer to its Australian and overseas consumers.
TFI chief operating officer David McKay told World Merino Insight conference delegates in Adelaide this week, a healthy focus on vertical integration had led to significant investments through the supply chain in Australia and overseas.
"Again it is all about getting closer to the end consumer.
"So if you are sitting around that table with a Costco or a Walmart or a big retailer of lamb in the US and you understand from them what the customer wants," he said.
"You understand where along that value chain you can change packaging to suit the end consumer or change the price of the products by smaller portions and so forth.
"Just having that relationships and answering those questions and presenting lamb in the right way gives you an edge."
TFI's domestic investments included strategically-located rural holdings, a feedlot enterprise, creation of a strong retail partnership with Holco Fine Meats and new brands like Thomas Farms Kitchen with products available online.
"We've diversified into fresh produce – so we get all the meat and potato jokes now, with a significant potato-growing enterprise which has strong domestic sales and an export theme as swell.
TFI's US investment build ownership-alignment strategy
Mr McKay has overseen the recent expansion of Thomas Foods International which has a capacity to process 125,000 sheep, lambs or goats and up to 5000 cattle weekly, employing about 2500 people in three plants in regional communities. TFI now exports to more than 85 countries.
"So TFI is considered the largest 100 percent Australian privately-owned meat processing company."
Mr McKay said TFI's "courageous step" in its largest lamb export market to merge with established US importer Foodcomm International in 2009, now known as Thomas Foods International USA, had opened up opportunities and underscored recent growth.
"Investment in cold storage and further processing facilities in the US supports a dedicated network of sale and distribution right throughout North America."
A facility in Philadelphia further processes TFI products and sales offices in Palo Alto, California, were part of the company's US network. These developments meant the company was much closer to its end users and had aligned its Australian processing facilities with major US retailers and customers, Mr McKay said.
A recently constructed facility in Swedesboro, New Jersey, many of TFI's chilled and frozen lamb products are further processed up to price and weigh labelling ready for supermarket shelves. Mr McKay said the company had previously outsourced to other companies to grind its beef, slice lamb and package.
"We brought that in-house and we think by doing that we can again add value and mover costs and be competitive against other proteins."
Mr McKay said through the company was gradually education consumers worldwide how to cook lamb and mutton establishing "a healthy realisation" among consumers of Australian red meat as a value-proposition compared to other competing proteins.
"Our strategy in the US, that is ownership and alignment to a customer base, is a value proposition we aim to roll out with other strategic partnerships across markets worldwide."
Mr McKay said TFI's alliances with Australian and overseas retailers were integral to the organisation and 80pc of the lamb it processed was exported. Customer Costco retailed 70,000 lamb cuts per week through 493 outlets in the US.
"Lamb currently represents 0.4pc of annual protein sales in the US….so if we grew that 0.4pc lambs to 1pc it would be interesting if we could actually supply it."
TFI extending ownership-alignment strategy to Asia with Adelaide plant
Mr McKay said TFI was now looking at extending its ownership-alignment strategy into Asia, with the signing last year of a Memorandum of Understanding with Thailand's CP Group to explore growth opportunities.
"That growth will provide continuity of supply to CP Foods and greater access for TFI into China through their growing retail empire."
The privately-owned CP Foods annually produced 24 million tonnes of animal feed and 2 billion eggs, and processed 260 million chickens. The company is the world's second biggest largest prawn and pork producers with a global turnover of $A55 billion, employing 300,000 people. CP Foods retails through 8000 7/11 stores in Thailand and a large supermarket presence and chain in China.
TFI was in the planning stage for a production facility with CP Foods in Adelaide to manufacture ready-to-eat meals, Mr McKay said.
"That's a significant investment for CP Foods and TFI, but it is also a significant investment for the region and South Australia.
"Creation of this facility provides many opportunities to add value to beef, mutton and lamb products on the domestic and export stage."
He expected the facility would be on a greenfield site in north Adelaide preferably, but this had not been decided.
"It is going to be a bit more innovative, bold and courageous with big investment around automation to be competitive."
Mr McKay said speaking at the conference was an indication of the partnership and increasing inter-dependency between meat processing and the Merino wool industry.
The Australian sheep meat industry owes much of its origins to the very buoyant wool industry in the 1950s, 60s and 70s, he said.
"It spawned what we believe is a world-leading and a very competitive sheep meat processing industry."
Mr McKay said he thought MLA'S diversity-focussed domestic lamb promotion campaign could work overseas,
He said Australia was not the only multicultural society in the world.
"It is transferable."
Mr McKay said the MLA was doing a very good job promoting lamb in Australia, but he called for more promotion and marketing overseas.
"I think the more you can market your product and the value proposition we can stand up and compete – I think you need that.
"I think if we can continue to support the market in the US I think there are great opportunities."
Positive long-term outlook for sheep meats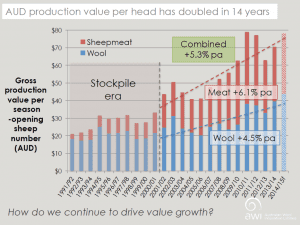 Mr McKay said the company saw a positive long-term outlook for the sheep meat industry, with US lamb exports increasing 6pc in the last year.
"Sources suggest that the market will lift into China as retailers further promote the eating quality and reliability of Australian lamb and mutton."
There was also plenty of opportunity to lift mutton consumption in the US with consumer education, he said.
Mr McKay said the production value of a wool-meat combination has doubled in the last 14 years.
"The combination is yielding an increase per annum of 5.3pc and to many that should equate to confidence."
Global demand for high quality Australian red meat is rising, underpinned by middle class and disposable income growth, a worldwide food quality revolution was turning consumers to reliable and safe production, and increasing foreign investment in Australian agriculture, he said.
"It underscores the importance of the Merino ewe and the self-replicating Merino flock to the long-term viability of our industry.
"It emphasises how critical it is for industry and for governments to continue their efforts in reducing barriers to market access, but also suggests industry must continue to find new markets and educate consumers on the benefits of all of our products."