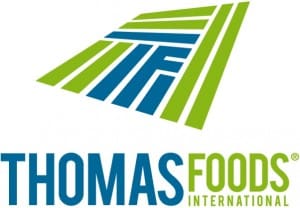 AUSTRALIA'S largest fully family owned meat processor Thomas Foods International has moved to increase its lamb, sheep, goat and beef price transparency by listing its weekly grids on the company's website.
The move follows a presentation by Australian Competition and Consumer Commission commissioner Mick Keogh to company executives and buyers late last year.
The TFI initiative is in line with a recommendations by the ACCC Cattle and Beef Market Study that to improve transparency and industry efficiency, cattle buyers using price grids should make them publicly available to producers in a timely manner.
The study's final report recommended that grids should be published in a prominent position on a processor's website and also be made available through an unconditional phone request as soon as practicable after prices are updated.
TFI's national small stock livestock manager Paul Leonard said Mr Keogh addressed the company's annual livestock buyers' conference in December last year. He said in embracing the findings of the ACCC study, the company had also created an in-house buyers' professional conduct policy.
"We've listened to the outcomes of the cattle and beef market study and we've acted on it.
"Our guys were very privileged that Mick himself took the time to address us."
Sheep, lamb and goat grids are currently on the TFI website and revised beef grids will go up next week.
Mr Keogh said this week it is heartening to see such a positive initiative being taken, and he hoped that other major processors take heed and follow suite.
"I think this is an excellent initiative by TFI which will help sheep meat and beef producers obtain improved market information which will aid their production and marketing decisions."
Mr Keogh said Bindaree Beef had also made their grids available on their website for some time, so it is good to see TFI adding some positive momentum on this issue.
"I think these actions by both organisations put to rest the concerns that some companies and representative bodies had about whether such disclosure would create a competitive disadvantage for those involved.
"I urge groups representing cattle and sheep producers to express their support for these initiatives, and to encourage other processors and buyers to take similar action," he said.
Mr Keogh said TFI and Bindaree had demonstrated leadership in taking positive action to enhance the standard of competition in livestock markets, especially in relation to sales direct to processors.
"It is now time for others in the sector to follow this lead, which will benefit all in the respective supply chains."
Mr Keogh said the ACCC published an update report in May 2018, noting the lack of industry progress towards voluntarily adopting the ACCC's 15 recommendations.
"The ACCC will continue to discuss our beef cattle market study recommendations with relevant ministers and departments.
"We would like to see uniform national licencing of livestock agents, buyer registers at livestock sales, and enhanced reporting of over-the-hooks cattle sales," he said.
"While our study did not specifically address sheep and lamb markets, in the ACCC's final report we noted that similar issues are evident in those markets.
"I encourage sheep and cattle representative groups to support these initiatives to the benefit of their industry."
Timely price information lessens  co-ordination risk
The ACCC's beef and cattle market study also said where price grids are not publicly available on a company website, a buyer maintains discretion over whom it releases price grids to. This may limit the bargaining power of cattle producers if they cannot easily access price grids from alternative buyers and dampen competition in cattle acquisition markets, the study's report said.
Many small-scale producers told the ACCC inquiry that their requests for grids are often ignored because the consignments they propose to send are too small. Although buyers are not obliged to purchase cattle from any supplier, information on expected future prices will influence the production and investment decisions of producers. The ability of producers to make appropriate production and investment decisions is significantly affected by the availability of accurate and timely pricing information, the report said. As a result, limited access to price grids reduces the ability of producers to respond to market signals efficiently. In addition, a lack of transparency in prices offered by processors may lead to less competitive outcomes in cattle acquisition markets, the report said.
The ACCC heard concerns that publishing price grids may reduce price competition. Some parties were concerned that greater price transparency would increase the risk of co-ordinated conduct amongst processors. However, the ACCC said the publication of price grids of itself would not increase the risk of co-ordinated conduct. Publishing price offers would only raise competition concerns if processors coordinated the timing of the publication of grids and/or then used this information to co-ordinate their pricing conduct.
Further, the ACCC considers that many processors already have a reasonable understanding of their rivals' prices and so any additional risk of co-ordination would be low. The benefits to producers of more timely and transparent price information would also counter any increased risk of co-ordination, the ACCC report said.
Click here to see TFI's livestock over the hook grids.
TFI also announces new buyers
TFI also this week announced two new appointments to replace retiring senior buyers Richard Winckel and Grant Wood.
Mark Lamborn has been appointed to the position of livestock buyer covering the mid-north and Eyre Peninsula in South Australia. He replaces Richard Winckel, who retires in December. Mark joined TFI six years ago and had been TFI's buyer in northern Victoria at weekly lamb and sheep markets at Horsham, Warracknabeal and Swan Hill as well as buying around Griffith and the Riverina.
With Grant Wood retiring in September, Tom Matters has been promoted to the position of livestock buyer for upper south east South Australia, Mallee and Wimmera. Tom, is the son of long-time skins and hides manager Simon Matters, joined TFI as a cadet in our livestock team. He has strong saleyard and on-farm buying experience.
Mr Leonard thanked Richard and Grant for their outstanding contributions to TFI over the years and wish them a very well deserved retirement.