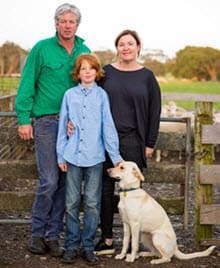 WESTERN Australian sheep farmer Matt Nield is matching grass to growth and aiming for more efficient sheep to reduce his operation's greenhouse gas emissions.
Matt Nield always wanted to farm. He grew up on a family farm at Boyup Brook, Western Australia, and when the succession plan showed no options for growth or a sustainable future for his new family, he looked at alternatives to capitalise on his farming background and agribusiness training.
"I worked as a stock agent, head stockman for a live export company locally and in the Middle East, an agricultural contractor and a few other things, but all I ever wanted was to get back to farming," he said.
Three years ago, Matt and his wife, Emma, leased a farm at Karridale in Western Australia's south west. They crunched some numbers and decided sheep were the way to go. This year, for the first time, Matt is a full-time producer.
"This isn't a traditional sheep area – it's mostly cattle – and the sheep that are here generally aren't locally bred Merinos," Matt said.
"But when I looked at the numbers and the land I had access to, sheep seemed the obvious choice."
Matt's knowledge of sheep production has increased since he completed the original Sheep's Back program 10 years ago.
"I followed it up with other workshops and was involved in a Lifetime Ewe Management Group.
"We're now working through the More Lambs More Often (MLMO) materials," he said.
More Lambs More Often provides information, tools and support to producers to help them manage variable seasons, as well as enhance their awareness of opportunities to reduce greenhouse gases emissions from their sheep enterprise. The project is funded by the Australian Government and more than 160 workshops have been delivered nationally by Rural Industry Skills Training (RIST) in the past two years, including through MLA's Farm 300  program.
"Attending the More Lambs More Often workshop demonstrated how improving production efficiency and reducing wastage, mainly via lamb survival, can not only improve profitability but also reduce the carbon footprint. That's a win–win," Matt said.
Here's Matt's approach to maximising productivity while reducing emissions:
Matching grass to growth
Matt said the cornerstone of his enterprise was matching stocking rate to feed on offer.
"We lamb down the crossbreds in the first week of June and the Merinos at the end of July. That way, we're running our maximum stocking rate of about 8,000 DSE when there is the most feed," he said.
"Basically I'm a grass farmer. Growing grass is what I need to do to feed my stock, and my stock numbers are paired to the amount of grass available. Our DSE peaks at around 16/ha."
The strategy helps to increase his overall carrying capacity, and is proven to increase profit and reduce greenhouse gas emissions intensity.
Simplistic fodder crops
"Each year I grow an oat crop for standing fodder on about 50 hectares," Matt said.
"It goes in the ground in June on a paddock that has been used for deferred grazing, to let the grass get going elsewhere. The stock come out and the oats go in. I could plant it earlier and graze the oats, but it fits my system better to use the paddock for deferred grazing. Once the oats go in, I shut it up and let it grow. I wean the Merino lambs into the paddock in the first week of December.
"The oat paddock probably ends up with 150 tonnes of oats in it. I could harvest it, put it in storage and then trail feed it out in the paddock, but that's a lot of handling – which means a lot of time and money spent harvesting and feeding out. Someone told me once that if you put that much grain into a silo, you never feed it all out, because you don't think they need that much but – if it's out there – they eat it and they do well. It's a good low-input system.
"It's also a good way to rejuvenate a paddock. The annual pasture that grows back in the paddock the year after the oat crop is much better than before the crop.
"I guess it's a combination of the stubble providing protection for the emergent ryegrass and other annual pasture species, and also the fertiliser and break-crop effect of growing the oats."
The next challenge
Matt said that in coming years he'd like to get his weaning rates up a bit, particularly with the Merino replacement flock. Improving weaning rates is another strategy that improves emissions intensity in sheep enterprises, but has a longer-term pay-off than increasing carrying capacity.
"Last year we weaned about 100 percent off the terminals and 90pc off the Merinos.
"You can chase the percentages, but really it's about how many kilograms of lamb and how much wool you sell each year," he said.
"I can see a future market in selling surplus Merino ewes to producers with terminal programs in the high-rainfall zone.
"There are not a lot of people doing that around here and there's a lot more potential for sheep in the area," Matt said.
"At present, they need to buy stock in from further lower-rainfall zones east of here.
"I think there's potential in producing a locally fit ewe bred for this high-rainfall zone."
Source: Meat & Livestock Australia.