GOAT prices have soared to a new record, with grids hitting 750c/kg carcase weight this week, as Thomas Foods International launches a new goat kill at its Tamworth processing facility in NSW.
The establishment of a large export-eligible goat kill at Tamworth comes as good news for producers in large parts of Queensland and NSW who have had few recent options for turnoff, especially since the closure of other plants offering a goat kill including Deniliquin, Cobram, Wallangarra and Cootamundra.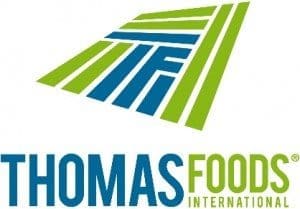 Thomas Foods hopes to build its numbers through the Tamworth plant to 1000 a day in the initial stages, as the supply chain gains momentum.
First trial kills took place last week, processing a line from John Cassidy at Uralla near Tamworth (see comments below). Routine kills commenced yesterday (see image below). The early slaughter runs are showing the signs of a good season since winter rain last year, averaging 17kg carcase weight or better.
TFI issued its first Tamworth goat price grid yesterday offering 750c/kg carcase weight, for carcases 6.1kg and above. That's the highest price ever seen for slaughter goats in Australia, and no fat penalties apply. Kills generally average 14-15kg carcase weight.
The company continues to process goats also at its Lobethal plant in South Australia, drawing stock mostly from across northern parts of SA and the western division of NSW.
TFI's northern livestock manager Andrew Jackson said the launch of the company's goat chain at Tamworth gave livestock producers in central and northern areas of NSW and Queensland exposure to more convenient and accessible processing facilities.
"It's small steps at the moment, but we think the sky is the limit for goat processing in the longer term," he said.
Currently goats from central, western and northern NSW and Queensland were travelling long distances to slaughter in the south, with additional freight cost. It's believed the Tamworth chain will be the only export goat processing facility in NSW.
When TFI first entered goat processing six years ago, grids were offering prices around 160c/kg carcase weight – more than quadrupling since then, in what has been the fastest-climbing red meat commodity in Australia.
Turnoff from Tamworth will primarily be directed into the large and still under-serviced US export market, in the form of frozen six-way bone-in product. Further processing takes place on arrival – much of it simply cubed through the bandsaw, and sold, bone-in, for curries and other ethnic dishes.
Compared with beef and lamb processing operations where much of the product is boned-out, goat processors enjoy the luxury of selling virtually all of their production in bone-in frozen form, greatly reducing fabrication cost.
Adopting a strong 'management' approach to goats
The meteoric rise in prices for goats over the past three or four years, combined with the fact that the market shows no sign of being a 'passing trend', is seeing more livestock producers running goats as a sideline to sheep or beef operations devoting greater attention to their management, to maximise returns.
From the processor side, applying greater husbandry, stock control and genetic improvement to goat herds would provide twofold benefits, Mr Jackson said – more consistency in turnoff through the year, and potential to lift carcase weights through genetics and management.
Some goat suppliers remain somewhat wary of future prospects, however, having experienced a period a decade or more ago when prices and international demand rose sharply, only to fall away again.
"There's no sign of that happening again," Mr Jackson said. "This is an absolutely sustainable, and very large market opportunity for Australia," he said.
Producers in many areas were already devoting resources to more closely managing their goat herds, he said. One large Queensland producer had recently erected 100km of ringlock fencing for sub-division, specifically to better manage his goat herd, within a multi-species livestock operation.
"Everywhere I go in parts of western NSW and Queensland, I see a shift from the traditional wild-harvest model to more targeted management," Mr Jackson said.
"It's becoming more mainstream. Goats once were perceived as feral pest in the pastoral zone. Now those 'pests' are worth 750c/kg, and they kept many producers going during the drought years."
TFI buyers across the company network are available for goat procurement, including Andrew Jackson, based in Armidale, Paul Leonard in Adelaide, Jason Webber at Dubbo, Glen Petersen at Cowra and Chris Lawler at Warwick.
Big future for goats, says NSW producer
NSW cattle, sheep and goat producer John Cassidy welcomed the launch of a goat kill at TFI's Tamworth plant, delivering a much-needed local supply chain to feed into.
In recent times he has been consigning his goats to a plant at Frankston near Melbourne, at considerable freight cost, and sustaining considerable shrink.
"TFI is to be applauded for opening this goat chain at Tamworth. Full marks to them – they are thinking ahead, and filling a very significant gap in the market," Mr Cassidy said.
"We understand Tamworth only received its full USDA approval for goat processing on the Friday before our first goats went through, as part of last week's trial."
Mr Cassidy runs a highly diversified livestock operation in northern NSW, joining about 3500 South Devon cows each year on a 12,000ha aggregation called Merilba at Kingstown, near Armidale; growing steers out on country near Ebor before feedlot placement; breeding and growing crossbred sheep and superfine Merinos; running Poll Dorset and Suffolk sheep studs on separate country near Quirindi; and joining around 3000- 3500 Boer-based does each year. Annual goat turnoff is around 2500 per year, and growing.
Goats were originally introduced 20 years ago primarily for woody weed control – thistles, saffron, briar and blackberry – but in recent years have become much more important to the business, in revenue terms.
"Goats have been very, very helpful to us," Mr Cassidy said, "and of course prices have come good, in a big way – particularly this American market, which they just can't seem to satisfy."
"We're building up our goat numbers in coming years, because they are now an integral part of what we're doing here. We've started improving fencing on some of our back country, which runs back into granite. We're upgrading that country now, and our goat numbers will increase, as a result."
"We're breeding our own bucks now, but we're always on the lookout for good Boer bucks," Mr Cassidy said. "We introduce another 100 or so each year, when we can."
Mr Cassidy said while prices for goats presently were 'very, very attractive,' he said the only thing he would like to see would be some form of premium for better carcase quality emerge in the slaughter market.
"At the moment, a goat is a goat. But that will change, as the supply chain continues to mature," he said.