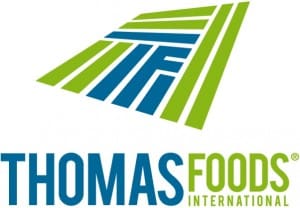 MEAT processor Thomas Foods International has contracted more than half the lamb needs of its Murray Bridge and Lobethal plants in South Australia for the next four months under its first rolling forward price contracts.
Producers and lot feeders have also committed to supplying around a quarter of the lamb kill of its Tamworth plant in New South Wales into November under the contracts.
"We've had an extremely good response in South Australia and Victoria, and a reasonable response to the early part of the contract at Tamworth, but that's understandable, later in the season will be out of season for the north," TFI's national livestock manager Paul Leonard said.
"We still have reasonable capacity to purchase in the markets as well," he said.
The rolling forward price contracts closed after seven days last Friday, for delivery into November to TFI's two SA plants at Murray Bridge and Lobethal, and to its Tamworth works in New South Wales. TFI's daily lamb kills at the plants are around 6500 at Murray Bridge, 3000 at Lobethal and 6000 at Tamworth.
The contracts were for 16.1-34kg cwt 2-5 score new season lambs only at 550-600c/kg for crossbreds and 520-570c/kg for Merinos, Dohnes and Samms, for late August to early October delivery. For October, the rates for the plants are 530-550c/kg for crossbreds and 500-520c/kg for the Merino-bred lambs, and in November, these come back to 500-520c/kg for the second cross lambs and 470-490c/kg for the others.
New season lambs under 16kg dressed will be paid on the grid of the week and carcases over 34.1kg will be discounted 50c/kg. The processor's normal 50 pc upside terms apply.
"I'm very comfortable with where we are set and none of our competition came out with any matching formal, structured or public contracts, apart from some one-on-one pricing to individual agents," Mr Leonard said.
Confidence given to restocker and store lamb markets
He said agents had appreciated the forward pricing into the summer period and it had given confidence to restocker and store lamb markets.
"We offer our contracts publicly and we offer them to everybody."
Mr Leonard believed with improving seasonal conditions the new season lambs will be mostly of good quality. Although with the Australian flock at a record low level and producers in a re-building phase, he expected there would be some pressure on lamb numbers over the next 12 months.
"There has got to be some pressure on numbers at some point somewhere in the supply chain be it on mutton and or lambs."
Rolling forward pricing to continue
TFI is currently processing contracted mutton and he said the company would continue to look at rolling forward pricing for sheep and lambs.
Mr Leonard said as sheepmeat demand has grown, the business has chosen to manage its stock procurement differently, with a bigger focus on contracts to secure supplies for customers and give confidence to producers. Up to 70pc of the company's sheepmeat needs are contracted over-the-hooks.
"It's good business to underpin your procurements and have a certain amount set, because it is a lot of stock to find every week for our buyers."
Mr Leonard said the move to over-the-hook sheepmeat selling had followed the beef market trend.