INTERNATIONAL animal handling expert Temple Grandin has come out in favour of dual industry-government systems of assurance for live export as the industry's LIVEXchange conference is held in Darwin this week.
Sheep Central recently asked Dr Grandin for her reaction to the recent ESCAS leakages of Australian sheep exported live to the Middle East and sought her opinion on assurance schemes.
Dr Grandin said she has found that the best systems for making sure things are done right is to have more than one system of oversight.
"It is not either or.
"A combination of both government and industry administered assurance schemes would work best," she said.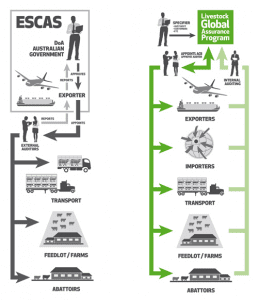 Dr Grandin said a well-run industry scheme has three components:
Internal audits by people in each operation.
Inspections by people from the corporate office.
Third party independent audits by an independent auditing company.
Dr Grandin said exporters need to work to keep better control of their supply chain.
"Slaughter should be under Australian supervision.
"Transportation in car boots is not acceptable."
At the LIVEchange conference at the Darwin Convention Centre on November 25 and 26, Peter Schuster of Schuster Consulting will give a presentation on the Livestock Global Assurance Program. LGAP is currently being piloted in live export markets. ALEC said Mr Schuster will discuss how LGAP will help animal welfare and the continuous process to improvement.
At the 2014 LivexForum conference in Melbourne Department of Agriculture deputy secretary Phillip Glyde outlined the government's conditional approval of a shift to "light touch" co-regulation built around an industry quality assurance scheme.
LGAP is being developed to replace the current ESCAS program and has been promoted by ALEC as a global assurance, certification and conformity assessment program aimed at fostering world's best practice in the welfare and management of animals, applicable to any international market.
ALEC chief executive officer Alison Penfold said LGAP has been built on ESCAS principles and will be at arms length from industry and independent of government. Under LGAP, Australia's Department of Agriculture would not approve individual facilities in an exporter supply chain (as occurs under ESCAS), but would recognise livestock exporters certified under LGAP.
The LIVEXchange conference at the Darwin Convention Centre on November 25 and 26 will focus on the theme of People, Perspectives and Relationships. Topics discussed will highlight the people that work within the industry, the importance of each of their roles and the strong relationships built throughout the supply chain.
International speakers will also include World Organisation for Animal Health and Welfare director general Dr Bernard Vallat and the chief operating officer for Brasil Beef, Minerva Foods, Iain Mars.
Representatives from the Indonesian Government and within the Indonesian supply chain will be part of a question and answer session on what is being done to meet demands and capture opportunities in that market.
Ms Penfold said LIVEXchange will give stakeholders and the public a clear vision of where the livestock export industry is at in terms of animal welfare and research and developemt, and the improvements which are continuing in animal welfare and market access," she said.
LIVEXchange is a partnership between LiveCorp, ALEC and the Northern Territory Livestock Exporters Association.