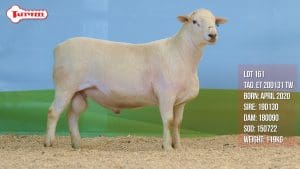 RENOWNED New South Wales Australian White stud Tattykeel has broken records at its annual sale this week, with one of its rams making $165,000.
The stud and flock ram sales were held at the company's Branxton Park property, in conjunction with livestreaming and bidding on AuctionsPlus.
It continued a strong year for Tattykeel and the Australian White breed, with average prices increasing 81 percent on last year, at $14,141, and the sale exceeding $5.6 million.
The sale was the largest offering of Australian Whites in the breed's history, with 400 lots penned.
Out of those listings, the 119kg ram "ET 200113 Tw", topped the sale and broke an Australian White record at $165,000. The ram was purchased by a bidder from South Australia.
According to AuctionsPlus, the number of bidders for the Tattykeel sales have also increasing in recent years – with 12 in 2019, 33 in 2020 and 72 in 2021. The number of online views was up to 9633 this year, compared 5941 in 2020.
Earlier this year, limited releases of Tattykeel blood Australian White ewes were also making records, with ewe/lamb units selling for up to $2145. (click here to read Sheep Central's article)