TASMANIAN-sourced premium lamb sold under a brand program into Queensland's food service and retail segments was judged champion exhibit in Royal Queensland Show's annual branded lamb competition on Friday.
With entries up by 20 percent overall across beef and lamb brands, this year's event was confirmed as the nation's most comprehensive competitions of its kind.
The expert judges, including award-winning restaurateurs John Kilroy of Brisbane's famous Cha Cha Char,  David Pugh of Restaurant Two and Shaun Malone from Bucci, tasted their way through almost 60 of the finest lamb and beef products from across the country.
The champion branded lamb award was taken out for the second year in a row by Melrose Wholesale Meats' Tasmanian Royal brand, based in Morningside.
The Brisbane market has traditionally not been well serviced for lamb, and Melrose Wholesale Meats identified a niche for well-grown, consistent, good eating lamb products in the market two years ago. They identified Tasmania as the region that could fill their objective year-round, and put together a supply chain of dedicated Tasmanian lamb producers and a local processor to put the program into action.
The product has since experienced strong penetration into the state's southeast corner, including Brisbane, the Gold Coast and Sunshine Coast, within the hotel and restaurant trade and quality oriented retail butchers.
The product is marketed as premium free-range natural MSA lamb from the crisp clean rolling pastures of Tasmania, hormone and steroid free. The company continues to build alliances with both customers and suppliers to ensure a sound and solid partnership into the future.
Brisbane butcher Daryl Pattemore, from Pattemore's Meats says the product always displays beautiful colour, texture and consistent finish. "And when you cook it, it doesn't give off a strong lamb odour. It's a beautiful aroma that the lamb exudes. The Tasmanian lamb just eats sweeter; it's a beautiful tasting lamb," he said.
Chief judge Elaine Millar said the show's judging panels were overwhelmed by the taste and visual quality of this year's entries.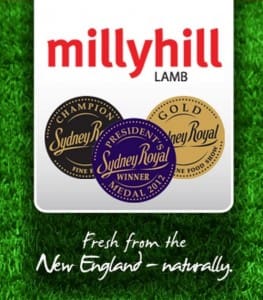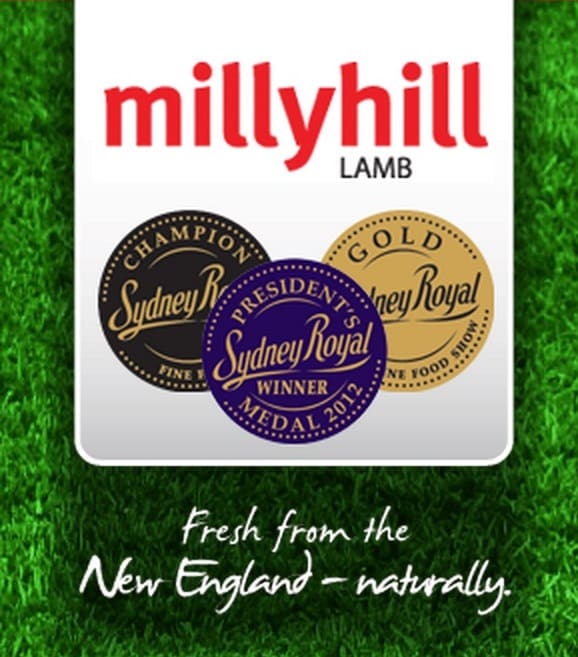 Winning the lighter of the two lamb classes for carcases less than 20 kg was Armidale, NSW based Milly Hill Lamb, a family-owned supply chain business specialising in the supply of premium quality, wholesale free range lamb to recognised restaurants and retail outlets throughout South East Queensland and NSW.
Milly Hill Lamb began in 2007 as a small local business supplying home-delivered 'lamb in a box' to friends and family in the New England district of NSW.
As demand for premium lamb grew both locally and interstate, grower and professional lamb buyer, Peter Strelitz recognised the need for a lamb brand exemplifying excellence in quality, consistency and reliability. The formation of a value chain with stringent specifications today provides Milly Hill Lamb with access to specialist farmers and suppliers who dedicate their best lambs and product to the Milly Hill Lamb brand.
With a hands-on approach from the paddock to the plate, Mr Strelitz continues to personally select many of the prime lambs for the Milly Hill brand and meets regularly with chefs and restaurateurs to hear firsthand what their customers are saying about the product.
Results:
Champion branded lamb of Show: Melrose Wholesale Meats, Tasmanian Royal
Branded lamb class results:
Class 6 – Meat & Livestock Australia Branded Lamb less than 20kg
Gold: Milly Hill Pty Ltd for its Milly Hill
Silver: Thomas Foods International for its Thomas Foods Signature Organic MSA brand
Bronze: Australian Wholesale Meats QLD, for its Sovereign Lamb brand
Class 7 – Branded Lamb more than 20kg
Gold: Melrose Wholesale Meats (QLD) for Tasmanian Royal
Silver: Thomas Foods International for its Thomas Farms
Bronze: Thomas Foods International for its Killarnee Lamb (Aldi Supermarkets).