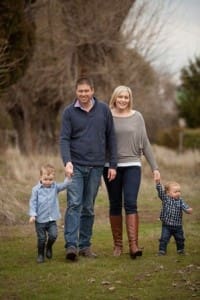 TASMANIAN sheepmeat producers John and Annie Ramsay have transformed their business in 12 months with productivity improvements that exceeded their expectations, taking them to first place in the inaugural Meat & Livestock Australia (MLA) Challenge.
The competition winners were announced at a ceremony in Sydney last night.
"We are incredibly surprised to have won, given the calibre of the other five families in the MLA Challenge," John Ramsay said.
"All the other Challenge contestants are really impressive. They have all made great changes throughout the year and have amazing stories to tell.
"It's been a year of very hard work, and Annie and I are thrilled."
The Ramsays run a 14,000 head flock of Merino and composite sheep on their properties Ratho and Tarella, totalling 2800 hectares, near Bothwell and Dysart, Tasmania.
They are part of a group of six beef and sheepmeat enterprises from across Australia which have just completed a year engaged in the MLA Challenge, striving to improve efficiency and productivity within their farming operations.
MLA's livestock production innovation general manager, Peter Vaughan, congratulated the Ramsays on their win.
"After a year in the MLA Challenge, the Ramsays' pregnancy scanning results have risen from 135pc to 175pc, they are turning off 30pc more lambs, at an earlier time, and their labour efficiency has improved from 7000 dry sheep equivalents per full time labour equivalent, to 8500 dse/fte," Mr Vaughan said.
The final scores of the six competitors were extremely close, and all six families have proven what Australian producers can achieve by using the tools and resources at their disposal.
"Australian meat producers should take heed that no matter where your business is located, MLA has tools that are relevant and beneficial to your operation and can improve your productivity and profitability. The Challengers have shown how it can be done," Mr Vaughan said.
Mr Ramsay said the MLA Challenge had inspired him and his wife to set a new business strategy with high goals.
"It was out with the Merinos, out with three lambing dates, out with winter lambing and out with excessive hay making," he said.
"Instead, we went in with crossbred ewes (including 2000 extra head), in with spring lambing and in with a whole new simplified system producing more meat per hectare.
"The results have been fantastic. After changing to crossbred ewes we have produced 30pc more lambs – potentially earning us an additional $75,000."
"By the end of June we had turned off 6500 lambs, compared to 3000 lambs the year before. The increase comes from producing more second cross lambs and from focusing on finishing them more quickly and effectively. At $100 per lamb, that's a major improvement, plus we can run more ewes through winter without the lambs hanging around."
Mr Ramsay said he has also made changes to how he recruits and retains his staff, and the family has changed banks, prompted by advice from one of the judges to assess all parts of the business and look for the best deals possible.
"MLA's tools have been excellent, particularly the Feed Demand Calculator, which we relied on heavily. I also had a light-bulb moment hearing judge Sam Newsome from Agripath explain that the top 20pc of farmers manage their team well – I knew I had to focus more on the people side of the business.
"The main thing we've learnt is to get independent, specialist advice and to focus on the things in the business that really make a difference," he said.
The Ramsays were awarded a bursary to support their ongoing professional development and additional agribusiness services.
They were up against five other MLA Challengers, published here in order of their final ranking in the competition:
Windorah beef producers Andrew and Megan Miller run a self-replacing 1000 head Droughtmaster-cross herd, along with 500 merino ewes, at Coniston, a 28,000ha property at Windorah, Queensland. After a year in the MLA Challenge, and in the face of an extreme drought, they have lifted pregnancy rates from 57pc to 67pc, sold dry cows and out of season cows and calves at a high price, and got rid of the sheep altogether. Their remaining cattle are in good condition and breeding in sync with the food supply, and the Millers are well-prepared to face another drought season.
Western Australian sheep meat producers Marcus and Shannon Sounness run 3000-hectares of mixed cropping and 3000 breeding ewes at Paper Collar Gully, near Amnelup. After a year in the MLA Challenge, they are saving thousands of dollars in feed costs by changing their production system to produce more lambs and turn them off earlier, rather than chasing a high dollar per head market with a costly feeding regime.
Adelong beef producers Matt and Angela Pearce run a self-replacing autumn calving herd of 300 Hereford/Angus females at their 560-hectare property Muronga, in NSW. After a year in the MLA Challenge, they have lifted their stocking rate by up to 20pc, maintained 100pc ground cover, and are facing the future with new confidence and a robust business plan.
Edi beef producers Bill and Georgia Wilson run 250 Angus/Charolais and Speckle Park cattle on Riverglen, a 185-hectare property at Edi, Victoria. After a year in the MLA Challenge the Wilsons have adjusted their calving pattern and intensified their rotational grazing system to make the best use of their feed on offer and keep paddocks healthy, as well as sowing a lucerne stand that gives a high return on their considerable water investment.
Dulacca beef producers Lachlan and Anna Hughes run 7000 Angus-cross cattle over four properties near Clermont and Capella in Central Queensland and Dulacca in southern Queensland. After a year in the MLA Challenge they have feed on offer for the next year and have increased cattle numbers, with average weights being around 40kg heavier than the same time last year. Drought plans are in place, with cattle removed from pastures when they reach 1000-1200kgDM/ha and orderly destocking ready to go if the area has another dry spring.
Each challenger spent the past twelve months focusing on their business, using the best tools, resources and advice available, and the positive results achieved across all areas of their triple bottom lines speak for themselves.
An independent review of the program is now being carried out to determine its future.
About the MLA Challenge
The inaugural MLA Challenge has been an initiative involving six Australian beef and lamb producers competing to improve their business productivity and profitability over a year, from July 2013 to June 2014. The families have been helped to improve the productivity and profitability of their businesses by the support of farm business mentors and a wealth of industry information, including MLA research and resources.
The Challenge is based on:
Measuring current farm performance and identifying opportunities for improvement.
Goal setting and planning to effect change by identifying individual key business decision points and setting key performance indicators which need to be achieved for their success.
Regularly recording and reporting progress on a quarterly basis and scored according to how well the Challengers managed their business in the face of their individual circumstances, how they measured up with their goals and key performance indicators and how well they communicated their journey.
For more information about the MLA Challenge, links to tools used by the participating producers, as well as updates, videos and background information on each Challenger, visit www.mla.com.au/challenge
Source: MLA