A FORMER stock and station agent for the past 20 years, Trent McIndoe, has partnered with farmers across northern Australia with Rabobank – with his rapport, expertise and passion driving career success.
"I never envisaged a career in banking, but I was approached by Rabobank thanks to my industry knowledge and exposure to the North, and here I am, 20 years later and still loving it," Trent said.
And he's not the only one. This year four northern Rabobank managers, Trent, Chris Adams, Craig Burkhardt and Angus McClellan, celebrate a 20-year milestone, reflecting the strength of culture and long-term view taken by Rabobank staff.
As the regional manager for northern Queensland and Northern Territory, based in Townsville, Trent oversees a team of 50 people, and is proud of Rabobank's strong footprint across the region.
"The fact that Rabobank is dedicated solely to agricultural clients contributes to a great work culture." he said.
"Thanks to our focus on food and agribusiness, staff are fully engaged, with the majority coming from a rural or regional backgrounds."
A commitment to the bush
Trent said Rabobank was actively building staff numbers in the region, demonstrating the bank's commitment to providing clients with an exceptional service. Plus, he said, helping clients grow their businesses is genuinely rewarding work.
"Our clients are at the heart of all our decisions and we hold that dearly."
"Our model is all about the value-add, we want to ensure our rural managers are on the ground, at your kitchen table supporting you with your business at the time that matters – our relationship with our clients is our strength."
"Northern Australia is such an exciting part of the world right now, our commodity prices and seasons in general are positive, and from a developmental perspective there are some fantastic initiatives taking shape."
He said it was great to see local sugar and cattle producers doing well, and that with the favourable seasons the bank was supporting a significant increase in farm expansions and infrastructure programs to help local graziers drought-proof for the future.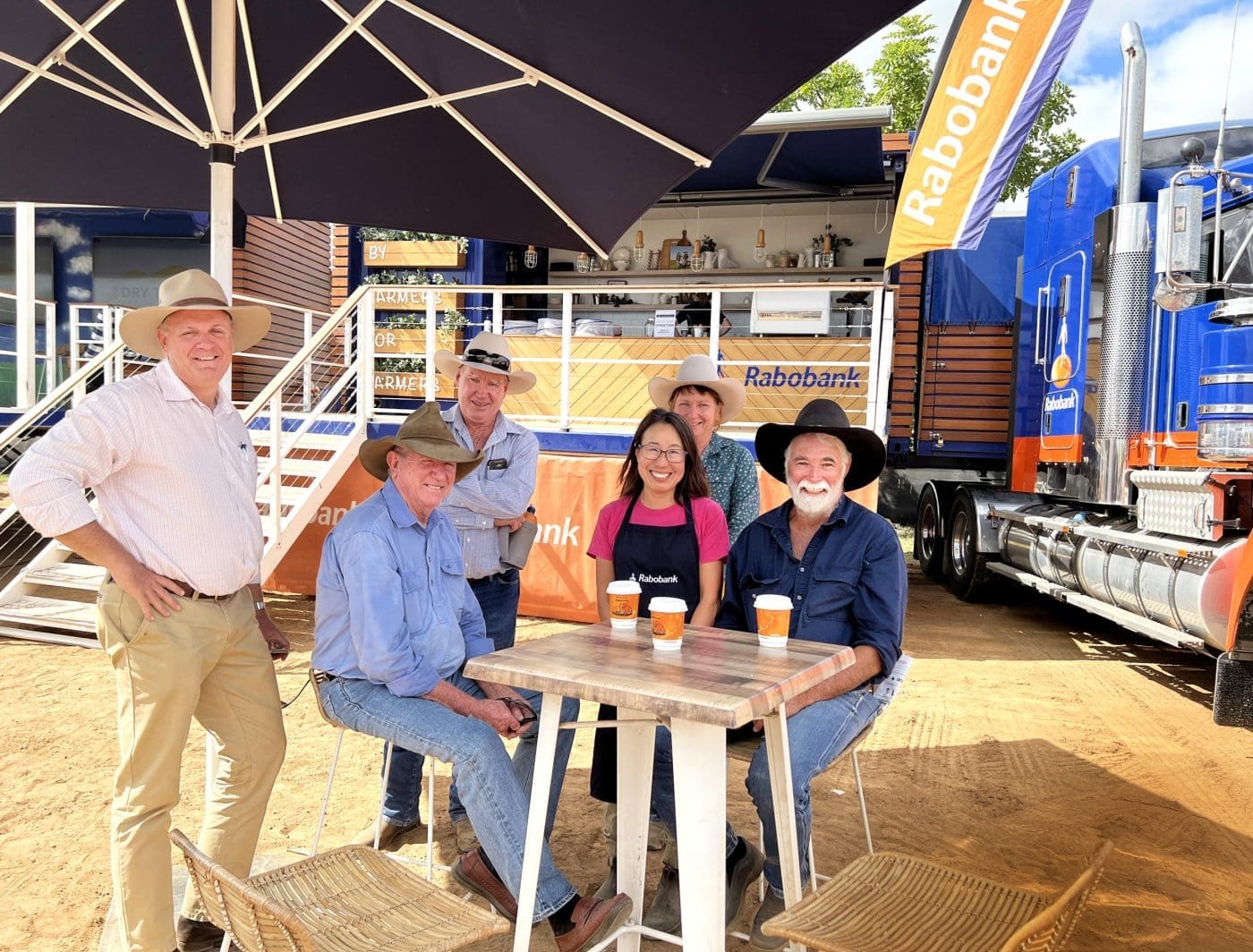 Likewise, sugar cane producers were investing for more sustainable outcomes, spending on technology and increased efficiencies.
"The sting has certainly been taken out of the tail with the higher input costs, but it's still a great time to be in agriculture in the region."
Alternatively, Trent said he was heartened by Rabobank's supported farmers when times weren't quite as vibrant.
"There's no doubt the region has battled challenges in recent years – floods, droughts, trade issues and now Foot and Mouth Disease – and we pride ourselves on standing by clients and helping them through these tough times."
Trent said Rabobank's global network of RaboResearch analysts provided timely and regular commodity trends and insights, benefitting decision-making at the farm gate.
"We were also fortunate to have our RaboTruck, a mobile knowledge-sharing and networking platform, delivering these insights directly to our doorstep within the region recently."
He said the RaboTruck visited Emerald, where RaboResearch Senior Analyst Cheryl Kalisch Gordon and Head of Markets Adam Vanderstelt shared an economic markets update, and commodity outlooks.
Contributing to vibrant communities
Community was also a core value of Rabobank, Trent said, with staff all actively involved in local initiatives and organisations.
Recently, eleven Townsville staff rolled up their sleeves to help prepare over 100 emergency meals for people in need, to be distributed through Ronald McDonald House.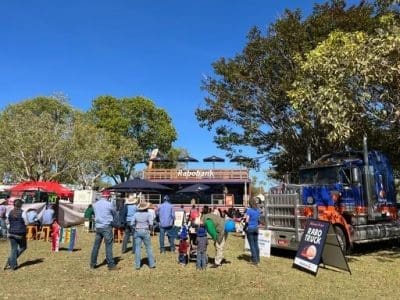 "Our meaningful cooperative working group, together with our local client council helps drive a number of initiatives where staff can genuinely contribute to the region."
Another successful community initiative driven by the Rabo Client Council were the Financial Skills workshops.
"We have delivered these both virtually and face to face with the more recent workshops taking place in Blackall, Clermont, Ingham, Greenvale and Julia Creek."
"We had upwards of 120 attend these workshops, with the desired outcome of developing financial skills amongst the agricultural sector. They are very popular, and we have plans for more later this year and early next year – so watch this space."
"At work, and in the community, our purpose is clear – we're here to support local farmers and the communities in which we all live and work – and 20 years later it still remains an absolute honour to be doing so," Trent said.
Rabobank staff across the country are equally as passionate about supporting our Aussie farmers, with 70 per cent of  rural managers owning, or growing up on a farm. To read more of their great stories, see www.rabobank.com.au/about-rabobank/our-people/