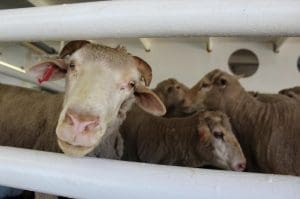 AUSTRALIAN Farmers' Fighting Fund assistance has been proposed to test the Animals Australia legal case against live sheep shipments to the Middle East during the northern summer months.
Consideration of AFFF funding has gained the support of Pastoralists and Graziers Association of Western Australia president Tony Seabrook, Livestock Shipping Services livestock manager Harold Sealy and exporter Wellard.
Wellard executive director, operations, Fred Troncone, today confirmed the company had received correspondence from Animals Australia threatening legal action if the company was to seek to export the sheep currently held by another exporter, Emanuel Exports.
About a month ago Wellard made an offer to help Emanuel Exports ship sheep held in a feedlot near Perth to the Middle East, after the Department of Agriculture and Water Resources approved then suspended Emanuel's export licence or permit. The regulator later also then suspended the export licence of Emanuel subsidiary, EMS Rural Exports, when it notified the department of its intention to export 45,000 of about 60,000 sheep in a feedlot outside Perth. This second licence suspension prompted Harmony Agriculture and Food Company export division Phoenix Exports to cancel a small live sheep shipment to the Middle East.
Animals Australia has threatened DAWR with legal action if it approved a permit for a Middle East sheep shipment between July and September. It has presented the department with evidence purportedly showing it is not possible for the secretary to reach the required level of satisfaction to grant a permit for sheep shipments to the Middle East during the northern summer months.
Animals Australia has said the regulatory requirement for the granting of an export permit for animals is that the DAWR secretary must be satisfied that multiple welfare conditions are met, including that the 'travel arrangements for the livestock are adequate for their health and welfare'.
Wellard would seek AFFF help it it shipped Emanuel sheep
Mr Troncone today said it was made clear a month ago that it was unlikely Wellard will export the Emanuel sheep for a number of commercial, logistical and contractual reasons.
"If those differences could be overcome, and we understand the reasons why that is difficult to achieve and is therefore unlikely, with our modern, purpose-built livestock fleet and expertise in successfully shipping livestock around the globe, we could manage the shipment in a manner that meets the Australian community's animal welfare expectations.
"AA's threatened legal action will not influence our decision as we will not be bullied by activist groups," he said.
"If we were to seek to export the sheep and it were to end up in court, we would seek assistance from the National Farmers' Federation's fighting fund, as the stakes are high for Australian farmers to prevent activist groups with anti-farming agendas using lawfare to prevent farming activities."
WAFarmers president Tony York has said Animals Australia's legal position on Middle East sheep shipments needed to be tested in court to clarify the legality of the northern summer trade.
Mr Seabrook today said he supported his WA Farmers counterpart's position and would investigate the possibility of AFFF funding with the National Farmers' Federation and exporters to defend any Animals Australia court action.
"At some point this sort of threat hanging over the i8ndustry needs to be clarified and if the only way to clarify it is to bring it on that is probably what we are going to need to do.
"It now seems as if it will be unlikely that many sheep are going to leave Western Australia during the northern summer this year," he said.
"The critical now thing now is that we must clearly know that the trade will start at whatever is deemed to be the best time to start.
"But we haven't given up on anything, but the reality is that you need a shipper to step up," Mr Peacock said.
"We will support any shipper who is prepared to have a go, and we are not going to step back from that.
"If you take Qatar out of the equation and you went to allometric loading, which has never been a feature of going up there during the summer, the prospects of serious lossses are diminished enormously," he said.
"And until we have a few voyage sup there during that period we are never going to test the system.
"So we would support any exporter prepared to step up."
Mr Sealy said AFFF assistance should be considered.
"We've been asking questions and the Australian Livestock Exporters' Council is asking questions on our behalf of the department as well.
"We want to know what the process is and how we actually move forward and start shipping sheep."
NFF chief executive officer Tony Mahar said there had been no application for AFFF help in supporting a potential live sheep export licence approval.
However, a precedent for AFFF assistance for live export actions has already been set, with funding of a class action against the Commonwealth Government over the Indonesian live cattle export ban in 2011.
Animals Australia would act against DAWR, not the exporter
Animals Australia director of strategy Lyn White said on hearing that Wellard was considering shipping the Emanuel sheep, AA's legal Counsel advised the company of Animals Australia's legal position in relation to the granting of export permits during the Northern Hemisphere summer.
"This communication allowed us to clarify that this position was not related to Emanuel Exports shipments, rather our belief that any export permit granted by the Department of Agriculture during this period would be unlawful, due to the inability to meet animal health and welfare regulatory requirements.
"As in our previous Federal Court matter, were there a need to challenge the legality of a further export permit, the Department of Agriculture and Water Resources would be the respondent," she said.
"Rather than bullying, our position was communicated to Wellard as a professional courtesy, especially in light of the fact that Wellard have 'continuous disclosure' obligations under the ASX in terms of their shareholders.
"Because the Department of Agriculture has struggled with the challenges of being a regulator, we are continually having to educate parties, including politicians, as to what the law actually says and requires," she said.
"Just because it has not been upheld in the past, is not an excuse for allowing this situation to continue.
"Animals Australia would not have taken this matter to the Federal Court if there wasn't extensive scientific evidence to support our position."