FORWARD wool markets opened briskly in another steady week of auctions, with all qualities holding firm against a marginally weaker US dollar.
Merino cardings rose 3 percent to their highest level on the AWEX index in more than 12 months.
The forward markets opened briskly on Monday, with interest across all finer wool offers out to April 2023. The mood was buoyant, with buyers and sellers anticipating a strong spot market opening.
The relatively flat market led to a bit of a stand-off. Growers understandably are focused on getting some Spring cover. With risk still in the minds of buyers, a strong nearby rally is required before we see the resistance levels of 1700 cents for 19 micron and 1300 cents for 21 micron significantly breached.
The week finished with the prompt bid and offers tight with the mid-points around 20 cents under cash reflecting the ongoing risk concerns.
The most interesting trade for the week was a 17.5 micron put option for December 2022 maturity. Strike price was 2300 cents and the premium 85 cents. Although the strike is well under the current spot level, the graph below illustrates the thought behind the strategy. The spot price for 17.5 micron is at the 90th percentile for the last 12 years and the break-even near the 75th percentile. Looks like fair value insurance.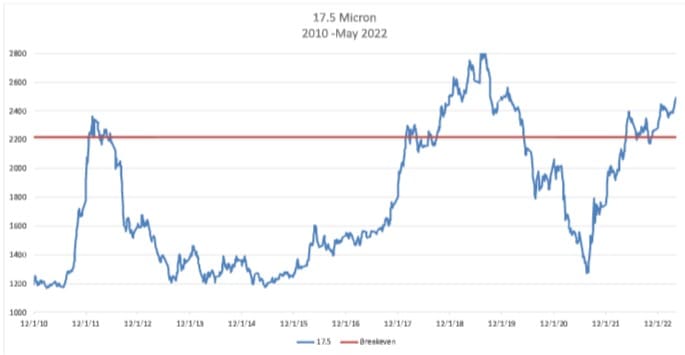 Anticipated levels next week remain stable with the result of this weekend election predicted to have little impact.
19 MPG                               21 MPG
May to July 2022                                            1720/1730 cents               1320/1340 cents
Aug to Dec 2022                                              1690/1705 cents               1310/1320 cents
Jan to July 2023                                              1690/1700 cents               1270/1300 cents
Aug to Dec 2023                                               1680/1700 cents               1280/1310 cents
This week's trades
July 19 micron                                                 1705 cents                        15 tonnes
Aug 19 micron                                                 1705 cents                        15 tonnes
Sept 18 micron                                                2105 cents                        12 tonnes
Oct 19.5 micron                                              1540 cents                         10 tonnes
Dec 17.5 micron   Put option 2300 cents strike 85 cents Dec 2022 maturity  8 tonnes
April 2023 17 micron                                      2455 cents                         10 tonnes
Total 70 tonnes
Source: Southern Aurora Markets.