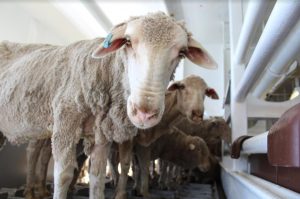 THE potential for a resumption of Australian live sheep exports to Saudi Arabia is strong, according to Western Australian exporter Graham Daws.
The Emanuel Exports managing director said there had been encouraging discussions between the Saudi industry and Australian exporters.
Live sheep have not been exported to Saudi Arabia from Australia since August 2012 due to the country's concern that the Exporter Supply Chain Assurance System would impinge on its sovereignty.
But Mr Daws said the Memorandum of Understanding on the Trade in Live Animals signed by Australia and Saudi Arabia in 2005 and amended in 2009, had not been touched in six years.
"It needs to be refreshed and updated because there has been quite a bit of water under the bridge, but in my opinion certainly, the potential for a resumption of the trade to Saudi Arabia is strong.
"It certainly can be done, as long as our Australian government is willing to have its representatives discuss the resumption with the Saudi representatives and we are just waiting for that at the moment," he said.
"However, it would be easy to do the business with Saudi; the roadblocks that were there before seem to have disappeared.
"However, whatever happens, in whatever form it resumes, the pillars of ESCAS would have to be maintained," Mr Daws said.
On May 4 2005, an MoU on the Trade in Live Animals was signed by the Australian Minister for Agriculture Warren Truss and a Saudi counterpart. The MoU outlined conditions for the trade and includes assurances that livestock (sheep, cattle, goats) will be treated in line with World Organisation for Animal Health (OIE) welfare standards. On March 21 2009, the Agriculture Minister Tony Burke and his Saudi counterpart signed a joint declaration amending the 2005 MoU to provide further detail on the livestock trade.
According to the Australia Saudi Business Council, in 2009, Saudi Arabia was Australia's third largest Middle Eastern market for live sheep, importing over 576,000 head valued at A$55 million. Nearly 1.2 million sheep a year were exported at the trade's peak.
'Basis for a solution laid' – Crean
Mr Daws' comments follow Australian Livestock Exporters Council chairman Simon Crean last week saying "there have been productive developments at a government and an industry level with the basis for a solution laid" for the Saudi trade's resumption.
At the PGA conference in Perth this week, Mr Crean said resumption of the Saudi Arabia live sheep trade remained a major focus, but it must be done in a way which upheld the requirements of Australia's ESCAS requirements.
ALEC chief executive officer Simon Westaway said interest from the Saudi Arabia industry for the resumption of the trade had been an important development.
"With that industry interest at the Saudi end, there has definitely been industry interest at the Australian end, so there has been industry engagement.
"I can confirm with you that we've taken that level of interest to the Australian government to flag this."
He said ALEC has been very supportive of a "market re-entry" into Saudi Arabia.
"We're certainly right behind it and the process for it to occur would require any activity to occur under existing export arrangements which are in place in and out of Australia.
"What we want to see is to see these developments productively move forward."
ALEC facilitating government engagement on MoU
Mr Westaway doesn't believe there has been government-government discussion at any detailed level at this stage.
"It has been industry to industry engagement and engagement has occurred with the Australian government — to my understanding that hasn't been taken forward at this stage."
When asked if ESCAS was still the obstacle to resumption of the Saudi trade or if LGAP would be the solution, Mr Westaway said the industry would most likely vote on LGAP this calendar year or early 2018, after more consultation with industry.
He said ALEC has had constructive discussions with the Australian government on the Saudi industry interest and how could it be moved forward. But before any individual application to export sheep to Saudi Arabia, the existing MoU in place between the Australian government and the Saudi Arabia Kingdom needed to be considered.
"We think the MoU is an important supportive plank for any recommencement of the trade and so we've been having discussions with the Australian government around re-looking at the MoU."
Mr Westaway said ALEC was very supportive of any of its members who want the trade re-commenced.
"The MoU was the platform on which the trade was being conducted up till it ending in 2012.
"There is very positive engagement occurring at an industry level, ALEC has taken it up through the Australian government and the Department of Agriculture and Water Resources and have put forward to them how the MoU as an important document to support the trade, should be looked at and in essence, modernised, to reflect the 2017 arrangements that are now in place," he said.
Sheep Central believes Australia's sheep have been well-regarded in Saudi Arabia, but some of the supply chains which replaced them have become problematic in cost and consistency, prompting renewed Saudi interest in Australian supplies.