STRONG overseas demand for lamb, a limited New Zealand turn-off and a softer Australian dollar is expected to continue to support Australian exports and domestic saleyard prices, MLA has forecast.
Meat & Livestock Australia's September update of its 2019 Sheep Industry Projections is forecasting that strong international demand for Australian sheep meat will continue to underpin historically high lamb and mutton prices.
The September update has revised lamb export forecasts slightly higher than previous projections, to 268,000 tonnes shipped weight. National lamb slaughter has also been revised slightly higher and is now expected to reach 21.6 million head, a decline of 5 percent on 2018.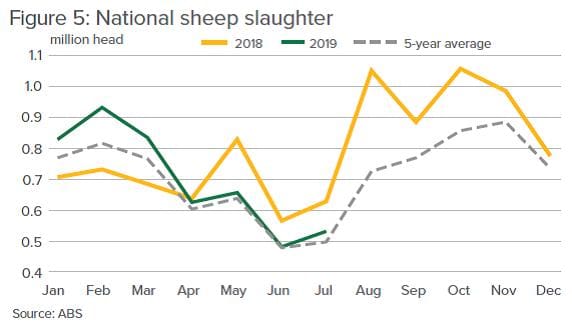 High sheep slaughter and poor joining and lambing rates have led to an estimated national sheep flock of 66 million head, representing a decline of 6.5pc year-on-year, MLA said.
MLA said the initial run of early season lambs, and several processors reducing production for maintenance, have seen domestic saleyard prices ease since the start of August. However, forward contracts released by processors for September to November also suggest an element of price support until the end of the year.
The timing and size of the Victorian lamb crop, which usually drives east coast supply from October onwards, will also have a big impact on prices.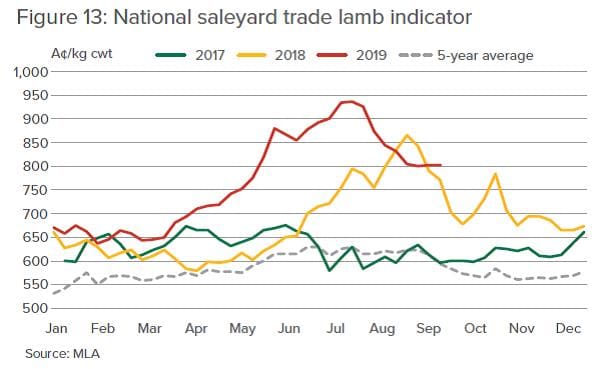 MLA senior market analyst, Adam Cheetham, said domestic sheep and lamb indicators have surged to new highs in 2019, as demand from overseas markets has outweighed domestic availability and more than offset the price pressure usually associated with a prolonged dry period.
"There has been exceptionally strong demand from China and the United States in particular, supported by a depreciating Australian dollar.
"Prices across all categories reached record levels during winter," Mr Cheetham said.
"The national saleyard trade lamb indicator powered through 900c/kg at the beginning of July and ultimately reached a peak of 950c/kg, 9pc above the previous peak achieved in September 2018.
"Once conditions improve, strong prices for both sheep and lambs are likely to see many producers begin to rebuild their flocks after a long period of destocking," he said.
"Increased restocker activity will apply further competitive pressure to processors looking to fulfil export demand.
"For large parts of the east coast, water shortages have reached a critical point."
Mr Cheetham said producers in many regions face an increasingly difficult and expensive burden in sourcing water for livestock, with many opting not to join their ewes on hand or further destock.
"Forecast lamb slaughter reflects reduced ewe numbers and generally poor marking rates.
"The extent of elevated breeding ewe turnoff at the beginning of the year eased during the winter months, as producers looked to spring and post weaning before assessing feed availability," he said.
"As a result, the annual sheep slaughter forecast remains unchanged from the previous projections at 8.5 million head."
2019 lamb production to decline 3pc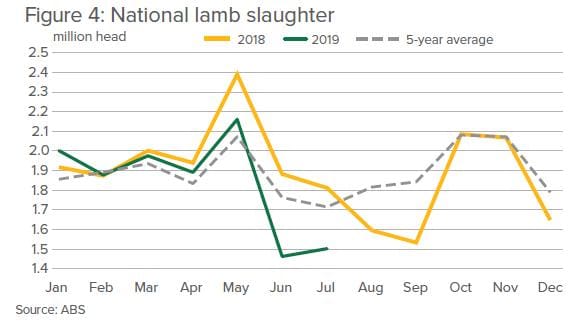 Mr Cheetham said 2019 lamb production is forecast to decline 3pc year-on-year to 495,000 tonnes carcase weight (cwt).
"The decline in production is due to the considerable drop in lamb slaughter, but will be partially offset by increasing carcase weights.
"The impact of deteriorating feed and stock water pressures cannot be understated," he said.
"However, average lamb carcase weights have progressed in 2019, supported by the price of finished lambs.
"Producers with lambs on hand but limited feed have increasingly refined their production systems to reflect the difficult conditions, with greater focus on supplementary feeding and lot feeding lambs."
Mr Cheetham said expected lamb carcase weights for 2019 are now projected to average 22.9kg, up 2pc year-on-year, while sheep carcase weights are forecast to remain stable on 2018 and average 23.7kg.
The analyst said the southern wet season had so far been very mixed, with parts of South Australia and south-west Victoria having an above average season, in stark contrast to the challenging conditions experienced in northern Victoria and most of New South Wales.
"The significant variability has presented challenges in ascertaining how national lambing rates have performed; however, the overwhelming consensus is for fewer lambs to enter the market for the remainder of 2019."
Click here to read the September update of MLA's 2019 Sheep Industry Projections or visit the Prices & Markets section of MLA's website.