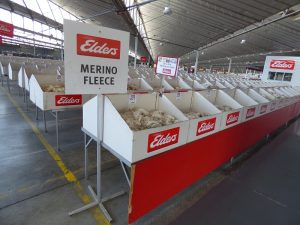 STRONG European enquiry for traditional best spinning quality fine wool boosted general Merino fleece price gains this week.
Australian Wool Innovation reported that general Merino fleece gains of 30-40c/kg clean were registered, with some better specified superfine (finer than 18.5 micron) lots achieving 60-cent gains as European interest intensified through the week.
"This upward price pressure has been exacerbated by the addition of a significant and high quality Italian order into the market, providing even stronger competition to the usual operator.
"Within this very restricted spinners bracket, premiums of well over 150-200c/kg clean are now common place," AWI said.
"At the other end of the scale, large rises in the lower types have also occurred and very little discounts are currently being applied to sale lots exhibiting high position of break in the middle (PobM), over-long greasy staple length (gsl), high calculated co-efficient of variation (cvh) or low staple strength (n t) tender measurements."
Australian Wool Innovation's weekly market report said the most trade interest was shown in types finer than 19.5 micron once again.
"By week's end, all Merino qualities came under heavy buying pressure.
"The strength of the market in the fleece room on the final day was intense, with several operators appearing to be "buying at best" on behalf of their overseas clients," the report said.
AWI said as a result of this market strength, the Eastern Market Indicator gained 18 cents to 1318c/kg clean, which is 149 cents or 12.7 percent higher than at the same time last year. Brokers passed in just 2.9 percent of the 31,857-bale offering.
"In US dollar terms, the price is also significantly better at US993c/kg clean, a level 15.5pc higher than at the same sale last season.
Bale offering was smallest in October since 1995
AWEX senior market analyst Lionel Plunkett said offering this week was the smallest national total for an October selling week in AWEX's history – since 1995. The offering also included 2500 bales of New Zealand-sourced wool sold in isolation on Tuesday.
Mr Plunkett said the market opened very strongly from the outset and continued to strengthen as the week progressed.
"Again, it was the finer microns (18.5 micron and finer) leading the way with this sector of the market generally 45 to 50 cents dearer compared to the previous sale.," he said.
"The medium microns (20.0-22.5 microns) bucked the recent price trend and moved back into positive territory, gaining between 20 and 30 cents for the week."
Mr Plunkett said there is almost a second-tier market for any wools possessing cvh results of less than 45. In some cases these lots are attracting premiums of over 50 cents compared to wools of similar style and specs with higher cvh readings.
A small but very stylish selection of skirtings followed a similar trend to the fleece market, he said.
"Most focus was on the finer edge of the selection, in particular 17.5 micron and finer skirtings were in some cases extreme.
"All other types and descriptions were generally 20 to 30 cents dearer compared to the previous week's sale."
The very limited selection of locks and crutchings were generally 5 to 10 cents dearer. Stains very firm. Washing lambs irregular. Crossbreds saw 25.0 to 28.0 micron 15 to 20 cents easier compared to last week, with 30 micron generally 10 cents dearer.
Greater global demand scenario developing
AWI said the more favourable $A-US exchange rate certainly helped market positivity this week, but largely a greater global demand scenario is becoming evident.
"Both the testing and auction figures are discounting the theory of a "short supply" so far this season as both data sets demonstrate an actual increase of 0.7pc in wool tested and 3.2pc more offered so far this season in comparison with the same period last year.
"These figures when combined with other factors such as low stocks of greasy wool in front of machinery, continuation of the low global wool production trend and a recovering retail environment are building a healthy case for these prices to remain, and perhaps improve further as the season goes on," AWI said.
Next week there will be another small national offering of about 36,000 bales in Melbourne, Sydney and Fremantle.
Sources: AWI, AWEX.