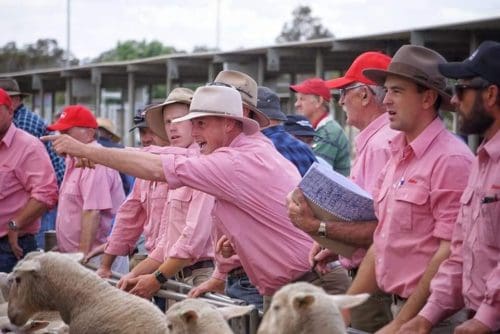 RURAL Bank remains positive about Australian lamb, sheep and wool prices for this year, with some qualifications on the impact of the COVID-19 pandemic on consumer demand.
The Rural Bank Insights February 2021 update today said a combination of strong demand and below average supply is expected to keep Australian lamb and mutton prices well supported at a high level in the short-term following a strong start to 2021.
The bank said the Eastern States Trade Lamb Indicator (ESTLI) opened the New Year 11 percent higher than the final price in 2020 and is currently 4.8pc higher year-on-year.
"Similarly, the national mutton indicator jumped 10 percent to start the New Year and is now up 4.6 percent on the same time last year."
The bank expected lamb supply to remain below average, following a slow start to the year. Average weekly lamb slaughter in January was 20pc below the 10-year average for January while yardings were down 11pc compared to average.
"Good rainfall in south-eastern Australia and a favourable outlook has allowed many producers to retain more ewe lambs than usual to rebuild breeding stock numbers, and feed lambs to heavier weights with very little pressure to sell.
"While holding lambs to heavier weights could keep supply tight in the short-term, it would likely also result in an influx of heavier lambs being turned off in coming months," the bank said.
Rural Bank said sheep supply is expected to remain even tighter than lamb on the back of a depleted national flock and seasonal conditions allowing producers to continue retaining breeding stock for rebuilding flocks, continuing the trend from 2020.
"Average weekly sheep slaughter in January was 35 percent below the 10-year average for January."
The bank said restocker demand is expected to remain firm for both lambs and ewes, particularly in New South Wales and Victoria, as many producers will continue to seek additional stock for flock rebuilding or to utilise available feed.
"The strength of demand in eastern Australia, coupled with tight supplies is seeing ewes being transported over from Western Australia where conditions have been less favourable."
Rural Bank said the outlook for consumer demand for Australian sheep meat is positive due to expected recoveries in foodservice channels in both Australia and key export markets and improving economic confidence on the back of COVID-19 vaccines being distributed, although it may not be a smooth improvement.
"This bodes well for Australian lamb and mutton prices which proved to be very resilient amidst the impacts of COVID-19 in 2020."
The bank said the United States remained a strong export market in 2020 with the volume of both lamb and mutton exports increasing year-on-year, despite reduced Australian supply and challenges that arose from COVID19. Demand from China was softer and exports to the Middle East struggled due to lower oil prices and a heavy reduction in travel through the region. A continued rebound in oil prices will be a key factor required to drive stronger demand from the Middle East in 2021, Rural Bank said.
Additional buyers needed for Australian wool
Rural Bank said wool prices have exceeded market expectations so far this year thanks to greater than anticipated overseas demand, particularly from China, though additional buyers will need to join the Chinese bidders if current prices are to be maintained in the coming months.
The bank said strong demand for fine wools is prompting some farmers to draw down on their fine wool stocks to fill the supply shortfall and take advantage of the higher prices currently on offer.
"Medium and broader Merino wools are in high supply domestically following an exceptional spring season and high feed availability.
"This excess supply of broad wools is anticipated to continue in the short term with Australian wool production expected to rise over the coming months thanks to rebuilding flock numbers, ongoing feed availability, and the potential easing of travel restrictions that may alleviate the current shearer shortage impacting the industry."
Rural Bank said wool prices more generally are expected to be volatile in February, with international demand remaining difficult to predict.
"Woollen mills in China are beginning to slow heading into the Chinese New-Year holiday, with the long anticipated Chinese Army uniform order also delayed further.
"Despite these challenges, Australian wool producers should continue to find support from the Chinese market following the New Year break with the Chinese economy moving from strength to strength over the last quarter."
Rural Bank said China remains a key market for Australian wool, currently accounting for 85pc of all wool exports, up from an average 70pc across the last decade.
"The Australian wool market remains mostly untouched by recent trade tensions with China, with the Department of Foreign Affairs and Trade (DFAT) recently confirming the Chinese import quota for Australian wool has been increased by five percent to 38,288 tonnes, though given the recent droughts and low sheep numbers nationally, this increased quota appears unlikely to be filled for the coming season."
Rural Bank said the continuing global roll-out of COVID-19 vaccines should assist international retail and consumer demand to recover, particularly throughout the United States and parts of Europe where harsher restrictions have been in place.
"This recovery in consumer confidence and demand for woollen clothing will support Australian wool prices with finer lots expected to see the greatest price rises, helping to further increase the price premium over broader wools."
Source – Rural Bank.