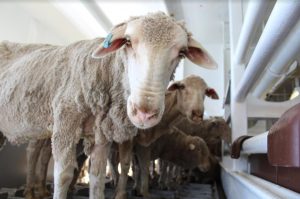 SHEEP stranded in a Western Australian feedlot under the care of de-licensed exporter Emanuel Exports can be exported under another exporter's licence, sent for slaughter or returned to farms, the federal government said today.
About 60,000 sheep bound for the Middle East were in a WA feedlot due to loaded on the Al Shuwaikh when the Federal Government last week suspended the export licence of Emanuel Exports, Australia's largest live sheep exporter.
The Department of Agriculture and Water Resources has said Emanuel's licence will remain suspended pending a full review of the company's response to a show cause notice.
Emanuel Exports has not commented on the future of the sheep, but industry sources also said they could potentially be exported under another valid export licence.
A DAWR statement today said the next steps are a commercial matter for the company concerned.
"There are a number of potential options, including processing domestically and transfer to one of a number of companies that hold current live export licences and are eligible to apply for export to the Middle East or other markets.
"There is also nothing, including biosecurity measures, preventing these animals from returning to the national herd," the department said.
"Exporters are responsible for ensuring they meet the animal welfare requirements imposed under Commonwealth and state law."
Industry sources said leaving the sheep in the feedlot, arranging their slaughter in a WA abattoir or arranging alternative live export licencing would all have inherent costs.
Click here to get the latest Sheep Central story links sent to your email inbox.
Western Australia's other major live sheep exporter Livestock Shipping Services also last week said it was reviewing Middle East shipments during the northern summer months under the federal government's new stocking density rules.
The WA sheep meat processing sector is within a winter abattoir shut-down period, when plants close due to low sheep and lamb numbers to do maintenance works. Only about 20,000 sheep and lambs were processed in WA last week.
Fletcher International Exports' Albany abattoir closed last week until July 18 and the Wellard-owned Beaufort River Meats is still working, but it and the WAMMCo abattoir at Katanning, will soon shut down for routine maintenance.
Fitzgibbon queries Turnbull's live sheep trade plan
The WA live sheep export situation prompted the Shadow Minister for Agriculture Joel Fitzgibbon to query whether the Turnbull Government had a plan for the trade. The Turnbull Government is choosing not to bring legislation forward implementing higher penalties for errant live exporters while the Labor Party foreshadows amendments to shut down the northern summer Middle East trade.
"We want to phase out the live sheep trade but we want to do so in a way which does no harm to sheep meat producers.
"We want to help them on a transition to something better, to value adding and creating jobs here in Australia," he said.
"But the Turnbull Government has no plan for our farmers and when it cuts off the supply chain so quickly and without warning, it does harm both to farmers and harm to animal welfare."
Last week Mr Fitzgibbon said the Federal Government must provide more transparency and give assurance it has an orderly plan to transition sheep farmers and other supply chain participants out of the live sheep trade.
"Malcolm Turnbull should also allow the Parliament to express its will on the live sheep trade.
"It needs to do so by allowing a vote on Labor's amendment which mirrors Sussan Ley's Private Member's Bill in the final sitting week of the parliament before it rises for the winter recess."
MacTiernan welcomes Emanuel Exports licence loss
WA Agriculture and Food Minister Alannah MacTiernan said the McGowan Government welcomed the Federal Government's suspension of Emanuel Exports' licence.
"For many months we have said the elements that have undermined the industry's credibility should be brought to account."
She said the Federal Government's decision vindicated the work the McGowan Government has been doing to find alternative markets to supply during the Middle Eastern high summer.
"This has involved working closely with meat processors and examining alternatives including the export of chilled and boxed meat.
"It was always going to be unsustainable to allow ships to go to the Middle East in the northern high summer months," she said.
"The Federal Government's decision reflects that reality.
"We again extend our offer to work cooperatively with the Federal Government in our respective investigations into animal welfare issues relating to live sheep exports as well as in finding other ways of providing sheep meat to the Middle East."