COVID-19 disruptions have triggered a significant reduction in wool, sheep and lamb price forecasts for 2020-21, with ABARES predicting the emerging wool stockpile will continue to grow as 'a natural consequence' of the current global situation.
Wool
ABARES is forecasting wool's primary price indicator to drop back to lows not seen for 12 years in 2020-21, as a result of the  impact of COVID-19 control measures on consumer demand and the clothing supply chain.
ABARES expects the Eastern Market Indicator (EMI) to average 1040c/kg in 2021.
That is 28 percent down on 2019-20 (1448c/kg) and 47pc down on just two years ago in 2018-19 (1939c/kg).
The number of sheep shorn in 2020-21 is expected to reduce by 5pc to 65 million sheep.
However, a 2.9pc increase in wool cuts per head, due to improved seasonal conditions, will keep wool production steady at around 280,000 tonnes.
COVID-impacts in other markets meant that 96pc of Australia's greasy wool exports went to China in the June quarter of 2020, leaving the wool industry more exposed than usual to single market risk.
An emerging wool stockpile is continuing to build as falling wool prices and weaker wool demand drive stock accumulation in the Australian wool market.
ABARES noted that in normal years around 83pc of all wool tested in bales will be sold through the auction system, with the remaining 17pc exported through private treaty merchants and marketing cooperatives, or held in stocks either on-farm or in storehouses.
In 2019-20 the share of sold bales in tested bales fell to 70pc, the lowest fiscal year average since 2002 –03.
"Taken in isolation from other market developments, this 13 percent difference points to at least 215,000 bales being added to stockpiles as a result of lower auction sales," the ABARES forecast said.
"This number does not account for stocks held on -farm.
"Industry estimates of the current stockpile are in the range of 300,000 to 400,000 bales.
"This stock is expected to continue growing for the remainder of 2020 while prices remain low and export demand remains weak. "
Stock accumulation was "the natural consequence" of the current global situation, ABARES said.
"Stockpiles of wool accumulated during this time may take several years to clear, so can be expected to place downward pressure on prices over the medium term."
COVID-19 forces down lamb, sheep prices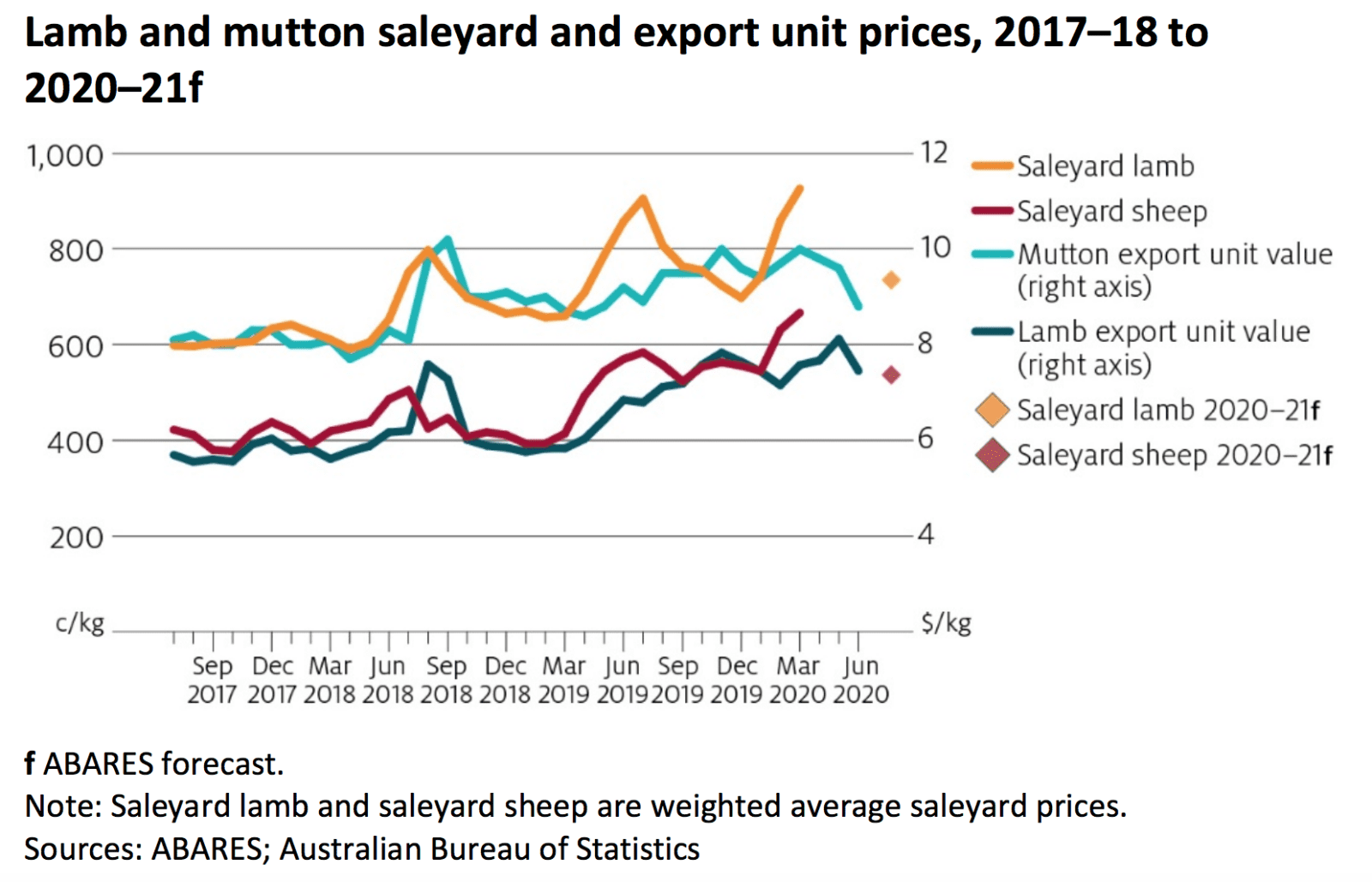 Average saleyard prices of lamb are forecast to fall in 2020–21 by 9pc to 734 cents per kilogram and sheep by 6pc to 549 cents per kilogram.
"The economic impact of COVID-19 will reduce international and domestic demand for sheep meat, placing downward pressure on prices,' ABARES said.
"Consumer preferences are shifting towards more affordable protein sources, including chicken and fish.
"An appreciation of the Australian dollar will further reduce global demand for Australian sheep meat as it becomes relatively more expensive."
To read the full September Quarter Agricultural Commodities outlook click here