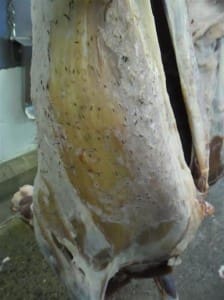 Stock agents need to play a strong educational role on the grass seed issue, Landmark's national livestock manager Mark Barton said today.
Mr Barton said the fight against grass seeds must be driven by processors, but stock agents have a key role in supporting the commercial message and helping to "shorten the supply chain" between the producer and the processor.
One of Landmark's major lamb-finishing clients bases his business on "selling a story" of grass seed management and supply continuity to processors, Mr Barton said.
"His biggest drivers are managing seed and guaranteeing supply."
Industry begins Youtube campaign on grass seeds
Mr Barton's comments come as MLA and the Sheepmeat Council of Australia undertake a Youtube educational campaign on grass seed management with the season drying off and grass-seed-affected lambs start to enter northern saleyards.
Resources to help producers manage grass seeds at www.mla.com.au/grassseeds include tutorial Youtube videos on four common grass seed management practices — premature shearing, spray grazing, spray topping and winter cleaning – plus the 40-page booklet Winning against seeds and the MLA Tips & Tools: Winning against seeds.
MLA said grass seed contamination is a costly problem for processors and can threaten market access. Seedy carcases are downgraded and producers can incur maximum financial penalties of $1/kg or more.
In 2012, an MLA survey of Australian sheep and lamb processors identified grass seed contamination as one of the major issues, so the National Grass Seed Action Plan (NGSAP) was developed by the sheep supply chain including MLA, the Sheepmeat Council of Australia and processors to address the problem, starting on-farm.
Agricultural adviser, Geoff Duddy, who recently completed a one-year role as the National Grass Seed Coordinator, said producers needed to be aware of seeds and make prevention their priority.
"Grass seed contamination is not acceptable from a production and welfare perspective, and producers must take responsibility to minimise their risk," Mr Duddy said.
"It has been an industry issue for decades, and the wider sheepmeat industry is keen to work with producers to reduce the incidence of grass seeds. The NGSAP aims to 'win the war against seeds' so the industry remains profitable and competitive."
Mr Duddy said productivity and profitability implications from grass seeds were widespread. They included:
Lost on-farm productivity: Reduced weight gains (even 25 seeds in a lamb can halve daily liveweight gain); reduced flexibility of selling time; increased mortality in weaner sheep and spring-born lambs in severe situations (from mis-mothering).
Lost on-farm profitability: Extra costs for supplementary feeding or managing infection and disease; penalties from processors for downgraded carcases ($10–$30/carcase depending on seed infestation).
Reduced wool value: Vegetative matter causes discounting, additional costs during processing and reductions in saleable wool volume.
Reduced skin value: Seeds can puncture and scar skins, affecting the quality of tanned products.
Reduced processor profitability: Seed removal reduces chain speed and throughput, increases labour and processing costs and reduces meat yield. Alternative markets need to be found for downgraded product, and contamination can risk market share or even a plant's export licence.
Grass seed management is a priority for the Sheepmeat Council of Australia, according to its chief executive officer, Kat Ferme.
"We ask producers to take greater responsibility on their farm, so the entire Australian supply chain can continue to produce high quality product," she said.
"It's a situation that starts on-farm, but has ramifications throughout the supply chain, so grass seed management really is a win-win for the industry."
Kat said the NGSAP aimed to equip producers and their agents and agronomists with the knowledge and skills to identify, manage and ultimately prevent problems.
"A national series of workshops, as part of the NGSAP, supports producers to develop their own grass seed management action plan to determine the cost of seeds to their business and identify management strategies which suit their production system," she said.
"Another priority is to increase the amount of feedback from abattoir to producer on animal health conditions, including grass seed contamination. Providing this information through feedback reports alerts producers to issues where they can minimise production loss on-farm and reduce contamination at processing. The program is a positive step towards helping producers to increase the dollars in their pocket."
MLA and the South Australian Sheep Advisory Group have funded a video on the impact of grass seeds and what producers can do on-farm.