SOME of Australia's best-known and most progressive lamb brands shared the honours in this year's Brisbane Show annual branded lamb competition, in results announced on Friday.
A record 20 entries were received for this year's taste test competitions, in three divisions for light (less than 20kg) lamb, medium weights 20-24kg, and restaurant weight lambs +24 kg.
All were assessed by an expert panel using MSA taste test principles based on flavour, juiciness, texture and overall liking, plus visual raw judging.
"Lamb entries were particularly high this year, and the quality was just incredible across all three weight ranges," one of the judges, Nick Ransley said.
"The diversity of flavour was just remarkable – clearly, lamb is not just lamb," he said. "Geography, pasture and feed type and genetics all clearly play a role, influencing flavour."
"The more the market and the industry can understand that diversity the better, in getting away from commodity-type products."
Overall grand champion branded lamb of show honours went to Thomas Foods International for a sample from its Thomas Farms Lamb brand range.
Produced out of the company's Loebethal SA lamb plant, TFI's grassfed Thomas Farms sample topped entries in the 20-24kg class before being crowned champion.

Thomas Farms is TFI's consumer-facing retail lamb brand, servicing customers in Australia and overseas via retail, food service and online sales. The program is designed to be tailored to individual customer specifications – whether that be raising claims or geographic location.
Currently the product, being generated out of TFI's Loebathal and Tamworth plants (plus Murray Bridge at some future time) appears under its own identity in retail outlets like Aldi, Drakes and a number of independent retailers, plus via TFI's e-commerce online retail outlet.
It will also appear in TFI's own bricks and mortar retail outlets (more on this, and the broader Thomas Farms initiative in a separate story to come, leading up to the re-launch of the TFI Murray Bridge processing plant.)
Thomas Farms is a multi-species brand, and will ultimately also be used for beef from the new Murray Bridge processing facility.
Great Southern farm assured grassfed program
JBS's enormous Great Southern farm-assured lamb program – one of the world's largest farm-assured grassfed lamb programs processing up to 12,000 lamb a week – claimed two class wins in the Brisbane branded lamb competition.
The Great Southern products go into a range of food service and retail markets including North America, the Middle East, North and South Asia, plus the upper portion markets in Australia.
JBS Southern chief operating officer Sam McConnell said his company was seeing more and more demand for both lamb and beef that carried legitimate grassfed claims – rather than so-called 'tick and flick' programs.
"The farm assurance backing is becoming increasingly important among customers here and overseas," he said.
JBS processes for its Great Southern program at multiple sites across eastern Australia.
"Through improved genetics and pasture/nutrition management, we continue to see improvement in the performance of Great Southern lamb over the past four or five years, despite some tough conditions," Mr McConnell said.
"The JBS team works closely with our dedicated producer suppliers to deliver the best and most consistent product we can, especially in issues like managing feed gaps. We have a program where our very best suppliers can share their knowledge about best practice, to help lift everybody's performance."
"As a result of this work, and the grading process, we have pretty well zero quality complains on any of our farm-assured product."
JBS's Great Southern brand topped the restaurant class for heavy lamb +20kg in this year's competition, scoring another class-win in the less than 20kg category for its Good Country lamb brand – a program representing the premium end of the company's light lamb production.
Some of this product ends up in retail market where some butchers and their customers are looking for smaller cut sizes, but is also used in food service – especially in Halal markets like the Middle East, which preferred leaner, lighter carcases.
In February, JBS announced a $20 million investment at the company's recently re-opened Cobram lamb plant in Victoria, aimed at meet the growing demand for lamb protein in Australia and neighbouring countries.
The investment will allow the Cobram plant to operate five days a week with the capacity to process up to 4000 lamb a day.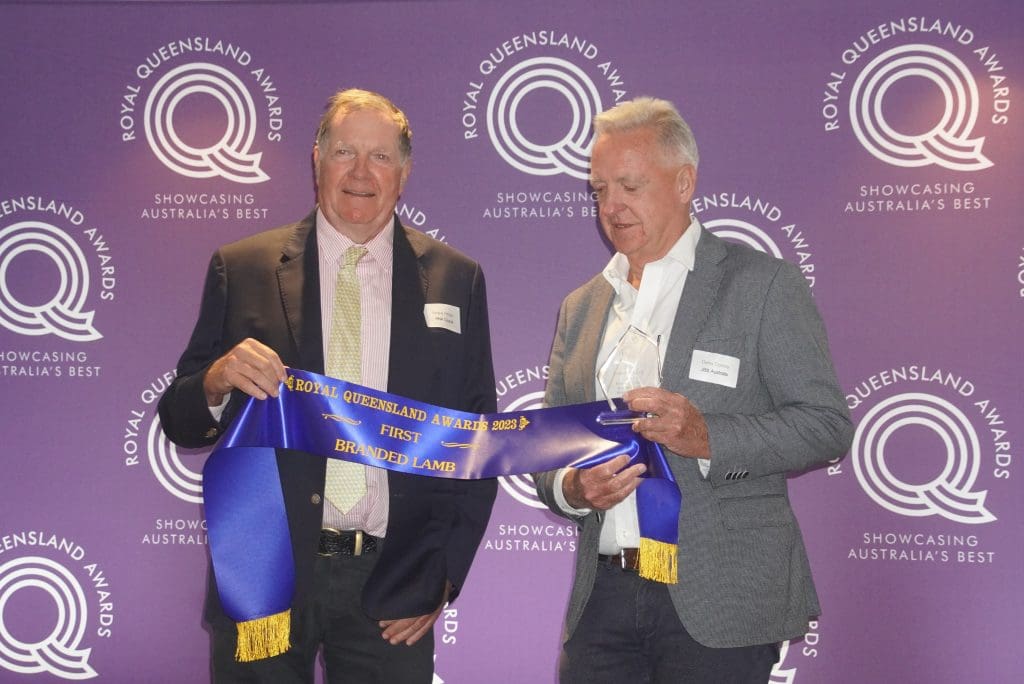 JBS's Dennis Conroy accepts the blue ribbon for entries in the restaurant heavy lamb class from RNA councillor Angus Adnam
Full branded lamb judging results:
Branded Lamb – 20kg or Less
Gold: Good Country by JBS Australia
Silver: Sovereign by Australian Wholesale Meats
Bronze: Coles Graze Lamb by Coles
Branded Lamb – +20kg
Gold: Thomas Farms Lamb by Thomas Foods International
Silver: Thomas Farms Classic Lamb by Thomas Foods International
Bronze: Coles Graze Lamb by Coles
Restaurant Trade Branded Lamb – +24kg
Gold: Great Southern by JBS Australia 1500
Silver: Union Station by Midfield Meat International Pty Ltd
Bronze: '246' by Midfield Meat International