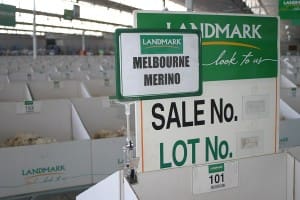 A LATE surge in wool buying at Australian auctions pushed the AWEX Eastern Market Indicator up over the 1300c/kg mark this week.
Crossbred fleece wool around 28 micron lifted as much as 30 cents, contributing to an 11-cent lift in the AWEX indicator to 1309c/kg clean, with brokers passing in 3.5 percent of the 29,543-bale offering.
With the $A-US exchange rate down 1.02 cents to US76.11 cents, the EMI in US dollar terms closing at 996 cents, down US5 cents.
AWEX senior market analyst Lionel Plunkett said a one-cent dip in the exchange rate helped support auction prices.
"Merino fleece made a solid contribution to the overall result of the EMI, despite a cautious start.
"Rises generally totalled between 5 and 15 cents for most microns, although it was the broader microns (20 to 23) which found the most consistent support and were the best performing sector<" he said.
"The sale finished on a strong note when a late surge on the final day pushed up prices another 5 to 10 cents in the last half hour.
"Merino skirtings recorded a similar result to fleece types, rising 10 to 20 cents," Mr Plunkett said.
"Buyers had the greatest appetite for stylish low vegetable matter types under 3pc vm."
Mr Plunkett said crossbreds finished as much as 25 cents dearer, although there were large differences between the various microns.
"The 28 micron wools were the most keenly sought after and jumped as much 30 cents in Melbourne before steadying on the second day."
Merino cardings had mixed results, losses in Melbourne were outweighed by small gains in Sydney.
Mr Plunkett said Fremantle auctions paused this week. This week's auctions in Sydney and Melbourne were held on Tuesday and Wednesday to allow for Wool Week activities in Melbourne today and tomorrow.
Next week just over 42,000 bales are rostered in all three selling centres.
Click here for the latest AWEX Micron Price Guides.
Source: AWEX