RED meat processors have set themselves some ambitious goals covering efficiency, technology, sustainability and market access in the Australian Meat Processor Corporation's 2020-25 strategic plan released yesterday.
Against a backdrop of highly competitive domestic and international markets, and some of the highest processing costs anywhere in the world, Australian processors are looking at technology as one of the linchpins to keep the nation's red meat industry competitive in global markets.
In its ground-breaking 2018 cost to operate report benchmarking Australian red meat processing with competitors in other parts of the world, the AMPC found that average costs per head (excluding livestock purchase) incurred in Australian beef processing were 24 percent higher than those in the US, more than twice as high as Brazil and 75pc higher than those in Argentina. Labour costs, utilities including energy and water, and regulatory burdens were the biggest contributors. Click here to view the 2018 report.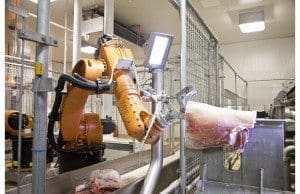 The processing sector's latest five year strategic plan released yesterday is underpinned by the meat industry's strategic priorities set out under Red Meat 2030, the rural research development and extension priorities and the national science and research priorities.
Among the challenges covered in the plan are animal welfare & social licence, labour, energy, market access, technology, automation & productivity, regulatory burdens and consumer trends and education.
Aim to halve human product handling
Under the topic of advanced manufacturing, the AMPC aimed to halve human product handling through technology advancement to maximise yields and processing efficiency, and reduce injury rates by 2030.
Advanced manufacturing systems, such as automation, offered enormous opportunity for R&D to improve efficiency of operations for meat processors of all sizes, the report said.
"In the next five years, innovation in business profitability will come from improving efficiency, decreased costs including reduction in lost time due to injuries, but also from increases in throughput, yield optimisation, and ensuring carcases are processed to achieve maximum market returns," it said.
The AMPC recognised the significant investment individual businesses had made in their operations, saying it was committed to maximising the value of levy funds in advanced manufacturing projects through consultation with its members.
The term 'Industry 4.0' was used to describe the push for smart factories and smart manufacturing where machines which are augmented with wireless connectivity and sensors are connected to a system that can visualise the entire production line, and make decisions on its own. The first challenge was to identify what the opportunity represents for processing plants.
Objective Measurement
As technology progresses through research and development, so too will the accuracy of current carcase segmentation and deboning yields, the report said. Over the next five years, feasibility studies and the development of objective measurement systems supported by carcase cut calculators and optimisers will aim to deliver the highest returns possible for primal cuts, subject to markets available to each processor.
Hands-Off Solutions
Providing a safer work environment through assistive processing tools or automation of tasks has the potential to increase accuracy, eliminate handling injuries and lift productivity, the report said.
Research into sensing technologies, and tactile and visual aids will enable the development of tools for commercial use.
"To facilitate technology adoption, it is imperative that alternative commercial adoption arrangements are examined to give the sector the ability to move quickly to adopt new technologies that improve efficiency and profitability," the AMPC said.
"Furthermore, when research and development efforts are successful in producing an outcome which can be commercialised, the practical adoption of that knowledge must be extended to the sector."
In the area of 'hands-off' processing, objectives included establishing yield-critical cutting lines, slaughter and boning, and have their required sensing and cutting research completed by 2025. Tasks that can be undertaken in a hands-off method should have feasibility research completed by 2030, the report said.
Sustainability
In the field of sustainability, the AMPC's five year plan objectives include a further 10pc reduction in energy intensity by 2025, through the use of energy-efficient practices and technologies, and 100pc renewable electricity use by 2030, subject to feasible grid connection in each plant location.
Initiatives included best practice energy management, smart energy management systems investigation and energy benchmarking and savings opportunities.
Water efficiency objectives included a further 5pc reduction in water use by processors by 2025 through water efficient practices and technologies. This comes on top of major gains already seen in water efficiency over the past ten years.
Technical market access and markets
By 2030, the report aspired to see Australia as the preferred trading partner for premium red meat products globally, with unrivalled access to high-value markets.
"With Australian red meat facing increasing competition from other meat suppliers and protein products in global markets, the industry must continue to promote its exceptional points of difference to global customers and consumers – safety, quality and traceability," the report said.
Through addressing technical and non-technical trade barriers, the report aims by 2025 to deliver science-based equivalence cases that contribute to a $10 million reduction in non-tariff trade barriers for the red meat industry, and through evidence, deliver a 20pc increase in access to negotiated trade markets, such as the European Union.
It also aimed to deliver an additional $10 million in value annually to the industry by 2025 based on new product development, built around consumer insights; contribute to reducing the red meat industry's overall costs by $5 million and increase the value of the total sold products by 3pc, through integrating new process technologies.
Product and process integrity
Product and process integrity is another key platform in the document, helping ensure that the sector continues to maintain its social license to operate.
By 2025, red meat processors aim to have a transparent, industry-owned national animal welfare standard that exceeds all other such standards globally.
In the field of traceability and integrity systems, it sought to reduce risks to market access by providing real-time information from producers and feedlots for processors through integrity systems, with the goal of full adoption through the supply chain by 2025.
By 2025, the report aspired to have traceability and tracking systems integrated through the supply chain that will be able to provide traceability data for brand owners, regulators, and consumers from slaughter to carton.
People and culture
As the largest trade-exposed employer in regional Australia, red meat processors account for about 100,000 direct and indirect jobs across the nation.
Labour attraction and retention was critical to the sector's success, the report said, being the single highest input cost for red meat processors at nearly 60pc of total operating costs.
The report's aim is that by 2030, the processing sector will be seen as a vibrant and progressive industry of choice for employment, offering a diverse range of careers underpinned by a vast range of training options.
This will be achieved through focused industry branding, candidate attraction and training, attracting people from diverse backgrounds to the sector, better understanding barriers to internal attraction, and mentoring programs to support the sector.
Click here to view the full AMPC report.