FORWARD wool trading improved this week, despite the auction market continuing to feel the malaise of the general global economy.
Fine wools have taken the brunt of the impact with 16.5-18.5 micron fleece wools coming off between around 3-4 percent this week.
Medium wools held their own supported by the need for some feeder stock for machinery plus a weakening Australian dollar.
The Eastern Market Indicator in USD terms fell below US900 cents for the first time in 20 months.
The two charts below show the bounce in both the outright price of fine wools post the COVID lows of early September 2020 and the movement in the basis between 17-21 micron.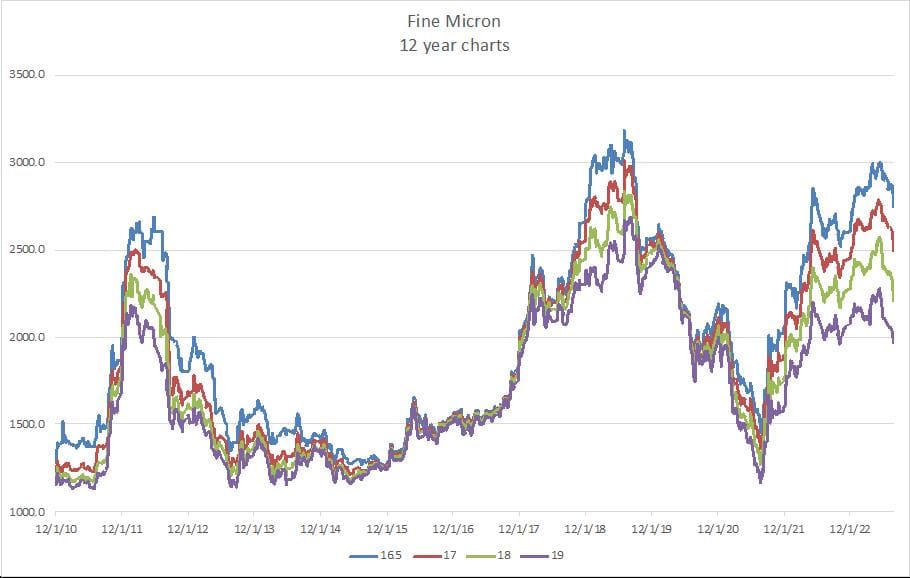 Fine wools have consistently outstripped the mediums dating back to the start of the 2019/20 wool season (Chart 2). This pattern has stayed in place only to be challenged on the resumption of sales in August. How this plays out as navigate the traditional demand period will be a contest within the broader economic outlook.
The resilience of the top end of the market will likely be tested as we move into a northern Winter that faces the challenges of escalating energy prices and uncertainty.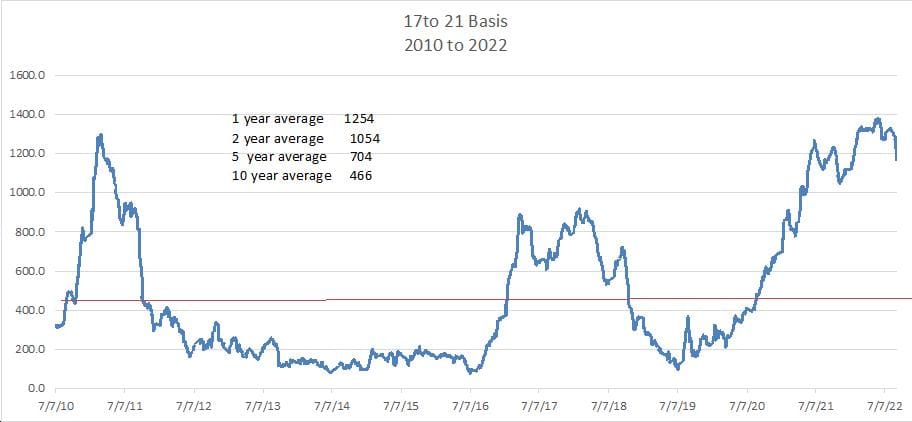 The forward markets fared a little better this week. With the 19 micron and 21 micron contracts supported by tight supply and a falling AUD, buyers chose to hedge a few positions. The 19 micron contract traded 10 cents under the closing cash at 1610 cents for October and the 21 micron contract traded 40 cents under cash for November at 1280 cents. A few sellers looked to take the security on offer should prices break to the downside of the established channel mentioned last week.
New Year activity is unchanged from last week with bids for the first half of the year around 5pc under cash, with 19 micron bid at 1550 cents (spot 1620 cents) and 21 micron bid at 1250 cents (spot 1330 cents).
Growers remain resolute and showing little interest in selling down. Offers are pitched over 3-5pc over cash, for 19 micron at 1700 cents and 21 micron at 1350 cents.
The basis (difference) between the 19 and 21 micron, although off it's July 2021 peak of 450 cents, is still bid to hold around it's current 300-cent level. History would probably disagree as highlighted in the chart below, but we are in unusual times. In any case, it is probably best for growers to place their hedges close to the likely micron or err to the finer side.

Source: Southern Aurora Markets