SIX crew members from a livestock export vessel docked in Fremantle have tested positive for COVID-19.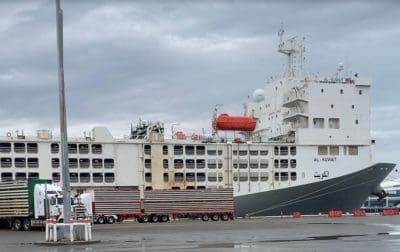 The six crew arrived last Friday aboard the Al Kuwait, formerly named the Ocean Shearer, when it returned to WA from a run to Kuwait and Qatar.
Channel Seven media reported this afternoon that the crew have been transported to a Perth hotel for quarantine purposes.
The vessel is reported to have been granted permission to dock by the Federal Government on May 20, even though crew members had reportedly recorded elevated temperatures at the time.
A further 42 crew members are on the ship, including two Australians.
WA Premier Mark McGowan confirmed the cases to media this afternoon, describing it as "an extremely concerning situation".
Mr McGowan said he was advised about the situation this morning.
Mr McGowan told media the remaining 42 crew members were "currently well" and would remain on board the ship to be monitored and undergo health assessments. But he expected more to be diagnosed with COVID-19 over coming days.
"I suspect it is probably more than likely that more crew members may become infected with the virus. This is an extremely concerning situation that we find ourselves in," he told the ABC.
A WA Health team is also reported to be on board the ship carrying out further crew assessments.
The Al Kuwait is operated by Kuwait Livestock Transport & Trading.
This report will be updated as more information becomes available.