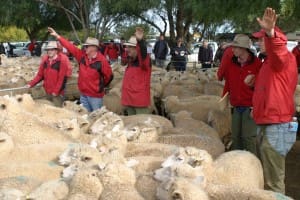 Good sheep were dearer and trade lamb prices were up for quality and those of the right weight on Monday, but generally faltered on Tuesday across the country as more new season lines came into markets.
At the close of Monday's markets, Meat and Livestock Australia's National Livestock Reporting Service listed the eastern states restocker lamb indicator as increasing 19 cents to 444c/kg. Merino lambs eased two cents to 397cents, while light lambs were up nine cents to 412c/kg. Trade lambs were six cents dearer on 498 c/kg, and heavy lambs gained one cent to 509c/kg. The mutton indicator was seven cents higher on 323c/kg.
The eastern states trade lamb indicator started today at 492c/kg, the heavy lamb indicator was on 505c/kg and mutton was on 332c/kg.
Naracoorte sheep and Bendigo lambs up for small numbers
The stand-out results were at Bendigo where prices for some quality new season and old trade lambs suiting supermarket and domestic orders lifted $10-$15 in a generally firm market, in reaction to lower quality offerings in southern New South Wales saleyards, according to agents.
At Naracoorte sheep prices jumped $10-$20 as Thomas Foods International worked hard to secure supply close to home from very limited numbers on offer, to support their increased sheep kill at Murray Bridge.
Dubbo lambs start the week cheaper
In New South Wales at Dubbo on Monday, agents yarded 2,675 lambs, 1575 more and 9820 sheep, 1420 more, with about 4000 new season lambs, mostly heavy trade weights and heavy old lambs and good numbers of Merinos for the usual buyers.
New season lambs eased $2 to $5/head on the heavier end. Heavy trade weight and heavy lambs ranged from $105 to $125/head, averaging 500c/kg-520c/kg carcase weight. Old lambs averaged $4-$8 dearer overall, but cheapened as the sale progressed. Medium and heavy trade weights sold from $82-$116, at 460c/kg-485c/kg. Heavy lambs made $114-$135 with extra heavy lambs up to $169, most at 490c/kg-510c/kg. Merino lambs made mostly $76-$108.
Mutton prices lifted $6-$10 with better-covered medium weights slightly more. Most medium weights sold from $65-$88 and heavy weights from $80-$100, with better lines from 320c/kg-360c/kg.
Prices changed little for good quality medium and trade weight lambs at Tamworth on Monday, with only 2895 lambs, down 380, and 2050 sheep, down 230. NLRS said the quality of the lambs was fair to good, but no extra heavy weights and limited numbers of young lambs were yarded. Secondary lambs struggled, lightweight trade lambs were dearer, but heavy lambs were slightly cheaper trend. Heavy ewes were dearer.
Forbes new season lamb prices drop $8-$10
At Forbes yesterday, lamb numbers were boosted to 35,300, up 14,300 and the sheep yarding lifted 1200 to 9700. The 13,950 new season lambs were of fair quality and slipped $8-$10 with trade weights making $95-$116. Heavy weights made $112 to $136/head. Old light lambs slipped $7, to sell from $64-$78 with trade weights down $6, at $80-$114. Merinos sold from $70-$112.
Heavy and extra heavy weight lambs were $8-$10 cheaper, with heavies ranging from $107 to $128 and extra heavy weights making $123-$150, at around 421c/kg-498c/kg.
Prices for the sheep yarding of mostly Merinos lifted $5-$8, with Merino ewes making $75-$106, Dorper ewes from $65-$98 and Merino wethers from $75-$112.
Bendigo sheep and some lambs dearer
In Victoria at Bendigo on Monday, agents yarded 8559 lambs, down 95 and 4810 sheep, down 534, for an erratic buying field. Some good quality lambs gained $5 to $10/head, compared to last week's cheaper rates, with a two extra heavy lambs making $155, but only limited sales above $140/head.
The 2,700 new season lambs from mainly the Boort, Kerang, Echuca and Goulburn Valley areas sold to a top of $144 for a pen estimated to at 26kg with an $8 skin. Most young lambs were trade and light trade weights, with the best making $118-$132. The heaviest lambs came out at 520c/kg, while those suiting supermarket and domestic slaughter sold to stronger bidding to 550c/kg-570c/kg cwt. Restockers paid to $63/head for young Merino lambs.
NLRS said the quality of the old lambs was very mixed and buyers selected against poor carcase shape or long dry skins. Most old season lambs over 20kg carcase weight sold from $95-$134, from about 440c/kg-520c/kg on the better quality lots. Well-conditioned trade weight Merino lambs were dearer, at $95-$107 or around 430c/kg-440c/kg cwt. Light weight slaughter lambs generally made from $64 to $82/head.
The sheep sale was generally firm to dearer with Merino ewes in full wool making to $100 and heavy crossbred ewes to $96/head. Most light and trade weight sheep sold from $50- $75 and the best mutton was estimated at 310c/kg-330c/kg cwt.
Ballarat sheep up to $10 dearer
At Ballarat on Tuesday, the yarding of 4519 lambs, 406 more and 2082 sheep, 150 fewer, met mixed demand. Better quality lambs sold a few dollars dearer and restockers paid from $85 to $126.
Light weight 1 and 2 score lambs sold from $65-$82, light trade 2 and 3 score lambs from $82 to $112, while trade weight 3 and 4 score lambs at $105-$130, ranged from 460c/kg-540c/kg, averaging around 510c/kg-520c/kg cwt. Heavy 3 and 4 score lambs sold from $120.50 to $130/head, to average around 480c/kg cwt.
NLRS said most sheep sold to a dearer trend, to be up to $10 head dearer on last week. Restockers paid $145 for young joined crossbred ewes and $55-$90 for shorn Merino wethers.
Light weight 1 and 2 score sheep sold from $45-$68 with very light 1 scores making $34-$48. Medium weight 2 and 3 score sheep sold from $52-$88, ranging from 250c/kg-370c/kg to average 330c/kg cwt. Heavy 3 to 5 score sheep sold from $65-$90 and heavy Merino wethers made $82-$90 with medium weights from $56-$88.
In South Australia at the SA Livestock Exchange, Dublin, on Tuesday, agents yarded 9465 lambs, up 2123, including 4000 new season lambs, and 2659 sheep, up 1079.
NLRS said feeders paid $52-$92 for lightweight new season crossbred lambs, while lightweight crossbreds for slaughter eased $1 to $3, selling from $100-$104 and averaging 492c/kg cwt. New season light trade weight 4 score lambs eased $5, and sold from $110-$122 to average 508c/kg, while heavier trade weights eased up to $9, making from $117-$126 or around 495c/kg cwt. The few new season heavy weight lambs made $128-$138 or 500c/kg cwt. Lightweight Merinos sold for $65-$75 to the trade.
Demand for old lambs continued to weaken and trade weight 4 scores made $105 to $122 or 468c/kg-490c/kg cwt. Heavy weight old lambs eased $6-$14 at $125-$146 or 481c/kg-518c/kg cwt. Restockers paid $67-$95 for shorn, light weight Merino lambs. Trade weight 3 scores to processors made $85-$103 and heavyweights eased marginally, selling from $109-$116 or around 415c/kg cwt.
The mixed quality sheep yarding sold to weakening processor demand, but restockers paid $35-$54 for lightweight ewes and $77-$95 for wethers. The 2 score ewes to processors were unchanged and sold from $71-$81/head to average 290c/kg cwt. Heavyweight 3 score ewes eased $5 to sell from $70-$95 and averaged 287c/kg, while heavy weight wethers eased $4 at $82-$102 to average 312c/kg cwt.
Naracoorte mutton prices jump $10-$20
In South Australia at Naracoorte on Tuesday, mutton demand prices jumped $10 to $20 for a very small yarding of 904, up 87, as Thomas Foods International bid strongly to secure local supplies. Prices were firm for the yarding of 1382 lambs, 725 more. The three pens of light trade weight new season lambs made from $70-$91.
The light weight 2 score lambs sold from $38-$54, while light trade weight 2 and 3 scores made $66-$78. Medium to heavy weight 3 score trade lambs made $75-$101 or 400c/kg cwt. The heavy 4 score export lambs sold from $105-$128.50 or 465c/kg cwt.
Light weight 1 and 2 score sheep made $40-$63 and poor quality 1 scores down to $28. The medium weight 2 and 3 scores made $60-$87, while the heavy and extra heavy weight ewes made $89-$108, with wethers selling from $94-$115. A run of 2 to 4 score ewes averaged 330c/kg cwt. Heavy weight rams were $20 dearer at $52-$80 and two tooth rams sold to $92.
Muchea new season lamb prices drop $10
In Western Australia at Muchea yesterday, agents yarded 5122 lambs, 2791 fewer, but 6778 sheep, 2740 more, for a generally cheaper market.
NLRS said trade weight new season lambs fell by $10 with 3 scores weighing 18kg selling from $80-$126 to average 530c/kg cwt. New season Merinos in good condition sold from $67-$80/head. The limited numbers of trade weight old lambs were $9-$12 cheaper, and more in places, with the 18kg cwt plus 3 scores selling from $75-$115/head. Trade weight Merino lambs were $11-$14 cheaper, at $73.50-$100/head.
Lighter lambs to suit the air freight market were $5 cheaper, with 12kg-18kg cwt 2 score crossbreds selling from $45-$80.50. Lightweight lambs to the restockers were $4-$7 cheaper, with crossbreds making from $20-$68 and Merinos from $32-$71.
Plainer conditioned lightweight ewes were firm to $3 cheaper, but good heavy weight sheep were $3 to $5 dearer. The 2 score ewes made $30-$78 to processors, while restockers paid $44-$84.50. The 3 and 4 score medium and heavy weight ewes sold from $72-$93.50 for crossbreds and $116.50 for Merinos. The 2 score wethers sold from $35-$78 to the processors and $84.50 to restockers. The 3 and 4 score medium and heavy weight wethers sold made $80-$105.50 for crossbreds and $100 for Merinos.