AUCTIONSPLUS offered more sheep and lambs online last week, but these met with weaker demand and clearances fell.
Tuesday sheep and lamb listings last week rose 34 percent to 87,631 head, with lamb categories jumping 39pc.
The higher supply was met with slightly weaker demand, demonstrated by clearances falling 8 percentage points on the previous week to 40pc, although post-sale negotiations lifted clearance 15pc, up from 25pc at the end of auctions on Tuesday, AuctionsPlus said.
Value over reserve fell from Tuesday to Thursday, with post-sale transactions achieving sales for less than reserve, dragging it down from $14 at auction end to $6 by late Thursday.
The crossbred lambs offering rose 47pc to 16,315 head, and the average price increased by $4 to $119.  The clearance rose to 46pc after post-sale negotiations, up from 36pc on Tuesday afternoon. At Mansfield in Victoria, 300 June/August 2022 drop White Suffolk cross mixed sex store lambs weighing 44kg lwt sold for $146, $26 above reserve.
Merino wether lambs well represented with 6271 head selling for a 67pc clearance, rising 15pc from 42pc at the auction's end. Prices for the category ranged from $49 to $119 and averaged $81, up $8 on the previous week.
The scanned in-lamb Merino ewe listing rose to 13,571 head and averaged $142, down $16. The final clearance was 32pc, up from 19pc on Tuesday. At Lucindale in South Australia, 435 rising three year-old Poll Merino ewes weighing 51kg lwt made $150 with a northern Victorian buyer.
Shedding breed ewes sold from $75 to $376 to average $174, up $4. AuctionsPlus said the 4274-head offering met plenty of post-sale action, with 1700 head selling in the days after the auction and the final clearance rate reaching 55pc, up from 15pc on Tuesday afternoon.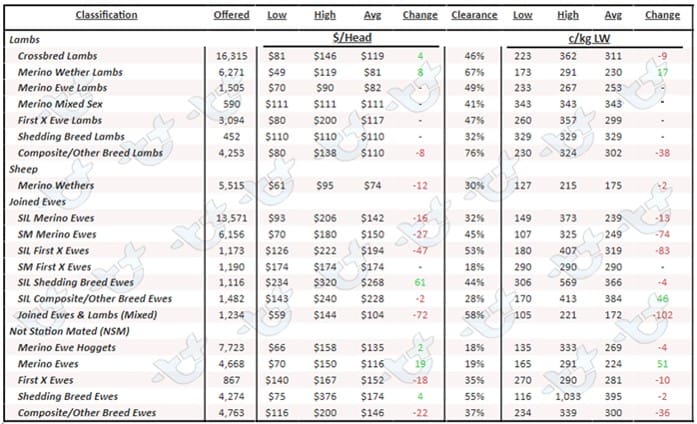 Source – AuctionsPlus.