JOINED shedding breed ewes and young unjoined ewes fared best in AuctionsPlus' biggest weekly January offering last week.
AuctionsPlus offered 145,283 sheep and lambs, an increase of 51 percent on the previous week and 28pc higher than the corresponding week in 2022.
The sharp rise in listings follows long-awaited Summer conditions in recent weeks, as producers continue to turn off lambs following the raft of disruptions in the final months of 2022, the online marketplace said.
Lambs again dominated last week's listings, totalling 98,924 head – offered across 267 lots. The increased offering was met with easing prices, while clearance rates rose significantly in the hours following the close of the sale, highlighting the continued impact post-sale negotiations will have on securing sales in the 48 hours following Tuesday's sales.
Crossbred lambs continue to dominate listings, with a total of 58,482 head – accounting for 62pc of the total lamb offering. They sold for an average of $111/head, down $12, while the clearance reached 51pc late Thursday, up from 28pc at the immediate conclusion of the auction. From Caloote, SA, a line of 113 White Suffolk/Poll Merino, mixed sex store lambs, Apr/Jul 22' drop, weighing 41kg lwt returned $130/head.
Merino wether lambs registered the highest clearance across the lamb categories, reaching an 84pc clearance for the 13,839 head offered. Prices lifted $8 on the previous week to average $81/head. Three lines of 460 May/Jun 22' drop store wether lambs, from Maldon, Victoria, weighing 40kg lwt returned $115 and $114, respectively.
Shedding breed lambs saw listings more than doubled to 3384 head. They sold from $103-$132, to average $123/head, down $12, for a 36pc clearance. Topping the category was a line of 580 Australian White store wether lambs from Mendooran, NSW. Weighing 40kg lwt, the Jul/Aug 22' drop lambs returned $132/head.
Composite/other breed lambs also experienced a significant spike in listings, with the 10,028 head offered reaching a 75pc clearance late Thursday – up from a 29pc clearance at the immediate close of Tuesdays sale. The offering averaged $100/head, down $5. From Holbrook, NSW, a line of 307 Jul/Sep 22' drop Primeline store wether lambs, weighing 38kg lwt returned $127/head.
The Tuesday National Sheep sale offered 46,359 head, with unjoined ewes accounting for 68pc of the sale. The smaller grown sheep offering helped lift clearance rates, while prices across joined ewes increased and non-station mated offerings registered a slight easing.
Joined first cross ewes sold to a 76pc clearance across the 3196 head offered, with prices averaging $219/head. A highlight across the category was the run of ewes offered from Raywood Victoria, seeing a single vendor account for 39pc of the offering. Topping this offering at $264/head was a line of 209 2.5 year-old first cross ewes weighing 87kg and joined to White Suffolk rams.
The largest joined ewe offering was the 3782 shedding breed ewes. They sold from $150 to $223, the category averaged $210/head – up $92, while clearance reached 48pc. From Wentworth, NSW, a line of 450 White Dorper ewe lambs aged 4-10 months, weighing 45kg lwt and continuously joined to White Dorper rams returned $223/head.
The 6983 unjoined Merino ewe hoggets averaged $167/head, up $15, and the clearance reached 63pc late Thursday, up from 53pc at the immediate closure of sale. At Moree in NSW, 780 1.4-1.5 year-old Merino ewe hoggets weighing 47kg lwt made $130.
AuctionsPlus yarded 8730 unjoined Merino ewes. They sold from $84 – $228/head to average $145/head, up $21, and the clearance rate reached 64pc, up from 41pc at the immediate close of sale. From Keilira, SA, a line of 315 Poll Merino ewes aged 2.4-2.5 years, weighing 55kg lwt, returned $151/head.
Note: Prices as at 5pm Thursday, 20th January 2023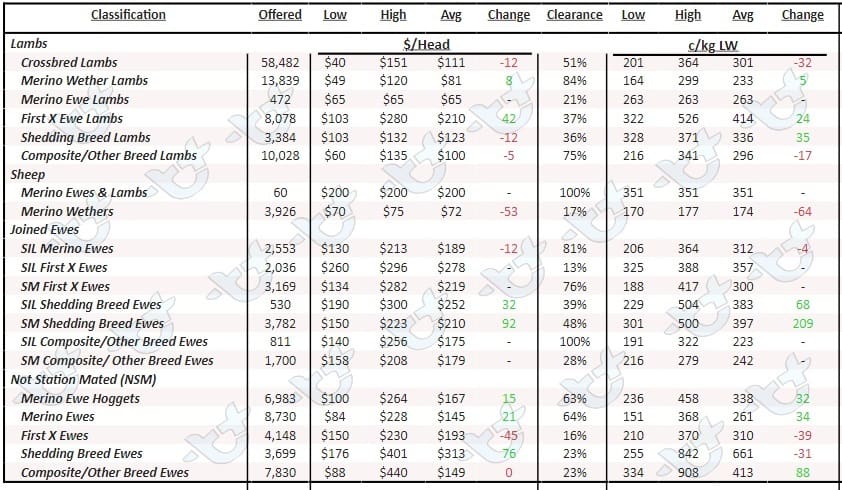 Source – AuctionsPlus.