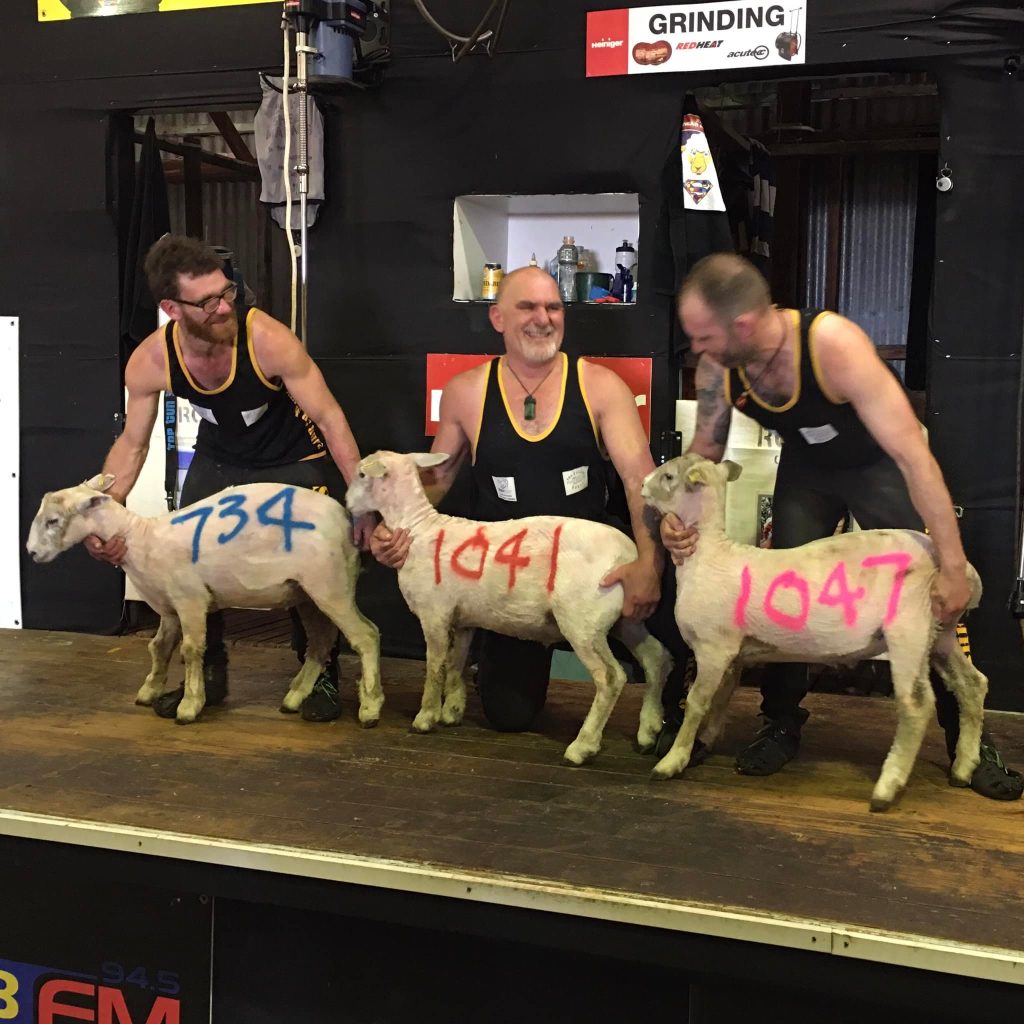 THREE very tired shearers managed a mammoth 2822 crossbred lambs in the 24 Hour Shear Madness Shearathon for autism support at the Warrnambool Showgrounds in south-west Victoria over the weekend.
Watched by a revolving crowd of Shearathon helpers, well-wishers, local shearers, farmers, students from local special schools and their parents, the shearers battled tiredness, cramps, back issues and energetic lambs to manage their tallies.
Amid a carnival atmosphere of live music, kids competitions, visits from Santa Claus and a Shear Madness art competition, Roger Mifsud, 55, shore 1041 sheep, just six sheep shy of his 33 year-old son Corey's tally of 1047, and Corey's son Brody, 25, managed 734.
They spaced their shearing over Friday and Saturday, adapting the program to the availability of lambs and their fitness. Roger said he was relieved and felt a sense of achievement at completing the shearathon, but doubted he would do it again, after suffering severe cramps Friday night, prompting a call to local chiropractor Dr Tim Free and nutrition coach Tegan McKenzie who recommended hydrolytes and steamed rice, banana and honey 'rum balls'.
"Within an hour of eating that he was shearing five more an hour than Corey," supporter Luke Robertson said.
Roger and Corey used their natural competitive spirit to spur each other on, with Roger's tally suffering when his body rebelled, but recovering after treatment.
"I actually caught up with him at one stage and might have been one or two in front.
"I reckon he (Corey) was playing with me in the end," he said.
"I've been told not do it again, because I'm getting too old.
"You can never say never, but apart from the organisation, people don't realise the physical and mental and emotional drain that it puts on you," he said.
"You are putting three days into one."
Roger said the support for the event was unbelievable and although the donations have not been calculated, patrons from one hotel donated $2500.
Corey said the event ran smoothly with the help of the big support team – including Heiniger technicians Stuart Grigg and Joel Barton. He was proud of his father's persistence to keep going and his son's "big heart and stubborn side that didn't want to give up," despite not being a professional shearer.
"I don't think we will do it again, it's definitely the last one."
The shearers have been recovering for the past two days, but Brody was back shearing crossbred lambs today. His usual work is fencing and lamb marking, but said he "pulled up not too bad" and reckoned his youth got him through, as well as "a few massages and stupidity probably."
"You can do anything you want if you put your mind to it and have the right mindset, I suppose."
Luke Robertson said the support team deserved a "full shout-out". He said there has been massive district support for the event, including from pubs, clubs, parents and farmers who get their sheep shorn annually by Roger and Corey.
"Donations are still open at this stage."
He said the shearathon helpers included former students of Merri River School Joel Lehman and Zake Roberts, pressing wool, dragging sheep for crutchers and dressing up like elves.
Corey's three year-old son Levi is autistic and has ADHD, and the family, their support crew and committee organised the 24-hour shearathon from midday Friday to raise funds and awareness for autism.
Funds raised will go to special schools and to support the parents within their local communities at Warrnambool and Stawell. Part of the funds raised will also be donated and used in peer support groups like Mpower's Strengthening Parent Support Program to further support families and carers. The event was livestreamed on Facebook by FitzMedia on the 24HR Shear Madness Shearathon Facebook page.  The lambs were donated by Halt Farms at Macarthur.
If you would like to sponsor 'Shear Madness' or show your support in any way please contact the committee via [email protected] or donations can be made the: Merri River School, BSB: 633 000, ACC : 1637 19768, REF: Shear Madness and your name.