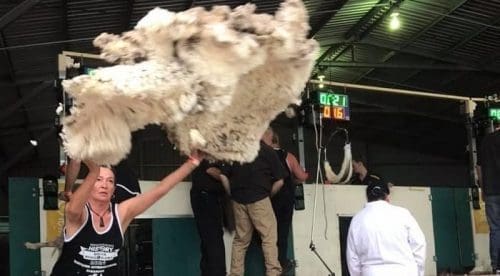 IMPROVED access to United Kingdom workers by Australian shearing contractors could be months away, or even years distant for working holiday makers, despite the Australia-UK Free Trade Agreement receiving Royal Assent recently.
Advice from the Department of Foreign Affairs and Trade indicates the FTA might not come into force until early in the next financial year.
And both countries have up to two years to implement Working Holiday Maker visa changes that would extend age and work period limits for UK workers here.
Also shearers and wool handlers are not listed on certain visa occupation lists which could also mean that the FTA will limit the visa options for these skilled workers, despite the positions being recognised in other government skill shortage lists.
On March, Royal Assent was given to UK legislation to bring the Australia-United Kingdom Free Trade Agreement into effect, paving the way for the countries to bring the agreement into force as soon as possible.
The Australian Government said the FTA will mean Australian professionals can gain access to the UK jobs market on a par with EU nationals, with more opportunities for intra-company transfers and for working holiday makers.
However, the Australia-UK FTA will only enter into force only after UK processes are complete and Australia and the UK exchange diplomatic notes identifying a commencement date. A Department of Foreign Affairs and Trade spokesperson told Sheep Central the Australian Government intends to exchange Third Person (Diplomatic) Notes with the UK to enable entry into force of the A-UKFTA at the earliest opportunity.
"To assist labour in the agriculture and agribusiness sectors, the A-UKFTA includes a Joint Declaration on Agriculture and Agribusiness Workers detailing the visa pathways available for workers in this sector from both countries.
"Australia has committed to ensure access for UK nationals for business visitors, intra-corporate transferees, independent executives, contractual service suppliers and spouses and dependents," the spokesperson said.
"These commitments are implemented through existing visa pathways (including subclasses 400, 600 and 482).
"These commitments provide certainty for Australian business that visa access will persist and, in some cases, be more streamlined."
The spokesperson said to encourage innovation flows into Australia, including in the area of agri-tech, a new visa pathway for innovators and early career development will be piloted for UK citizens to come to Australia.
"This program will be available for UK citizens to apply within one year of entry into force of the FTA."
After the UK's Trade (Australia and New Zealand) Bill received Royal Assent by the King on 23 March 2023, the UK is now working through steps to lay two procurement-related Statutory Instruments (SI) (one in the UK Parliament and one in the Scottish Parliament) that are needed to implement the FTA.
Once tabled, there will be a mandatory waiting period to allow the instruments to be scrutinised. Once the scrutiny period of the SIs finishes, Australia and the UK will each provide confirmation of completion of their respective legislative processes. The UK and Australia will then exchange Third Person (Diplomatic) Notes to mark the final step before entry into force of the agreement. There will then be a disallowance period of about six weeks and a further 30-day period, which meant it could be another 2.5 months under a 'best case scenario' before the FTA comes into force.
Upon entry-into-force, Australian businesses hiring contractual service suppliers from the UK will have labour market testing requirements waived — implemented through the subclass 482 visa. The current occupation lists for subclass 482, this includes Australian businesses looking to fill certain positions in agriculture, such as sheep farmers and animal trainers.
Shearers, wool classers and shed hands not on visa occupation lists
Shearing Contractors Association of Australia national secretary Jason Letchford said shearers, wool classers or wool handlers are not listed on short-term skill occupation or medium and long-term strategic skills lists for the subclass 482 visa. This is despite wool classer and wool handler training recently being added to shearing on Australia's Apprenticeship Priority List and eligible for increased Federal Government training funding.
"It's inconsistent and it doesn't make sense," he said.
"Immigration seems to have their own list that doesn't align with education and training.
"One hand doesn't know what the other hand is doing – this is the definition of red tape."
He believed the discrepancies need to be ironed out and the shearing industry positions included on the occupations list for the subclass 482 visa.
"Is it an oversight or is there some other reason?"
The A-UKFTA will also improve working holiday opportunities in the UK for young Australians and for UK working holiday maker visa applicants in Australia. But both countries have up to two years after the FTA comes into force to organise visa application processes to change the eligibility requirements in the Australia's Working Holiday Maker from 30 to 35 years of age, and to allow stays of up to three years, to increase the potential pool of UK workers available to fill labour shortages across Australia.
Mr Letchford said the Temporary Work (Short Stay Specialist) visa (subclass 400) might be more appropriate for some workers for work for 3-6 months. The visa does not have an occupation list, but applicants need to have specialised skills, knowledge or experience that can assist Australian business, can't reasonably be found in Australia and will be 'non-ongoing' ie. likely to be completed within six months or less.
"You don't want to be waiting for two years deciding on someone coming into the country to do some work for three months," Mr Letchford said.
"The shortage of workers here is seasonal and having UK workers here for three months either for Autumn or Spring is exactly what a government should be designing a visa program for – you don't want them here in the quiet time."
Experienced wool handlers have visa options
A Department of Home Affairs spokesperson said the ANZSCO occupation of shearer is on the Regional Occupation List and is an eligible occupation under the Subclass 494 Skilled Employer Sponsored Regional (Provisional) visa.
"The Temporary Work (Short Stay Specialist) (subclass 400) visa may be appropriate for experienced wool handlers to work in Australia in seasonal, non-ongoing but highly specialised positions.
"This visa allows for travel to Australia to undertake short-term, highly specialised, non-ongoing work where there is a demonstrated need and the skills, knowledge or experience cannot reasonably be found in the Australian labour market."
The spokesperson said under the Australia-United Kingdom Free Trade Agreement (AUKFTA), Australia may grant a temporary visa to specialists for up to four years plus extension. There are also labour market testing exemptions for all categories.
"Working Holiday Makers (holders of a Working Holiday (subclass 417) or Work and Holiday (subclass 462) visa) are not required to work at all, but are allowed to work for the entire duration of their stay in Australia, in any location, industry and role they choose, including wool handling."
The DHF spokesperson said until 30 June 2023, the six-month work limitation per employer has been suspended, allowing Working Holiday Makers (WHMs) working in any sector anywhere in Australia to continue to work for the same employer or organisation for longer than six months without requesting permission from the department.
The department said skilled migration visa applications are processed according to priorities set through Ministerial Directions. Priority is according to applicants from outside Australia to encourage them to enter Australia and join the labour force. Following the Jobs and Skills Summit, the Federal Government is progressing work relevant to migration, including considering policies to address regional labour shortages and how to improve small business access to skilled migration.
For more information on the trade agreement see Australia-United Kingdom Free Trade Agreement | Australian Government Department of Foreign Affairs and Trade (dfat.gov.au)