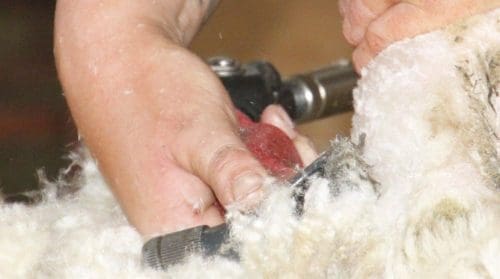 COVID-19 transmission into and through Victoria's meat processing sector was used to highlight virus risks to shearing and wool industry workers in a webinar yesterday.
During the webinar on Thursday, Shearing Contractors of Australia Association secretary Jason Letchford asked what the shearing industry could learn from the meat processing sector's experience with COVID-19 in Victoria.
COVID-19 outbreaks in the meat processing sector have closed several processors and led to restrictions on workforce levels as part of Victoria's Stage Four lockdown restrictions.
Mr Letchford told Dr John Parkes from the Department of Health and Human Service COVID-19 incident management team that the shearing industry had similarities with the meat sector, with different teams of shearers and wool handlers that often swapped workers.
Dr Parkes said there had been transfer of the coronavirus through the meat processing sector via workers, meat inspectors and veterinarians.
"We've seen labour hire workers working on different sites and transferring it from one site to another.
"We've seen family members where one family member has worked at one abattoir and another family member has worked at another abattoir, we've seen that transfer," he said.
"The other things is that many abattoirs are quite big and until recently we've had pretty high community transmission, so if you've got 800 workers onsite there is also a good chance that some of them might have the virus just through community transmission."
"It's been quite a number of things."
However, Dr Parkes said DHHS was also concerned about the meat processing environment.
"Because it is cold and the air is recirculating, so it is making matters worse.
"There has been a little bit of transmission in the environment itself, but it is mainly all those external factors that I have talked about that have been the big players," he said.
"Oh and we've seen transmission across shifts, where Mum might work on morning shift and Dad might work on afternoon shift so that they can look after the kids.
"We've seen that that has been the weak link," he said.
"So now employers are saying Mum and Dad you are going to have to work on morning or afternoon shift, but you can't work on different ones."
Dr Parkes said the more ventilation "the better" in a shearing shed. Mr Letchford said the shift scenario "hit home" because he didn't want shearing to be affected like meat processing, recognising the similarities between the two industries, where workers worked seasonally across a number of workplaces, and social and industrial situations might put them at risk.
"As it has been since February/March, if you are fortunate enough to still have a business to operate ….. the inconvenience and additional cost is going to be the small price to pay for only having three instead of four stands or less workers in the shed."
Separate shifts, workers and working areas
Dr Parkes said workplaces were now separating people within shifts and in areas to minimise and isolate any transmission.
This applied particularly to shearing, including in the wool shed and to stop any spread to farm workers and family members, especially as some farmers aged over 70 years and vulnerable. He said regular sanitisation and wearing masks was important, but he also warned about "innocent socialisation" outside workplaces.
"We're finding that that the virus can be spread by shared facilities – like shared toilets and lunchrooms – that also applies in the shearing environment.
"We need to be thinking about keeping people apart even when they are having lunch or going to the toilets."
He said "one lesson learned" had been the need to separate people outside the workplace.
"But it's what we call innocent socialisation that has really bitten a number of organisations, and by that I mean people that once they are outside the building and doing the distancing that it doesn't count."
Dr Parkes said people huddled together outside during smoko, and chatting in the carpark were opportunities to spread the virus.
"You need to be really thinking in a 24/7 way about maintaining the distancing.
"We've also seen that car-pooling has been a problem in a number of areas where people travelling in the same car with the windows up has been a way of spreading the virus."
He said people are still going to work while they are sick, but those with the slightest symptoms needed to stay at home and get tested.
Shearing contractors and growers should prepare a COVID Safe plan
Dr Parkes and WorkSafe Victoria's program manager – agriculture practice, Graham Phelps, encouraged shearing contractors and wool growers to have a COVID Safe plan.
Mr Phelps said employers – contractors and farmers — had a responsibility was to provide a workplace that "as safe as reasonably practicable" for shearing staff and farm workers. This included following the COVID-19 directions of the Chief Health Officer.
"Know where your workers have come from, particularly in the last 14 days — have they come from a place where they might have been exposed to coronavirus and if they have, you want to really think carefully about should they be isolated, how are you going to manage that, how are you going to protect your other employees."
Unwell workers should be sent home, and isolated until test results come back, he said.
"The biggest thing that you can do to reduce the transmission of COVID-19 is to maintain physical distancing."
Having good facilities to maintain good hygiene is also important and avoid sharing equipment, he said.
"PPE and masks are your last line of defence."
Mr Phelps said there is an exemption for wearing masks outside home while doing "hard physical work" such as shearing. But he warned that working hard meant breathing harder and "breathing out" more virus if infected, which made physical distancing more important.
He said it is not required to have a COVID Safe plan in regional Victoria, but he highly recommended that contractors and growers do a plan, to think about measures to stop and manage any infection.
Dr Parkes said if a shearing workplace had a positive case the contractor and employer would have to notify WorkSafe and DHHS, and put in a risk assessment, including a closure and cleaning plan. The positive case and any close contacts would have to isolate and tested.
"Then they would talk to you about what to do about keeping things open, would it be that everything needs to be closed or can one so-called clean part of your business be kept open.
"There would necessarily have to be some period of closure for the deep clean," he said.
"Then the the workplace would have to consider if there were enough workers who were not close contacts to continue working.
"All the more reason, as Graham and I have said, that you have a COVID Safe plan, because then you would have thought about this very situation and exactly what you do."
Dr Parkes said COVID-19 has hit a number of businesses that have been unprepared and have had to close because they weren't prepared.
Department of Jobs, Precincts and Region Agriculture Services director Leanne Rosewall outlined the various support services and information available on the DJPR website here, including the template for preparing a COVID Safe plan here.
For more information about the SCAA click here or to read the industry's shearing protocols for COVID-19 click here.
The Leading Sheep webinar was presented by the SCAA and Australian Wool Innovation.