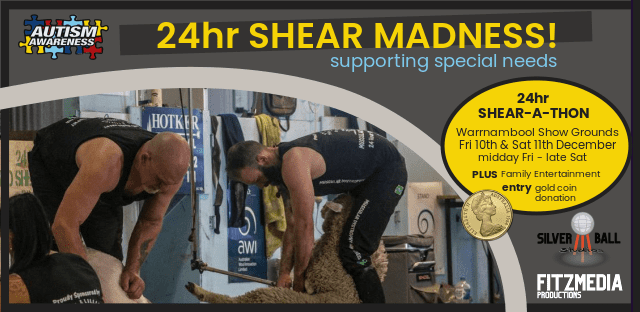 FATHER and sons shearing trio, Roger, Corey and Brody Mifsud will pull into gear to raise funds for autism support at the Warrnambool Showgrounds in south-west Victoria this Friday and Saturday.
In 2018, Roger, 55, and his son Corey, 33, raised $45,000 when they shore 1542 sheep in 24 hours, but this year a new strategy and the addition of Roger's younger son Brody, 25, on the board could see that tally exceeded.
Corey's three year-old son Levi is autistic and has ADHD, and the family, their support crew and committee have organised the 24-hour shearathon from midday Friday to raise funds and awareness for autism.
Funds raised will go to special schools and to support the parents within their local communities, Warrnambool and Stawell. Part of the funds raised will also be donated and used in peer support groups like Mpower's Strengthening Parent Support Program to further support families and carers.
Corey said they wanted to raise funds for kids and families with disabilities in our local schools", said Corey.
"We want to support parents and get them the help and resources they need.
"The message we want to get out there is that not all kids are being naughty and not to judge the parents or carers," he said.
"They may have special needs and struggling with the environment or situation they are in," Corey said.
The Mifsud's big team of helpers has crutched 2750 Romney lambs donated by Halt Farms at Macarthur for the effort dubbed '24 Hour Shear Madness' and Roger Mifsud said the three shearers will work to a revised work timetable suggested by fellow 24-hour shearer Welshman Owen Davies.
Brody usually works for a fencing and lamb marking contractor, and hasn't shorn full-time for about five years, but Roger said the shearers are hoping to better the 2018 tally.
"We've got structured breaks and everything this time, we are using his timetable."
"Last time we worked six hours straight and Corey and I averaged 40-42 an hour," he said.
"This time our first run will be for two hours and we'll have half an hour off.
"The second run will be a three-hour run and then we'll have an hour off," Roger said.
"Then will alternate like that through the entire night.
"Owen Davies reckons he pulled up a lot better."
Click here to read the Shear Madness timetable.
If you would like to sponsor 'Shear Madness' or show your support in any way please contact the committee via [email protected] or donations can be made the: Merri River School, BSB: 633 000, ACC : 1637 19768, REF: Shear Madness and your name.