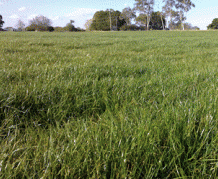 SHEEP and beef producers will learn ways to maximise their pasture success at a south-west Victorian demonstration day tomorrow.
The Western District branch of the Grassland Society of Southern Australia is holding the seeding demonstration day on March 9 at Macarthur.
The event kicks off at 10.30am at 'Chiltern Park' at 530 Penshurst Rd, Macarthur and runs until about 2.30pm. Topics include paddock preparation, weed and insect control, soil fertility, sowing options and seed placement.
Branch member Cameron Morris said farmers could get a hands-on look at successful practices and hear from experts in the field.
"Not only is this an opportunity to see drills in action, it's a great chance to learn some essential agronomic principals to maximise pasture success," Mr Morris said.
Cameron Morris, from Landmark, will speak about paddock preparation and weed control, Bruce Lewis from Vickery Bros will speak about soil fertility and Richard Prusa from Heritage Seeds will speak on seed placement and what varieties to sow.
"It's an opportunity for farmers to see new and existing sowing technology and to touch on some of the basic agronomy that helps ensure success," Mr Morris said.
Farmers will get to see successful practices in use at Chiltern Park, a beef and sheep farm. A light lunch will be provided.
To RSVP contact: Grassland Society of Southern Australia on 1300 137 550 or email [email protected] or Mr Morris on 0428 314 776.