AUCTIONSPLUS reported the online market for sheep and lambs as mostly softer last week despite a contraction in supplies, as producers in some areas took stock of the season.
The online platform offered 72,964 sheep and lambs last week, a 19 percent drop from the previous week.
The very dry April appears to have crimped some of the buyer enthusiasm, with the clearance rates for ewe lambs and breeding lines patchy, especially for unjoined Merino ewes, AuctionsPlus said.
However, as has been the case in previous weeks, many transactions were expected to be finalised after the 5pm Thursday cut-off for this summary – as the dance between bids and offers continues.
This is especially expected to be the case for the unjoined Merino category, which had lots of interest and registered bidders this week, but only a 15pc initial clearance rate, from the 3697 head offered.
With the first substantial rain since late March forecast for next week, restocker demand may rebound next week, with confidence also boosted by this week's favourable three-month rainfall outlook from the Bureau of Meteorology, AuctionsPlus said.
Merino and crossbred lambs hold value
Across the main lamb categories this week, the largest offerings were for Merino wether lambs, with an 84pc clearance rate for the 14,843 head offered, at prices that ranged from $125-$169 and averaged $145., up $1. The only other lamb category whose average price increased was crossbred lambs, up $8 to $166, and ranging from $146-$197. About 70pc of 4894 head offered were sold.
Ewe lamb prices fall
Ewe lamb prices also generally fell, with shedding breed prices ranging from 143-$392.50 and averaging $242, down $79, and Merino ewe lambs making $127-$225 to average 4170, down $29. First cross ewe lambs made $130-$353, to average $242, down $8.
Most sheep categories
Most sheep category prices dropped, with all the joined ewe prices averaging lower on the previous week and only Merino wether values holding firm with a small selection making $170. Scanned in-lamb Merino ewes sold from $205-$315 to average $252, $6 cheaper, and a 67pc clearance of the 10,384 head offered. Scanned in-lamb first cross ewes sold from $180-$395 to average $309, down $2. Only 26pc of the 4,079 head presented were sold.
Sound mouth Merino ewes made $205-$315 to averaged $196, $25 cheaper, achieving a 48pc clearance of the 3279 head offered. An indicative line of 268 rising six year-old sound mouth early November shorn Well Gully blood Merino ewes weighing 62 kgs and joined to Well Gully rams, at Albert in central west NSW, sold for $204.
Older unjoined Merino and composite ewes without lambs lost value last week, but first cross ewes with lambs sold to $320, $66, and shedding breed ewes with lambs made from $230-$649 to average $443, up $168.
A small line of 38 3-5 year-old Australian White ewes with 58 1-9 week-old AW lambs at Noradjuha in south-west Victoria sold for $649, and a second line of 53 ewes with 68 lambs made $622.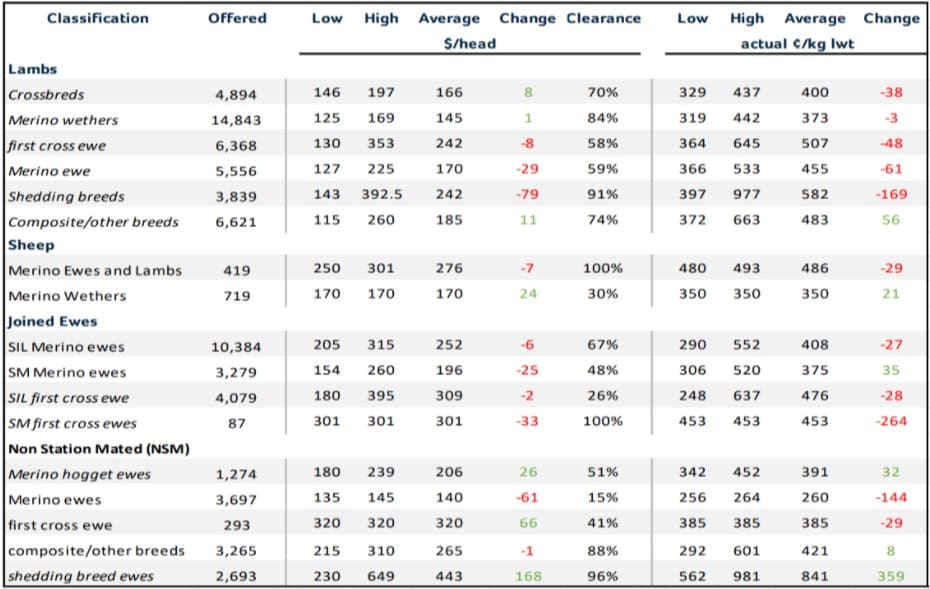 NOTE: Prices are as at 5pm Thursday, 29th April 2021.