March to May 2021 rainfall outlook: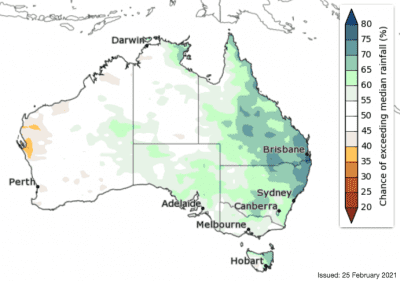 La Niña wanes but parts of Australia could face a wetter than average autumn
THE Bureau of Meteorology's outlook for autumn, released today, shows above average rainfall likely for parts of eastern Queensland and New South Wales, and eastern Tasmania, with a more neutral outlook elsewhere.
The Autumn Climate Outlook shows that warmer days are likely for the period from March to May in northern parts of Australia, Tasmania, and the west coast of Western Australia, however parts of New South Wales may have cooler than average autumn days.
Autumn nights are likely to be warmer than average across large parts of the country.
Bureau climatologist Dr Naomi Benger said that while current observations and forecasts show La Niña has passed its peak, its effects on the Australian climate are likely to persist.
"The tropical Pacific Ocean is forecast to return to neutral conditions (neither El Niño nor La Niña) during autumn, consistent with the typical lifecycle of La Niña events.
"However, it is not uncommon for the effects of La Niña to still be felt as the event declines. That means an increased chance of above average rainfall, particularly for eastern regions," Dr Benger said.
High and near-median stream flows are likely until April for most locations in eastern and northern Australia, with a risk of widespread flooding in northern Australia, where soil moisture levels are comparatively high.
The 2020-21 summer is already the wettest since 2016-17, with below average rainfall only in greater south-eastern Queensland from the New South Wales border to the Capricornia region.
December 2020 was the third wettest December since national records began in 1900, while Australian summer temperatures are on track to be the lowest since 2011-2012, with temperatures above average only for parts of Queensland and the west coast of Western Australia.
This severe weather season (November to April) has so far seen four tropical cyclones in the Australian region, with one (ex-Tropical Cyclone Imogen) making landfall in the Queensland Gulf Country.
There have also been several significant tropical lows that brought heavy rain and some flooding at times to parts of northern Australia.
Note: to determine above and below average the observed and forecast data is compared to data for the 1961-1990 period. This period is recognised by the World Meteorological Organization as suitable for assessing long-term climate variability and change.
March 2021 rainfall outlook: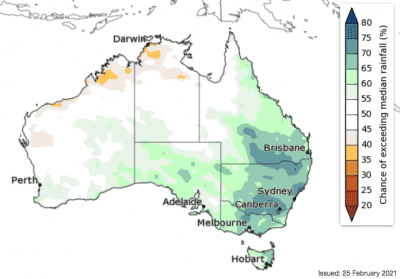 April 2021 rainfall outlook: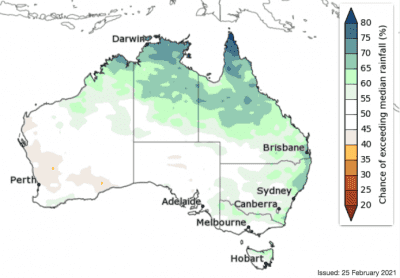 'First look' April to June 2021 outlook:
Temperature outlook
Warmer autumn days likely for much of the north, west and far southeast Australia; warmer nights across north, east and southwest Australia
For the fortnight of 1 to 14 March, maximum temperatures are likely to be warmer than average across the northern tropics and extending down eastern Queensland (most areas have a greater than 70 percent chance). Much of the western Pilbara and parts of the inland east are likely to be cooler than average.
Minimum temperatures for the fortnight 1 to 14 March are likely to be warmer than average across most of the NT, northern and eastern Queensland, southern Victoria, Tasmania, and eastern and southern WA. Chances are greater than 80pc in the eastern Top End and Cape York Peninsula. The western Pilbara is likely to have cooler nights.
Mean maximum temperatures for autumn (March to May) are likely to be higher than average for much of the northern tropics, western WA extending down the south-west WA coastline, southern Victoria, and Tasmania (greater than 60pc chance). Cooler than average maximum temperatures are likely (greater than 60pc chance) for parts of NSW.
Autumn minimum temperatures are likely to be higher than average across most of Australia except for parts of southern WA and western and central SA. Chances of warmer nights are greater than 80pc for the northern tropics, eastern Queensland, southern Victoria, and Tasmania.
Maximum temperature outlook Mar to May 2021: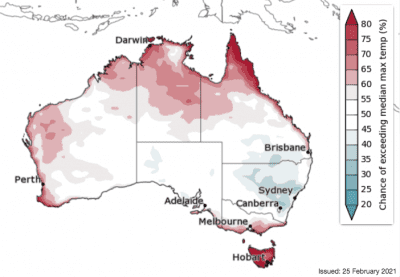 Minimum temperature outlook Mar to May 2021: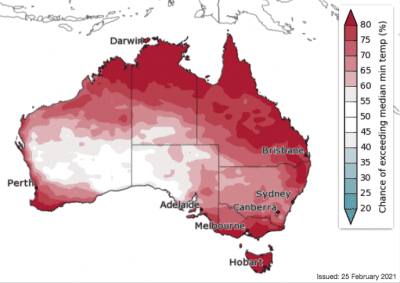 Source: Bureau of Meteorology.
To view more outlook maps for coming weeks and months click here
Previous forecast versus actual rainfall
Maps below compare BOM's rainfall forecast for November 2021 to January 2021, issued 29 October 2020, with actual rainfall recorded over the November 2020 to January 2021 period.
Forecast median rainfall November 2020 to January 2021:
Actual rainfall recorded November 2020 to January 2021: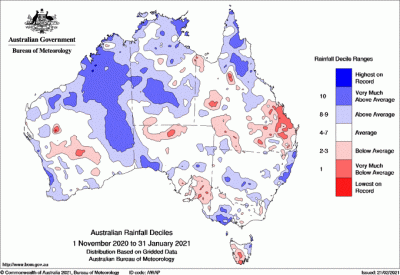 Source: Bureau of Meteorology