PROGRESSIVE lamb producers will get same-day feedback on intramuscular fat, carcase weight, lean meat yield and animal health  on Gundagai Lamb consignments with a new app launched by agtech start-up MEQ Probe today.
Gundagai Lamb suppliers will be invited to access the web-based app, which will work on Apple and Android devices.
The app will enable the carcase feedback to be provided on the same day a producer's consignment is processed. GL producers today receive a static feedback PDF on the same day they have a lot processed, but this doesn't include LMY, IMF and health data etc. The app will provide lamb producers with IMF data at a mob and individual level.
The portal will provide far more in-depth information for producers, including data on their performance against the average for Gundagai Lamb and ranking information to help them understand how they compare to other producers supplying the processor.
MEQ Probe chief executive officer Remo Carbone said so much of the lamb processing system remained in analogue modes or the data hasn't existed, making feedback to producers tough to provide.
"Through the creation and use of this app, we are introducing digitisation into the process that allows for immediate action to be taken as a result of the data.
"This represents a massive shift for producers who are eager to deliver a consistent high-quality product for consumers and would appreciate timely data with integrity that they can rely on," he said.
App will help deepen relationship with lamb producers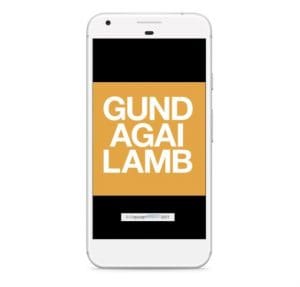 Gundagai Lamb CEO Will Barton said MEQ Probe's technology has helped us bring the company's vision to life to reimagine how it procured lamb from farmers.
"This app has helped us deepen our relationships with farmers as a processor.
"Thanks to the transparency of information about mobs, we were able to work more collaboratively with producers to improve quality scores," he said.
The app's launch follows accreditation of a lamb intramuscular fat (IMF) percentage trait description by the Australian Meat Industry Language and Standards Committee and its acceptance in the AUS-MEAT language.
MEQ Probe said its technology utilises spectral analysis to determine the IMF percentage or the eating quality of meat on the hot carcase. The start-up recently completed a large-scale trial at GL where more than 12,000 samples were captured and analysed by machine learning engineers who developed an algorithm for IMF percentage. The technology was fundamental to the development of Gundagai Lamb's Late Season Lamb Grid, a world-first lamb grid that pays lamb producers for weight and lean meat yield as well as a bonus for high IMF.
The company said newly developed web app is the next step of this industry-defining partnership.
Once a carcase is measured using MEQ Probe technology, Gundagai Lamb's suppliers receive information including Hot Standard Carcase Weight (HSCW), Lean Meat Yield (LMY) percentage and IMF and overall animal health of each lot via the producer portal. The lot data is benchmarked against the GL averages for HSCW, LMY, IMF and used to create the GLQ Score for the lamb supplied.
MEQ Probe said this feedback loop revolutionises the lamb supply chain by providing complete transparency and sharing valuable knowledge about the product. In a single summary screen, farmers are able to ascertain the quality of their mob at a glance and strategise how to improve or maintain their quality score. Over the longer term it will translate into greater earning potential for the farmer and culminates in better quality, more succulent lamb for the end-consumer, the company said.